Review: The Front Bottoms make a triumphant return to Birmingham
People braved the weather to pack into the O2 Institute for The Front Bottoms headline show on February 26th.
Indie rock duo Brick + Mortar and Australian rock band The Smith Street Band supported
Birmingham was the third stop on their UK tour, with the tour marking their sixth studio release Going Grey released on October 13th 2017

[amazon_link asins='B0759VJ68L,B005BY8MPU,B00K2OBSTG' template='ProductCarousel' store='counteract03b-21′ marketplace='UK' link_id='cb3306fa-1edb-11e8-8f1b-c359d2821436′]
Animated burgers are projected onto a screen onstage at the O2 Institute, followed by American politicians: this is where the guise of an average night ends. This precedes New Jersey duo Brick + Mortar, who successfully manage to incorporate a wide berth of musical influences from rock, electronica, and hints of reggae and drum and bass throughout their set. Although enjoyable, their music isn't what elevates their set, but their insane comedic approach that completely transforms the dynamic of a rock show as we know it.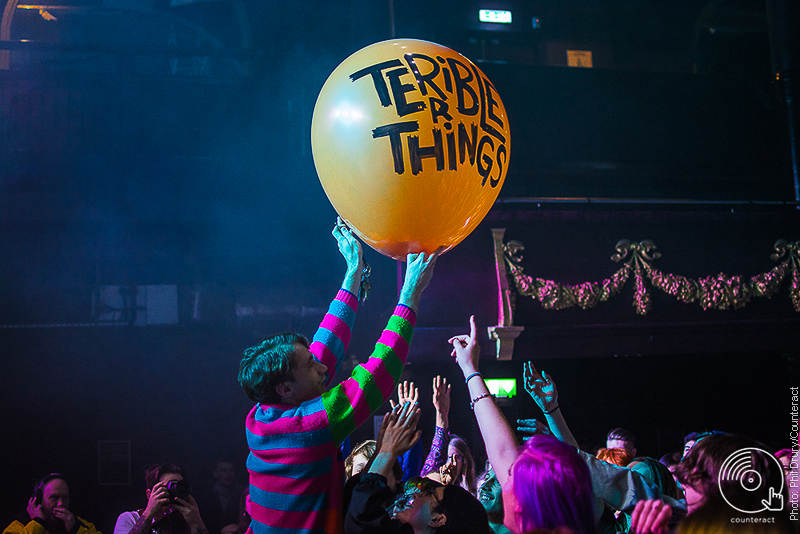 Brick + Mortar
Frontman Brandon Asraf's and drummer John Tacon's enthusiasm is infectious as they wholeheartedly throw themselves into their performance. Tacon regularly abandons his kit to command the crowd to clap and sing along, whilst Asraf dons both a priest and grim reaper outfit at various intervals, and touring member Richie Brown dresses as a goblin to sit on Asraf's shoulders waving a scythe during 'Dead Moon'. This was after he ran around the stage in nipple tassels, holding a large sign with the words "Locked in a Cage" scrawled on it whilst dancing to the track of the same name, energy practically dripping from the stage. When the set ends with 'Train' the crowd are equally hyped and entertained and unsure what to expect.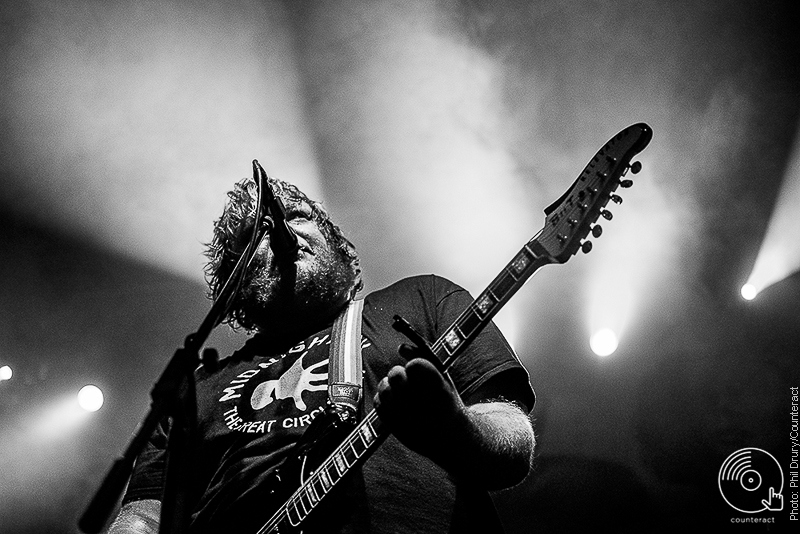 The Smith Street Band
Australian rockers The Smith Street Band follow, instantly launching into 'Death to the Lads'; and from the first beat the crowd are dancing along and thrashing their heads, arms and even a shoe at one point. Frontman Wil Wagner earnestly thanks the audience for braving the weather as it's their first time in Birmingham. Their set is heavy with their recently released fourth LP, More Scared of You than You are of Me, including tracks such as 'Passiona' and 'Birthdays', as well as pieces from their 2014 release Throw Me in a River. The bands' talent for combining blunt and raw lyrics with punk rock instrumentals makes for a solid set that doesn't once falter, perfectly showing their capabilities and strength as a live band.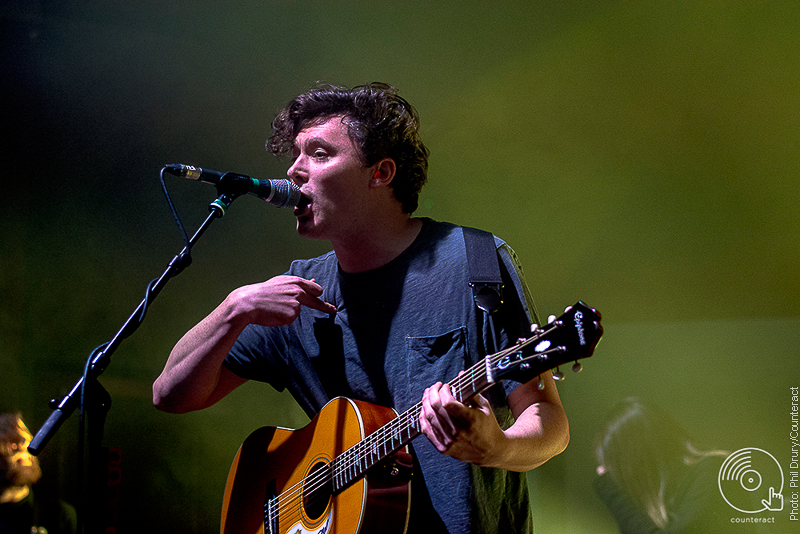 The Front Bottoms
It's only fitting that The Front Bottoms open with 'You Used to Say (Holy Fuck)', the opening song from their latest release 'Going Grey'. Their set spans their discography and includes classic crowd-pleasers such as 'The Plan (Fuck Jobs)' and 'Flashlight'. Both of these tracks feel like they were written to be played live as the pure intensity reverberates around the venue, making it feel like a party well underway. The duo (as well as their touring band which add an amazing dimension to their sound), give a tight performance that elevated their sound above their records – a hard feat.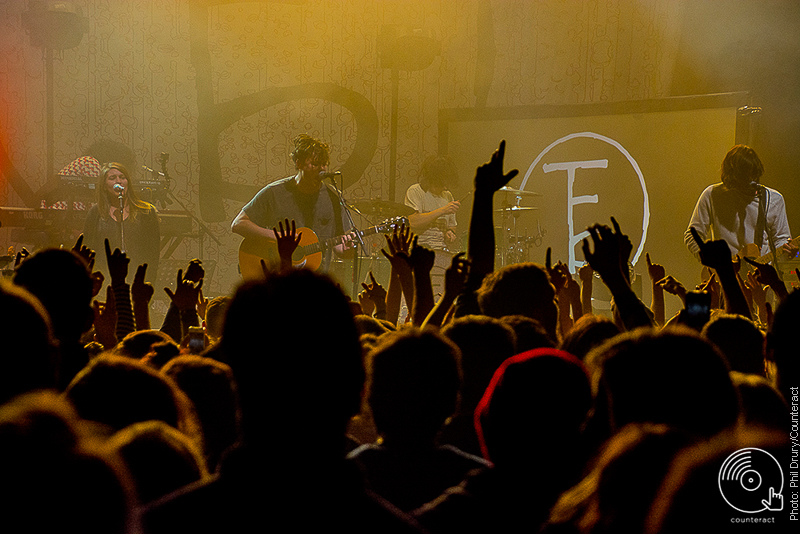 The Front Bottoms
There's no time to waste as they power through their set but not without Brian Sella earnestly stopping to tell the audience that it's an honour to play Birmingham before introducing 'Plastic Flowers' as their penultimate song. 'Twin Sized Mattress' is a perfect ending to the set and the air is heavy with emotion as the desperation of the lyrics hang in the air- and as people exit the venue not only have some seen their favourite band, but they have discovered two more in this extremely strong hand-selected line-up.
Photographs by Phil Drury