Review: The Damned bring punk nostalgia to Birmingham
The Damned performed at the O2 Academy Birmingham on February 1st
Support came from Slim Jim Phantom of Stray Cats fame, who was joined by James Walbourne and Nick Wilkinson of The Pretenders
The long-running punk superstars played a career spanning set of older staples and new material

[amazon_link asins='B0798DZS7C,B000BPN2CM,B01NASV0S7′ template='ProductCarousel' store='counteract03b-21′ marketplace='UK' link_id='70bee300-09ec-11e8-a80a-9d889fe00b04′]
It's a Thursday night, and O2 Academy Birmingham is brimming with all manner of punks, goths, skinheads, mods and rockers. The air is heavy with nostalgia. Slim Jim Phantom and his band of Pretenders (James Walbourne on guitar, Nick Wilkinson on double bass) take the stage.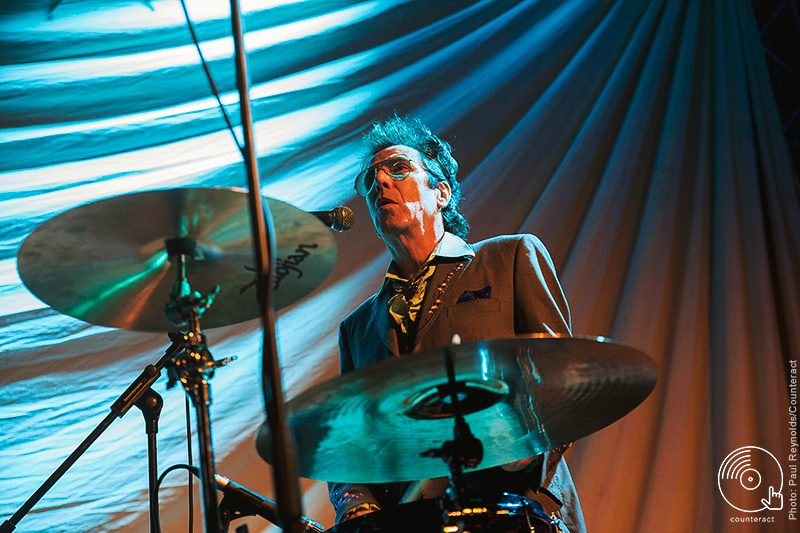 Slim Jim Phantom
They open with the Stray Cats' classic, 'Rumble In Brighton', which seems like a fitting choice given the crowd. Tensions are sparked between those quietly listening, and those infuriated by the amount of people who are just quietly listening. Some of the crowd are out for blood tonight. Slim Jim is completely unphased. He reminisces fondly about gigs the Stray Cats played in Birmingham back in the eighties. Various audience members call out to let him know that they were there too, and he grins before launching into a rattling cover of Eddie Cochran's 'C'mon Everybody'. Fists pump the air as Walbourne reels out a fiery solo.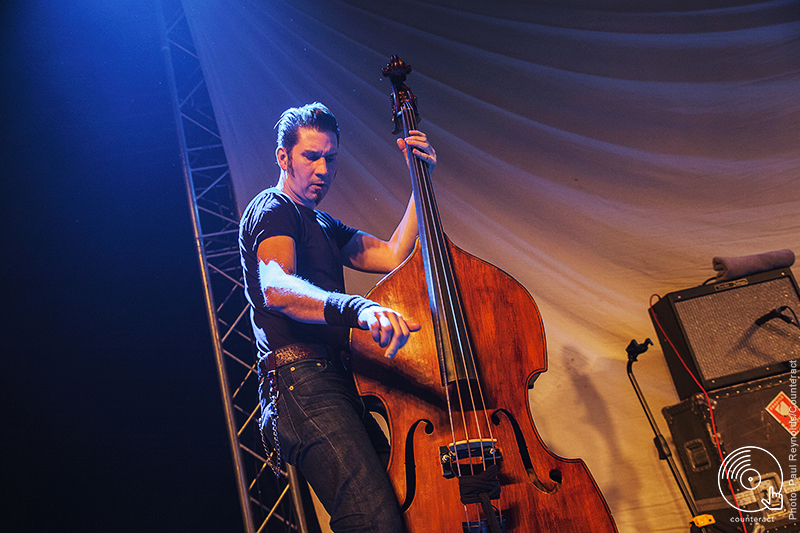 Slim Jim Phantom
Phantom is taking things back to basics with this trio, and it works. They close the set with a sing-a-long rendition of Stray Cats hit 'Rock This Town' before clearing the stage. The crowd surges to the bar, where a gentlemen with face tattoos and red liberty spikes offers me a studied run-down of the setlist.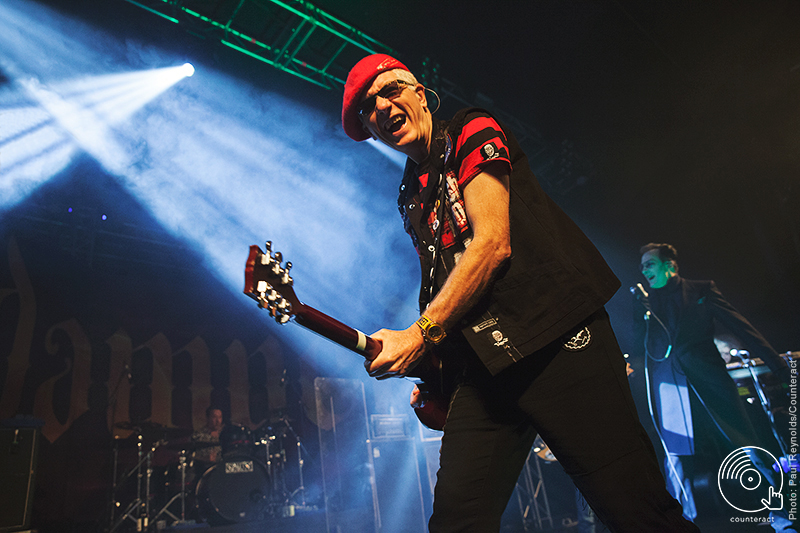 The Damned
The lights dim abruptly. A single spotlight bounces off David Vanian's iconic Shure microphone. Holst's 'Mars, the Bringer of War' reverberates around the room. The Damned walk on one by one. Monty Oxymoron, a shock of grey fuzzy hair and thick glasses. Pinch, sullen behind his sunglasses and a drum shield. Paul Gray, clad in an MC5 shirt and a sly grin. Captain Sensible in his signature red beret. And finally, Vanian himself.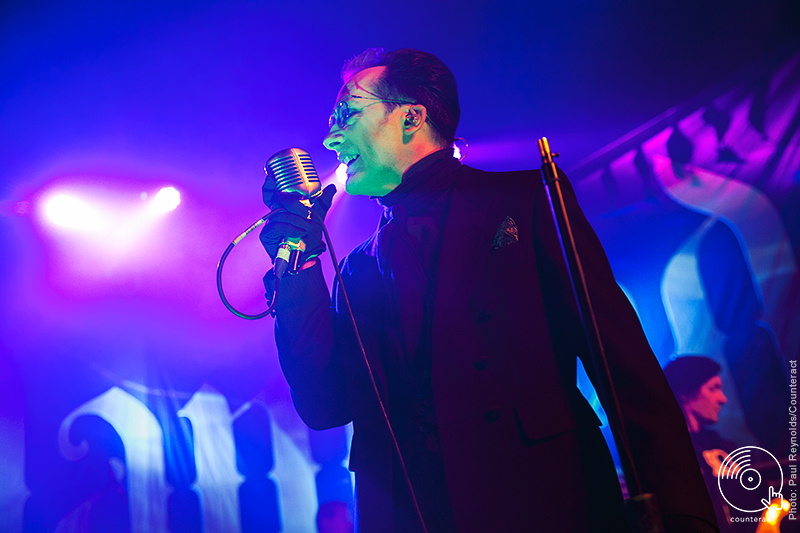 The Damned
Despite this being their 40th Anniversary tour, Vanian is still wearing tinted glasses, eyeliner, slicked back hair and a trench coat, and looking all the better for it. If Marilyn Manson had aged gracefully, this is how he would look. Without hesitation, they launch into an impeccable rendition of 'Wait For The Blackout' from 1980's The Black Album. The room erupts.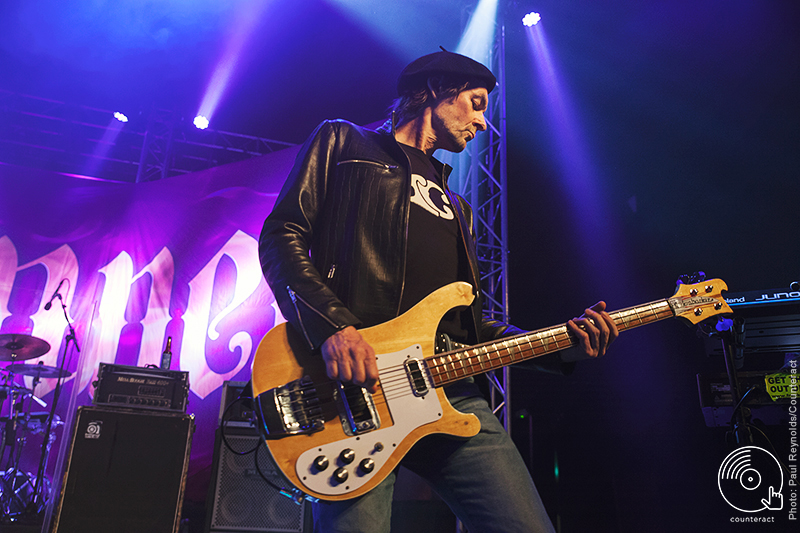 The Damned
Oxymoron gesticulates wildly, indicating a fault with his keyboard rig. A roadie hurries on stage and sweats as he tries to fix it. Once it's resolved, Oxymoron continues to gesticulate wildly, but now it's just for theatre.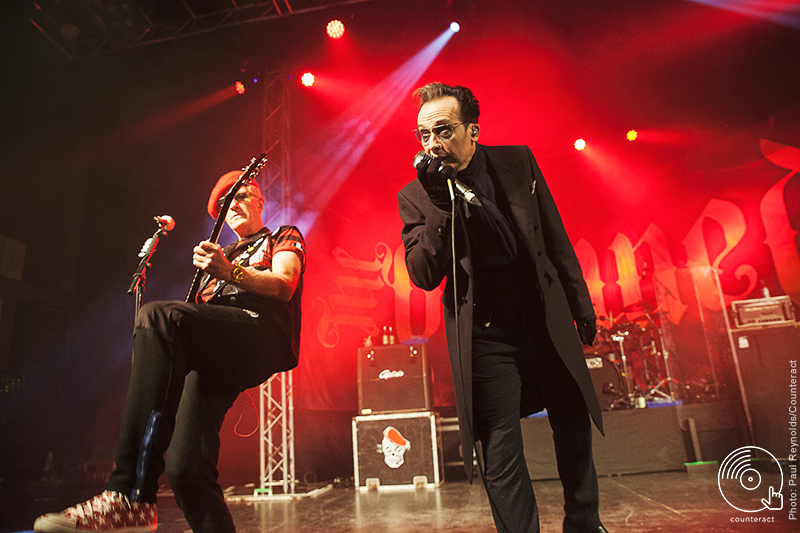 The Damned
Their set is career spanning. A performance of new single 'Standing On The Edge of Tomorrow' is warmly received. It's a perfectly formed piece of goth-punk, and as much of an earworm as anything from their earlier albums. Vanian stalks across the stage, coat tails swishing. The crowd breathlessly chant along to 'Anti-Pope', and even the more rowdy attendees seem to be tiring themselves out. That's before the Damned play 'New Rose'.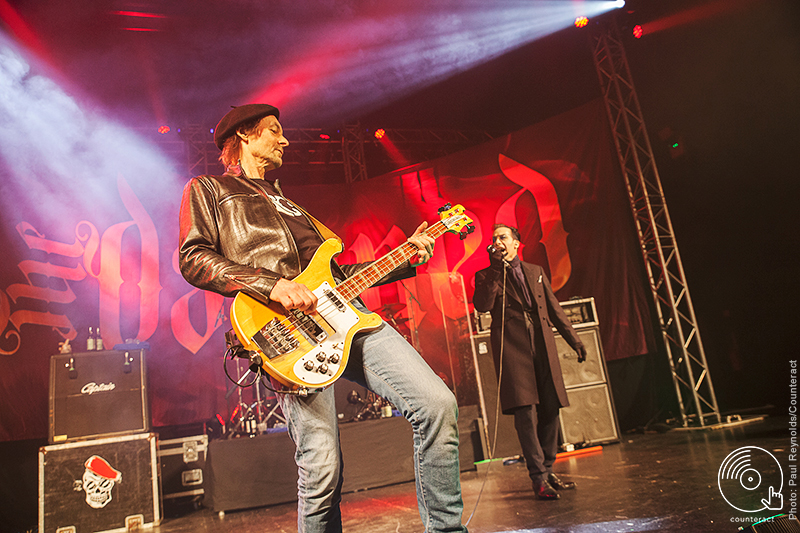 The Damned
It's a triumphant, celebratory set. Forty-two years since they released the first punk rock single, and the Damned have shown that they've still got it. Gray shares a knowing look with the crowd as he begins to play the unrelenting bass riff of 'Neat Neat Neat' to close the night, and after not one but two encores, it's all over. On the way out, the merch stand is offering a Evil Spirits Tour tea towel – make of that what you will.
Photographs by Paul Reynolds
Visual artist, multi-instrumentalist, and scrounger. Always wearing headphones, probably listening to Ezra Furman, Sleater-Kinney or Goat.