Review: Sam Jackson steals the show at Birmingham's O2 Academy
As expected of a headliner, Sam Jackson and The Struggles close an evening of local young talent, and show them all how to do it right.
Opening the evening were Summerleaze, with a set of familiar and contemporary pop covers. The lead vocals were particularly standout and the band performed tidy renditions of several hits, including a tidy version of 'Valerie' that sits comfortably between the original and Mark Ronson versions. They have fallen into the trap of playing highly polished, rich and overproduced pop songs without much reworking for their own sound, but there is real potential there.
Following were Moonshine, a young three-piece with a sound reminiscent of The Libertines with the slack feel of Mac DeMarco. Moonshine's frontman/guitarist seemed to chase his microphone around the stage until he was facing the drums. Deliberate or not, this had an interesting effect. It evoked memories of the scene in Oliver Stone's The Doors film where the young Jim Morrison struggles to face the crowd. Moonshine's single 'Coming Up' had a sound and feel like other Midlands indie hits The Enemy and their songs have a strong identity.
Shore Scene took the stage with a look that suggested Arctic Monkeys fans and lo, they opened with an unironic 'Fake Tales of San Francisco', and more power to them for that. They looked rather uncomfortable on stage, and apologized when they'd finished but they played a decent set, they just need to get more comfortable with performing. Too many acts hide their influences in the name of pretending to be pioneers, but Shore Scene wear their admiration for their idols on their sleeve.
The same can be said of Natural Emotions. Clad in polo shirts and Adidas, with Union Jack livery over their guitars, it wasn't a surprise when they treated the audience to no less than FOUR Oasis covers. That's tribute band territory, but they deserve points for ambition. Opening with 'My Generation' is a brash statement to make and it's a shame that technical difficulties detracted from the song's iconic bass part. These chaps also brought their own offering of an Alex Turner hit, closing their main set with 'I Bet You Look Good on the Dancefloor' before taking a cheeky encore of their fourth and final Oasis cover, 'Live Forever'.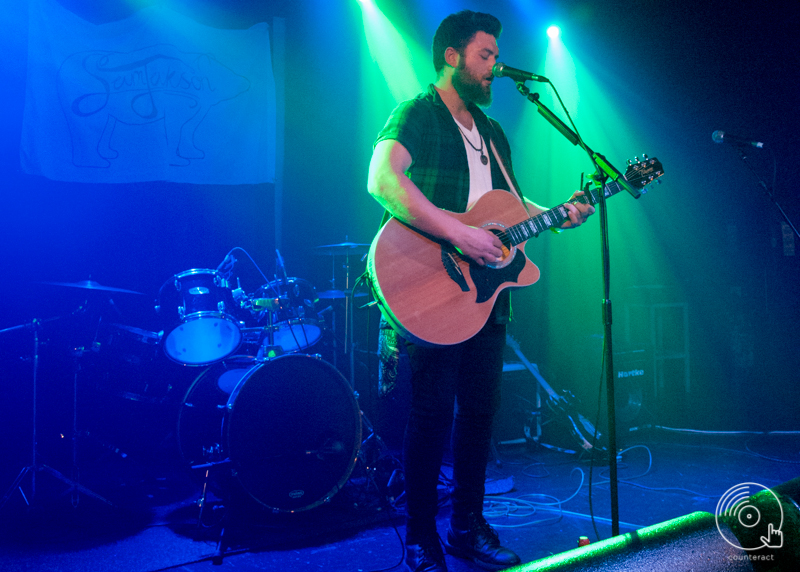 Where the previous acts had been a display of raw, unrefined talent, Sam Jackson and The Struggles stood out as an act with real polish, depth and maturity. Jackson and his band are so mature, three out of five of the people on the stage rocked seriously impressive facial hair, as rich and textured and the layered sounds the five of them weave. Songs like 'If You Want Me' and 'Lullaby' are lessons in dynamics and crescendo, building to a point where the songs have a sense of everything-but-not-too-much, like there's nothing that could be added and yet they don't sound too busy.
Jackson alone held the stage for one song, enthralling the audience with some folky Americana. When his bandmates returned to assist with vocals for Jackson's single, 'I Just Want To Love You', the American influence was unmistakable and echoes of Crosby, Stills and Nash could be heard in the three-part harmonies.
At times, it feels as though Jackson and The Struggles might be holding back, like they're leashed to a particular dynamic or aesthetic, but then Jackson puts down his acoustic guitar for 'Strangers Again' and the whole band lets loose a little. Jackson plays frontman with a lot of vigor, bounding around the stage and reaching out to the front row. He's a natural, his charisma is tangible and his voice never faltered.
Closer 'Emily' is full-on southern rock, with washes of gospel organ and pentatonic major guitar solo it could have been unearthed from an unheard Clapton session with Duane Allman. Jackson has a great voice and a great band, but the quality of his songwriting is the foundation upon which the rest can stand. Immediately relatable and familiar without being cliché, it's the songs that make the show great and make Sam Jackson and The Struggles an act to keep an eye on.
Photographs by Matthew Swallow, New Street Records.