Review: Run The Jewels light up Birmingham
American hip hop duo Run The Jewels came to Birmingham's O2 Academy on Tuesday 11th November 2017
Short but sweet set saw most of the duo's latest album Run The Jewels 3 given a solid airing
Support came from Detroit rapper Danny Brown, who opted for Black Sabbath's 'Iron Man' as his walk-out music
[amazon_link asins='B01MRSRJS7,B00NIR8CAW,B01N6C3G1F,B00G75BLXM,B00O8ONSR6,B01MZH9BLD,B01N5HZMKX,B0721Y485C' template='ProductCarousel' store='counteract03b-21′ marketplace='UK' link_id='b07874dc-ca2e-11e7-af57-f117a8b27365′]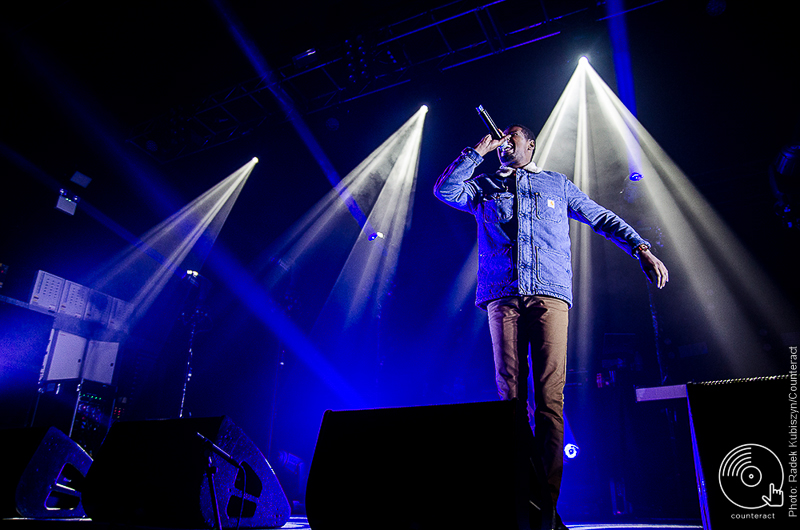 Danny Brown
It's 8pm and the main room of the O2 Academy is already pretty full for Run The Jewels' only support act of the night, Danny Brown. Danny – a big fan of Birmingham's own, Black Sabbath – walks out to 'Iron Man', trademark devil horns in the air and tongue sticking out. Rattling through a chaotic set which features 'Smokin' & Drinkin" and 'Ain't It Funny', he's also backed with a rather impressive set of blue revolving lasers. His 45-minute set is not really long enough – he could headline this room on his own.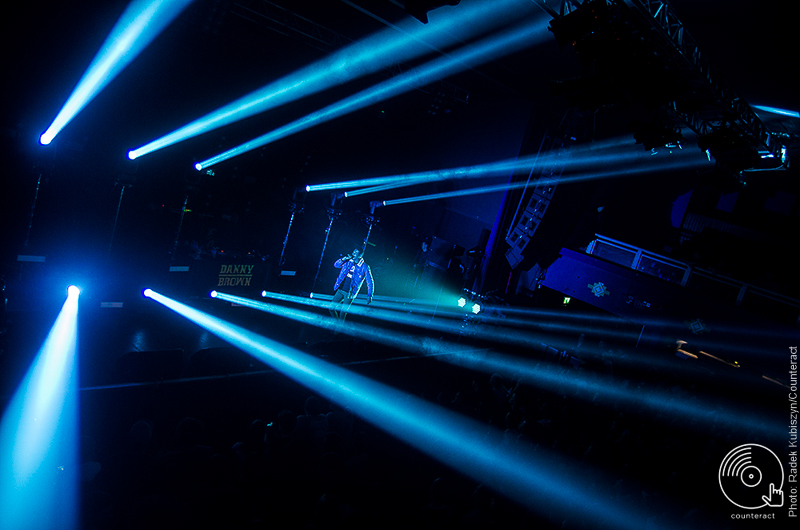 Danny Brown
[amazon_link asins='B01KGR1820,B00IF6WPN6,B00J7VTK6I,B01KGR17VW,B00EON8S0I,B005PY4Y6M' template='ProductCarousel' store='counteract03b-21′ marketplace='UK' link_id='54a806bb-ca33-11e7-a49e-1f39fd3a526b']
While most Run The Jewels fans are happy to see Danny Brown too, it's the hip hop duo that most are really here for.
But this isn't just a gig. It's also a community gathering. At various points throughout the show, both Killer Mike and El-P pause in-between songs to bring up how everyone should keep their hands to yourselves, make sure they pick up anyone who falls in the mosh and El-P even asks everyone to take a step back as people at the barrier are getting crushed. Killer Mike however, goes deeper.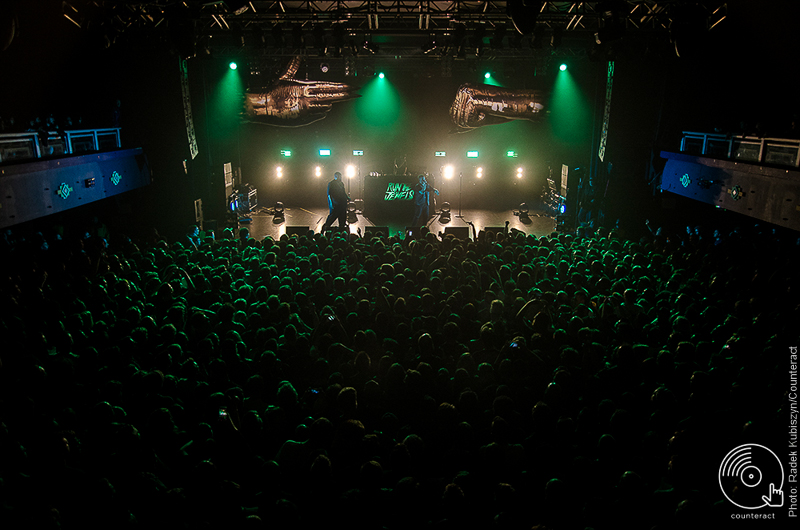 Run The Jewels
Revealing how awful his last time in Europe was due to the untimely death of his mother, Mike cites depression as something he struggled with and urges anyone in the same position to speak out – a truly powerful moment. As for the music itself, it's clear that Run The Jewels know how to put on a show.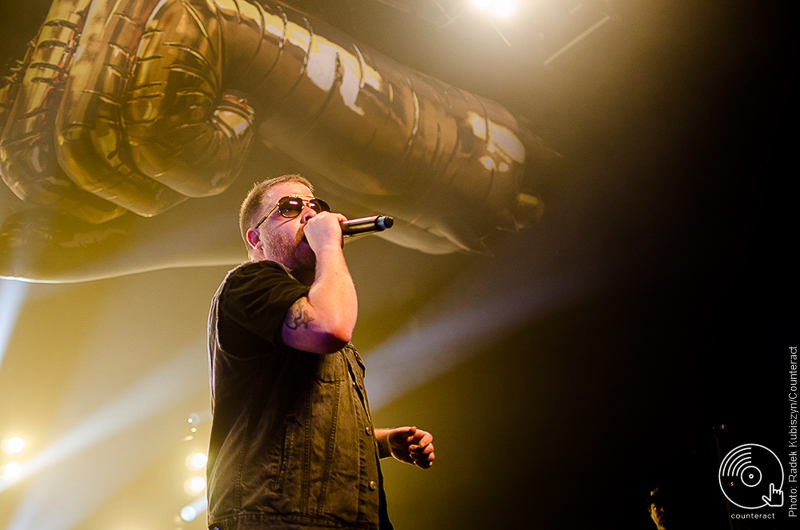 Run The Jewels
"Birmingham…I always knew we'd come back here, it's an honour to be in your beautiful city," exclaims El-P. No, really, the honour is all ours. In a set which mostly consists of material from the near-year-old RTJ3, the duo enter the fray and rile up the crowd with 'Talk To Me' straight into 'Legend Has It'.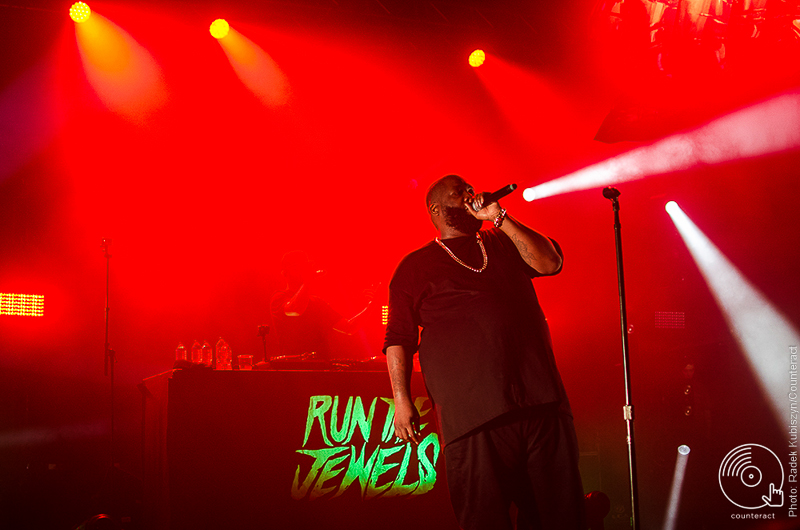 Run The Jewels
RTJ do head back to their debut LP on '36" Chain', at this point I feel it's important to point out that Killer Mike and El-P are on top form tonight. Lyrically they're, of course, on point but they're also bouncing off each other with near-perfect showmanship too.
Later on in the evening, the Run DMC-like 'Pew Pew Pew' makes an appearance as a few thousand fans holler back "Run The Jewels!" at their heroes for the night. It's 'Close Your Eyes (And Count To Fuck)' which receives the biggest reception of the night though, with the iconic RTJ gun finger and fist held aloft by most.

Run The Jewels
Maximum crowd participation and a few t-shirt giveaways later sees the main part of the evening go full circle and end with 'Down'. the opening track on RTJ3. Concluding a set that just tips the hour mark sees the pair pretend to disappear, returning with 'A Christmas Fucking Miracle' as it's "basically almost Christmas".
It's raining outside but nobody gives a shit as Run The Jewels were on fire tonight. Stay Gold.
Photographs by Radek Kubizsyn
Founding editor of Counteract. Freelance travel and music journalist.