Review: Morrissey impresses boisterous Birmingham crowd
The former Smiths frontman returned to Birmingham on March 27th 2015
Morrissey threw in a few Smiths classics amongst the solo-heavy setlist
Show ends with crowd surfers trying to get closer to Morrissey as he throws his shirt into the crowd
[amazon bestseller="smiths vinyl"]
As the pounding 'Meat Is Murder' reverberates around the arena, a sense of tension fills the air. It's almost as though nobody knows where to look.
A graphic video portraying the slaughtering of various animals accompanies the track as Morrissey's voice gradually increases in sternness along the lyric "it's sizzling blood and the unholy stench of murder."
Of course, Morrissey has never been one to shy away from controversy. Notices were plastered across menu boards in the arena lobby, proclaiming: "due to artist request, only vegetarian food will be available during this concert" and merchandise featuring swipes at meat-eaters featured heavily.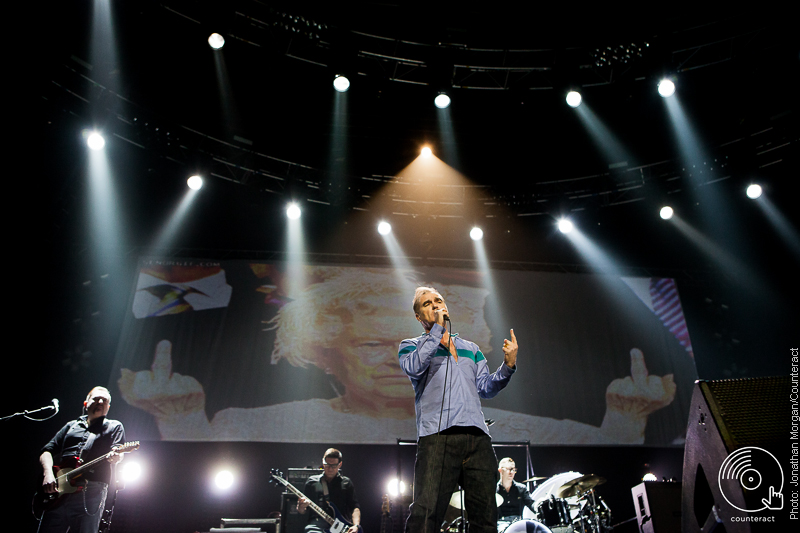 But it's the music we were all here for. Opening with The Smiths' treasured 'The Queen Is Dead', a protruding backdrop of the Queen with her middle fingers up replaces the pre-show Margaret Thatcher footage and its accompanying music – which I'm sure you can guess. Morrissey had arrived.
'Suedehead', from 1988's Viva Hate (released when Morrissey was just 29) followed, enticing the first real singalong of the night. Its joyous juxtaposition of instrumentals and melancholic lyrics are delivered with aplomb – microphone swings 'n all. Morrissey, now 55, aired five from his latest LP in a row, including the yearning 'Kiss Me Alot' with its swirling introduction and 'Staircase at the University' which saw Morrissey take maraca duty. During the plethora of newer material Morrissey joked that his songs weren't good enough for Harvest Records, aiming a slight dig at them with "look at their artists – if you can name any."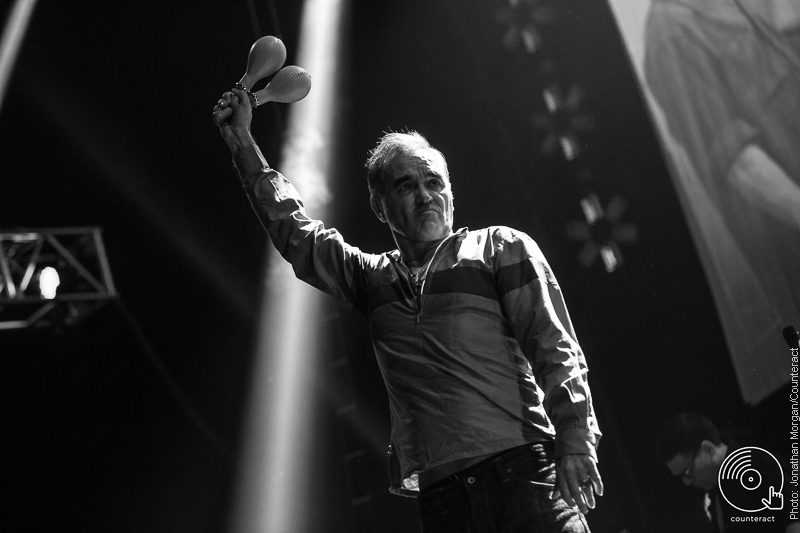 Teasing those in the arena with the opening chords of 'Irish Blood, English Heart' caused a singalong of the opening verse – only for 'Speedway' to kick in instead. Oh, Morrissey, you audacious so-and-so. Shortly after, Smiths classics 'Stop Me If You've Heard This One Before' and the contentious 'Meat Is Murder' act as the bread in a sandwich of latest album track 'The Bullfighter Dies' and the unreleased 'People Are The Same Everywhere,' all of which preceding one more Smiths track, 'What She Said'.
Returning for a one-track encore of the lugubrious 'Everyday Is Like Sunday', fans fought past the gloom by surfing over people's heads and past security in an attempt to shake Morrissey's hand – with many succeeding.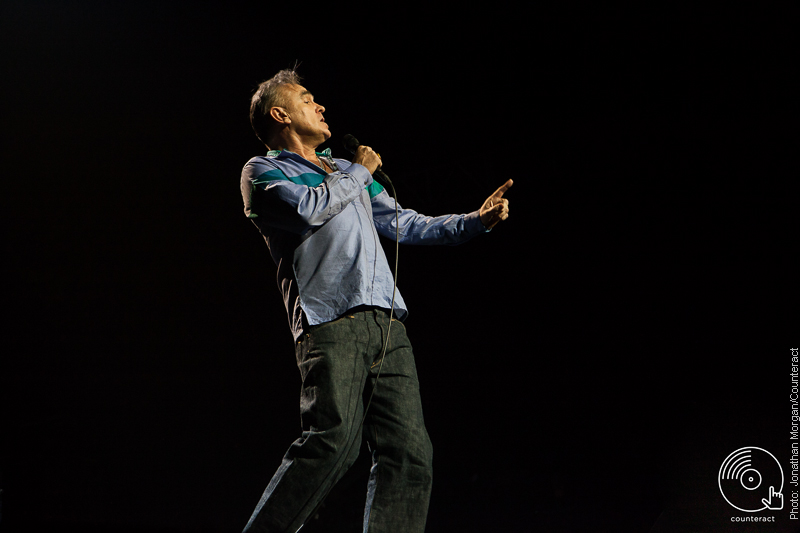 "All I ask if that you remember me but not my fate" was the request from Morrissey as he threw his shirt into the sea of aloft arms before the band's drummer dashed his kit across the stage.
Despite a few notable omissions, (notably 'Panic' for its Birmingham reference) fans will be glad to see Morrissey looking so well and back to his best – particularly after he had to cut his last Birmingham show short due to illness.
Viva Morrissey.
Photographs by Jonathan Morgan
Setlist:
The Queen Is Dead (The Smiths)
Suedehead
Staircase at the University
World Peace Is None Of Your Business
Istanbul
Kiss Me Alot
Neal Cassady Drops Dead
I'm Throwing My Arms Around Paris
One Of Our Own
To Give [The Reason To Live] (Franki Vallie cover)
Scandanavia
Speedway
I'm Not a Man
The World Is Full Of Crashing Bores
Stop Me If You Think You've Heard This One Before (The Smiths)
The Bullfighter Dies
People Are The Same Everywhere
Meat Is Murder (The Smiths)
What She Said (The Smiths)
Encore:
Everyday Is Like Sunday
Founding editor of Counteract. Freelance travel and music journalist.