Review: Metronomy captivate a packed out venue in Birmingham
Metronomy played Birmingham for the first time in two years on October 21st
Support came from duo Sons of Raphael
The audience was united by Metronomy's increasing catalogue of timeless classics
Commencing their set immediately with a great wall of feedback and the vocalist practically bouncing off his pedal board, Sons of Raphael crashed into each other back-to-back, with a drum machine playing in the background on a reel-to-reel that added to an archaic essence of ambiguity. They simultaneously appeared to be young and mature – their cool aesthetic looked as if Lord Byron had swapped outfits with The Kinks countered the slight angst of their lyrics that were peppered with gory religious imagery such as "fountains of blood in my backyard", "a life with no hope" and "your father is the devil".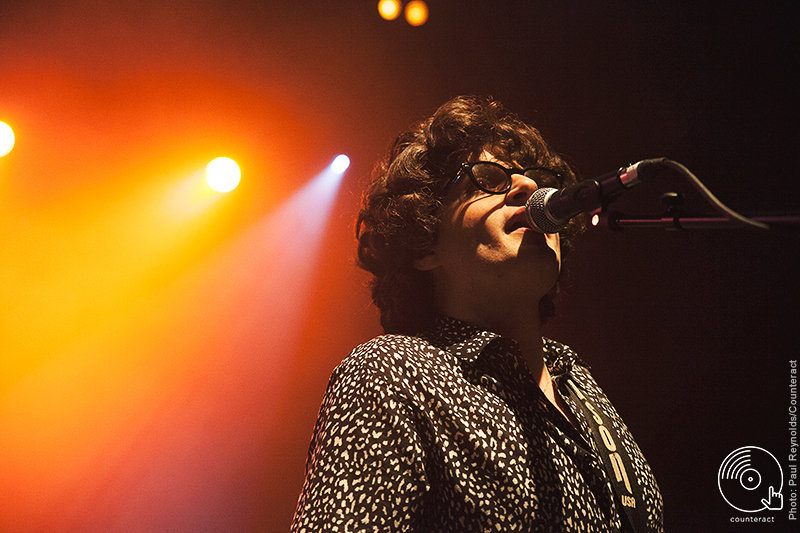 Sons of Raphael
Ronnel's raconteur-esque stage presence contradicted the lack of audience participation to which he responded with a swift "Move your arses you fuckfaces". But to be fair, no one knew what to do, or how to feel; across the audience there were smatterings of facial expressions displaying displaying shock, intrigue and bemusement. This was either a result of sensory overload from the distorted guitar sounds that pounded the ceiling and psychedelic patterns flying across the backdrop in discs, or purely just being too confused to share in these feelings of damnation.  If the O2 Institute was packed with more teenagers as opposed to millennial Metronomy fans, moshpits would definitely have been started.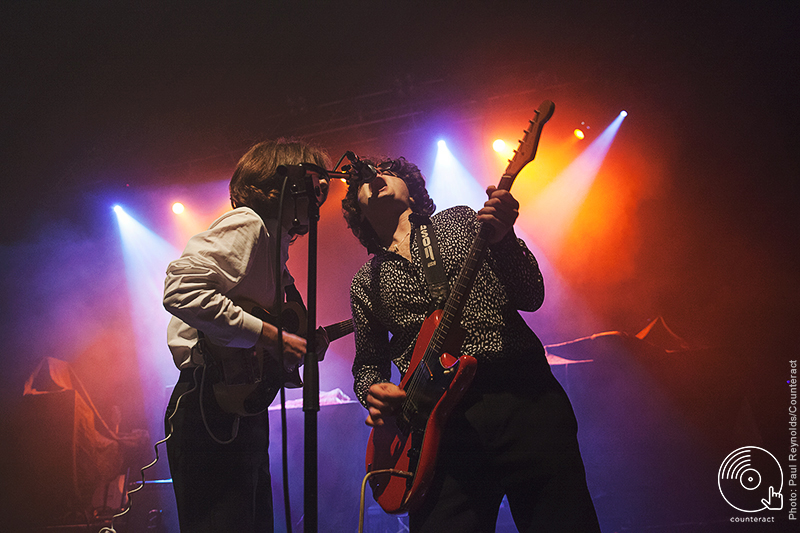 Sons of Raphael
Metronomy's cool blue lighting marked what could be taken as a transition from possession to sedation until explosive track 'Back Together' (and opener to their latest album Summer '08)  had even those in the balcony seating dancing, instantly creating the atmosphere of a big space-themed party with the smoke machine churning thick clouds that seemed to extend to the barrier. "Everything falling over because of the storm, Brian – Brian the storm… that's his name you know", Mount said amidst the mist.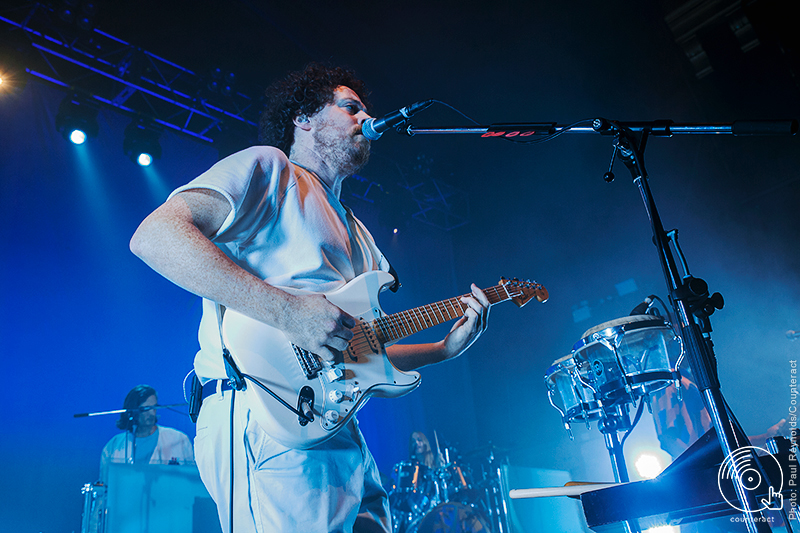 Metronomy
Their musicianship was unequivocal, with Mount a dynamic force on stage alternating between bongos on 'The Bay'  and drums in closing track 'Everything Goes My Way' and, every now and then, cutting through the sleek electropop with guitar solos, an organic feel emphasised by the use of instruments as opposed to using prerecordings. Occasionally, the lighting would make way to expose the perpendicular synths obscured by white panels being played simultaneously, displaying pure mastery and connection to sound.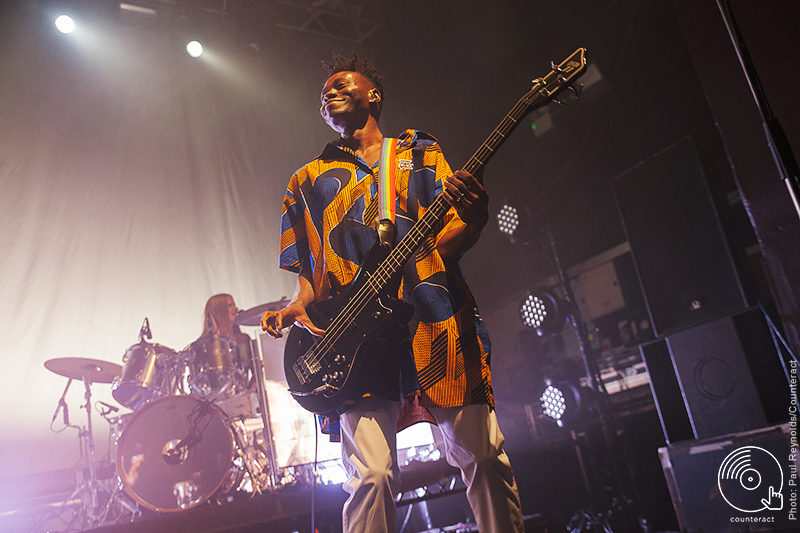 Metronomy
Chemistry on stage and great character was shown through smooth transitions between instruments that appeared to be shared. As a group, they were visions of effortless cool, dressed head-to-toe in white, yet down to earth, making levelled contact with the audience. Teasing the crowd with classic 'On the Motorway', Mount embarked on a monologue about Birmingham "You ever been in a vehicle driving at 70mph… it's frightening", he said vaguely, before launching into the punchy and triumphant single 'Love Letters' that was met with raucous reception, with further newer tracks displaying the quintessential Metronomy sound.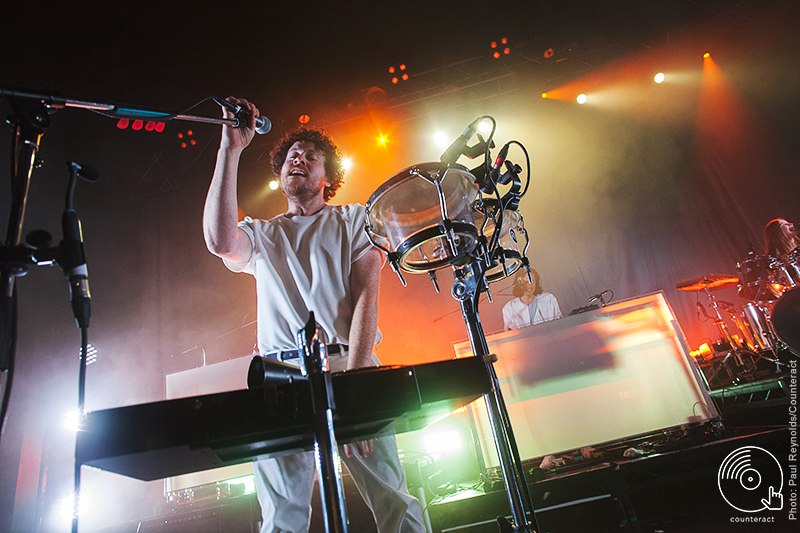 Metronomy
The nostalgia of 'Summer 08' in a majority millennial audience was emitted with the strategic placement of 'Love Song For A Dog',  an obscure instrumental from their 2006 debut Pip Paine (Pay The £5000 You Owe)  as Mount introduced the band in what felt like a cosmic jamming session. With the crowd's age range spanning across their five albums, there were collective yelps from different spots  when certain tracks were played, but everyone joined together for crowd pleasing classics 'Corinne' and 'The Bay' In an effective melding of the old and new, the crowd collectively knew every lyric and harmony, the robust nature of the synth sounds almost being drowned out by the unified vocals reinforcing the fact that Metronomy is for everyone.
Photographs by Paul Reynolds