Review: Maximo Park and PINS bring charismatic causes to Birmingham
Maximo Park returned to Birmingham to energise and entertain a sold-out O2 Institute on May 5th

The Billingham five-piece played tracks from politically-charged new album Risk To Exist
Support came from Manchester all-girl group PINS
It's almost no surprise to find out that PINS lead singer Faith Holgate had a stint as a fashion photographer – dressed in resplendent black with a hat straight from the '60s, her front-woman shtick oozes vintage appeal that could come straight from a shoot. Throughout the band's set, Holgate is talented and charming, whether she be thrusting her tambourine to the skies during the Jesus and Mary Chain-esque blast of 'Bad Thing' or getting the female quotient of the crowd to shout out through the punky melodicism of 'Girls Like Us'.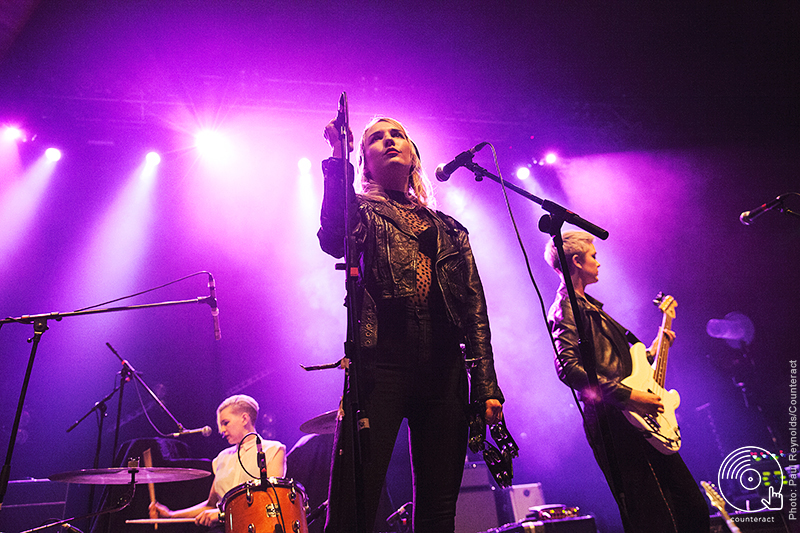 PINS
If an audience attendee was unaware of what band would follow, they would not be surprised to see it's Billingham rockers Maximo Park. After all, Smith and Holgate aren't too dissimilar – not only is the former a charismatic front-man, he also shares a similarly natty dress sense, coming to the stage in trademark fedora and sharp blue suit.
If one of the key reasons Maximo have enjoyed such commendable longevity is due to Smith's eccentric, angular stage moves, another is the five-piece's continued desire to evolve with each album. Their sixth record, Risk To Exist, sees them balance politically-charged concern with sleek synths, and they get this marriage right through the stately shimmers of opener 'What Did We Do To You To Deserve This?', before the title track erupts with militant snares, a choppy guitar strut and queasy keyboards, allowing for Smith to indulge in some of his disjointed gesticulations.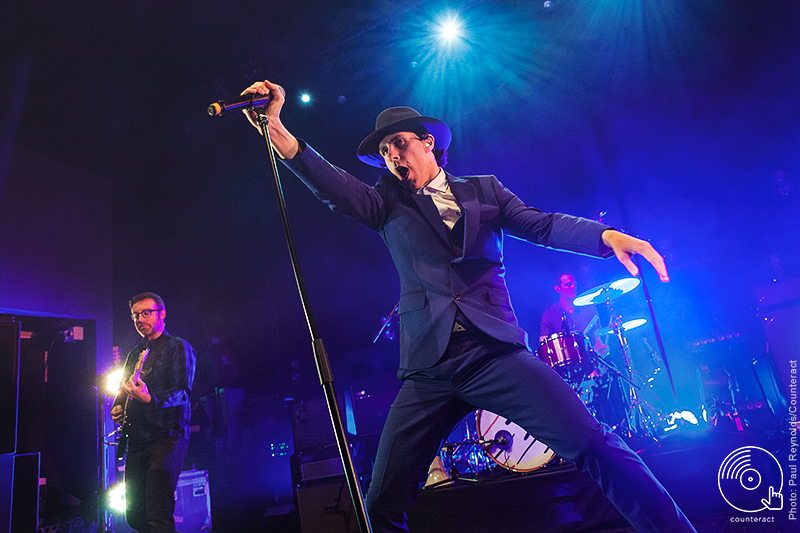 Maximo Park
Whether he be chopping the air with rage during the angst-ridden 'Write This Down' or pounding his chest during the downbeat 'I Want You To Stay', Smith has the sold-out audience's unwavering attention. Even when the Tyneside rockers dust off some of the more mothballed numbers of their back catalogue, most notably the jittery thrash of 'The Penultimate Clinch' and the literary fuzz of 'Her Name Was Audre', the crowd whoop and cheer in adulation.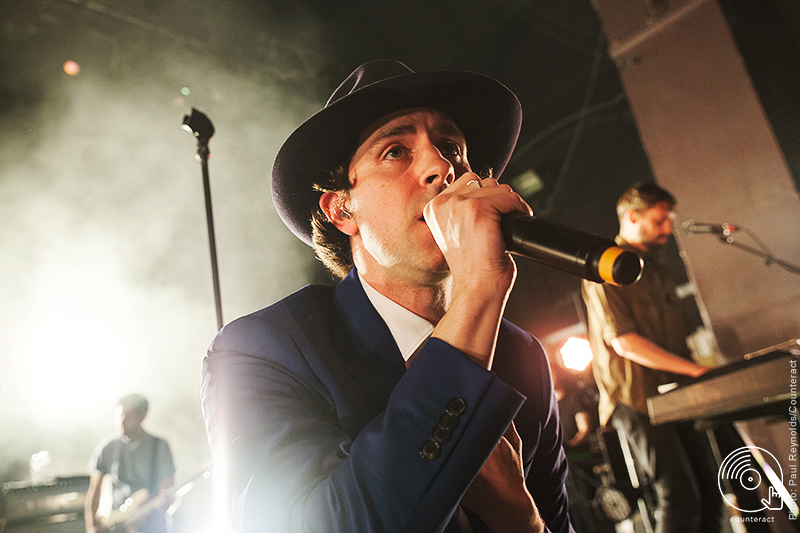 Maximo Park
Since coming to prominence in 2005, Maximo have always blended post-punk spikiness with more widescreen longing. When they get the blend at its most potent, they are unbeatable, particularly on the twinkling pianos and contemplative arpeggios of 'This Is What Becomes of the Brokenhearted', 'Books from Boxes' and album favourite,  'Nosebleed'. New track 'Work and Then Wait' may crib its scuzzy intro from 'Where Is My Mind', but Smith's heartfelt delivery ensures it stands on its own terms.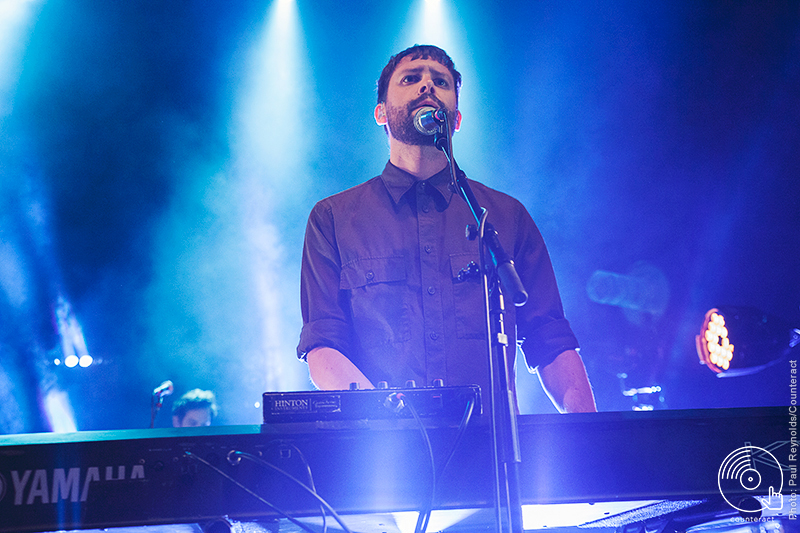 Maximo Park
They're equally adept when they step it up a gear and the frenzied, 'Our Velocity', with its almost stream-of-conscious vocal style and nimble guitar crunch, remains one of their finest tracks. New song 'Get High (No I Don't)' thoroughly deserves its encore status, as well as providing Smith the chance to launch into one his trademark scissor kicks, while 'Apply Some Pressure' and its scatty guitar motif still has enough robustness to erupt any dormant dance floor.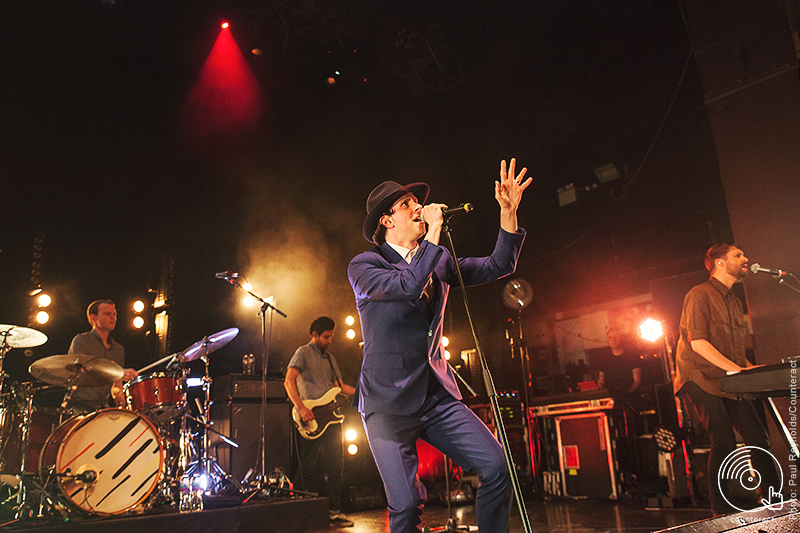 Maximo Park
"It's Friday night, go and enjoy yourself," a sweaty, blazer-less Smith instructs as he leaves the stage. If he managed to take it in, he'd know that that prophecy had already long been fulfilled.
Photographs by Paul Reynolds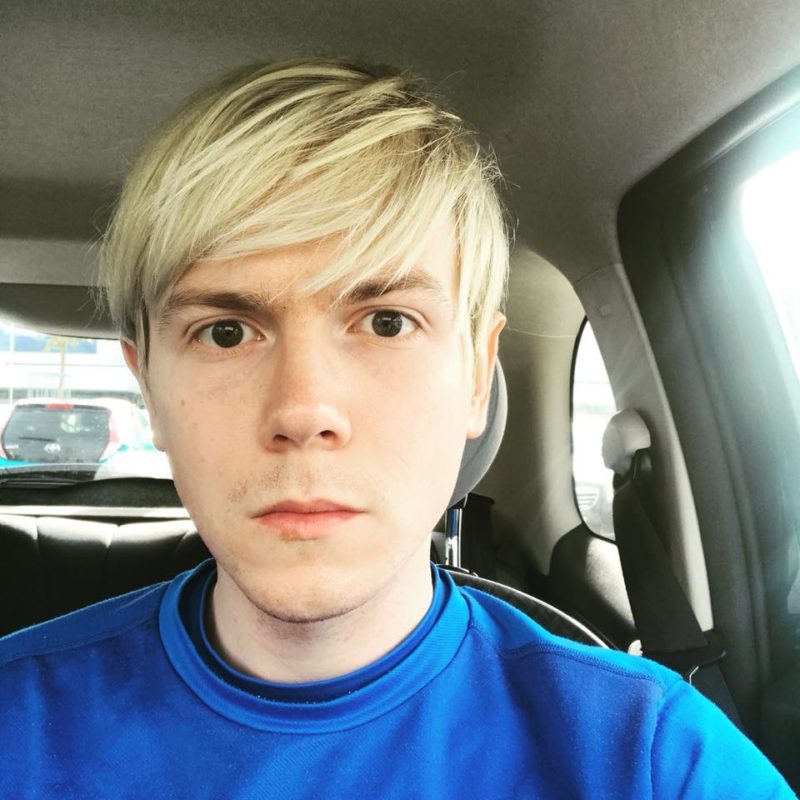 Tied to the '90s. I love anything with a good melody. Favourite acts include DIIV, Best Coast, Wavves, MBV, The Lemonheads, Bully, Pavement, Weezer, Wolf Alice, Mac DeMarco and Dinosaur Jr.