Review: Louisiana's Seratones bring wild Southern rock to Birmingham
This is Tmrw delivered a 3 band line-up at The Hare and Hounds on 9th November 2016
Support bands, You Dirty Blue and Byron Hare play their sets with perfection
Seratones steal the show with their Jazz and Soul infused performance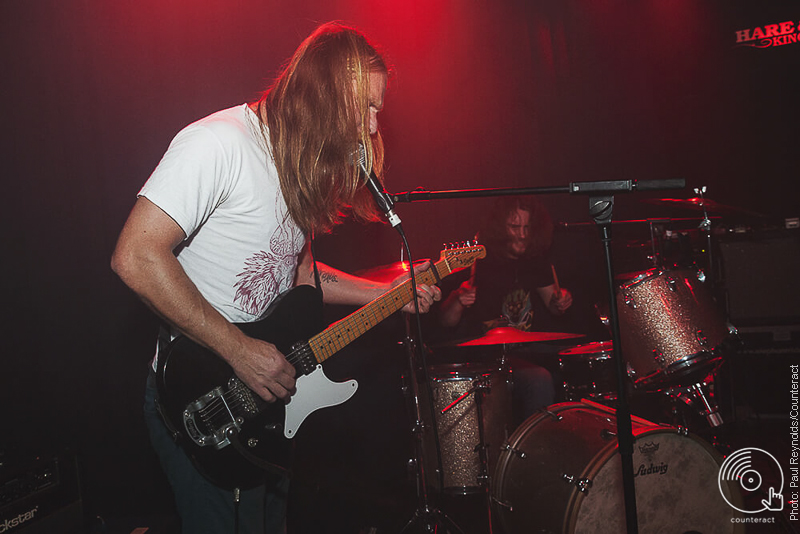 You Dirty Blue
With the night starting at 8pm, Tamworth duo, You Dirty Blue, began their set as the attendees began to filter into the venue. Starting with the uptempo, 'Ghost Dance Camp', from their debut EP, Pictures from Pages, the talented twosome powered through their set with defined precision and a focused intensity. The heavy, rolling drumbeat and rumbling bass organ undertones, layered among gritty vocals, fuzzy rawness and hook heavy guitar riffs, provided a solid foundation for the introduction to their set and the bands that followed. Debuting new material, the band played a set originally consisting of 6 songs with a 7th song dropped in at the end as an additional bonus. With 4 of the tracks being new material, vocal duties being shared between both musicians and a heavy, garage blues influence laced throughout, their performance evidenced a duo that are well practiced, progressing and maturing musically and possess a catchy and unique song writing style that is just as intriguing as it is loud and intense. Being regulars on the Birmingham gig circuit over the last 12 months and quickly growing in popularity, You Dirty Blue are a band that are making a name for themselves for all the right reasons and are, undeniably, the one's to catch live if you are yet to do so.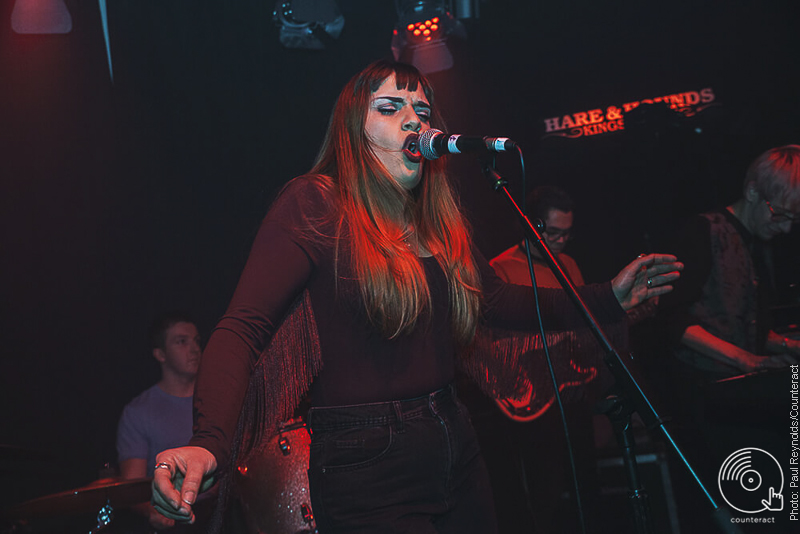 Byron Hare
Next to grace the stage were the Redditch 5 piece, Byron Hare. Returning to the gig circuit in 2016 after a year hiatus and playing with a last minute replacement bassist and drummer, the band have clearly not lost any ounce of their ability to charm an audience during their time away. They played a 5 song set encapsulating the elements of blues rock, 60s psychedelia and West coast pop with Jodie Ollis' powerful vocals,  echoing an influence of Janis Joplin and Grace Slick, being the glue that holds the whole collective together. Their performance resonated a sound that could easily compare and compete with the bands filtering through The Fillmore during the 1967 Summer of Love, although the funky bass rhythms and pulsating drums beats evidence an experimental ensemble that cannot simply be pigeon-holed into a musical era gone by. With the nodding heads and appreciative applause from the crowd it is clear that Byron Hare are on their way to playing to much larger audiences and with their new material being expected in the near future, it will be interesting to hear what this retro inspired collective come up with next.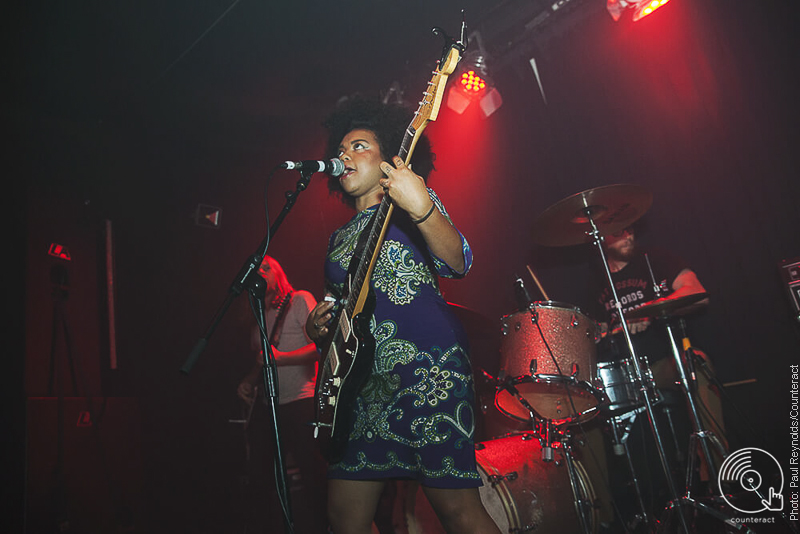 Seratones
With the crowd fully warmed up it was time for the Louisiana 4 piece, Seratones, to bring their rays of southern sunshine to the upstairs venue. Formed in Shreveport, Louisiana, in 2013 and releasing their debut album, Get Gone, on Fat Possum Records in March this year, Seratones have received high praise and positive reviews following impressive live stints at international events such as 2016 SXSW Festival in Austin. With vocalist/guitarist, A.J Haynes, beginning her musical journey at age 6 singing at Brownsville Baptist Church in Columbia, Louisiana, the prominent gospel style vocal, elevating over the crowd towards the back wall of the venue becomes recognizable from the beginning of their set. Opening with, 'Choking on Your Spit', the first track from the album, the band have a potent garage rock ferocity that does not fail in taking the energy level in the room up a notch with the effervescent quartet clearly, 'happy to be here', despite being a long way from home.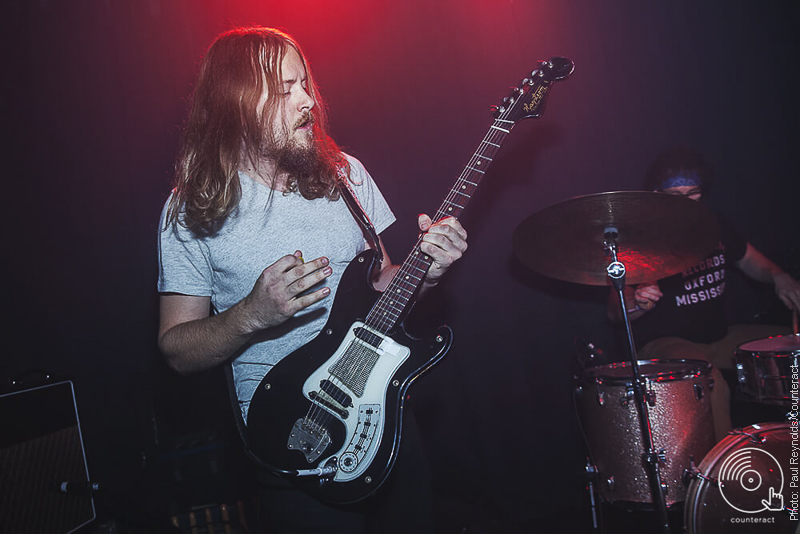 Seratones
As the band work through their 11 song set, Haynes cheerfully coaxes and cajoles the crowd with the  sophistication, sass and swagger that one would expect from an admirable front-women. Although she is clearly the main focal point, with a vocal and guitar talent that never falters, all members of the band work well together and each contribute their own like-minded techniques resulting in a dynamic and enigmatic musical collaboration. There is no doubt that they can produce the kind of wild southern rock music that a crowd can shake their asses to, particularly with songs such as 'Sun' and 'Headtrip', but Seratones are also capable of producing a much deeper and soulful sound than the average heavy licked, riff-filled rock band. Songs such as 'Kingdom Come' evidence a shuffled jazz style drumbeat, 'Tide' and 'Take it Easy' show a melodic and passionate soul/blues filled approach to the rock music genre, with the quivering high vocals throughout 'Don't Need It', echoing an inspiration of Stax Records soul diva attitude.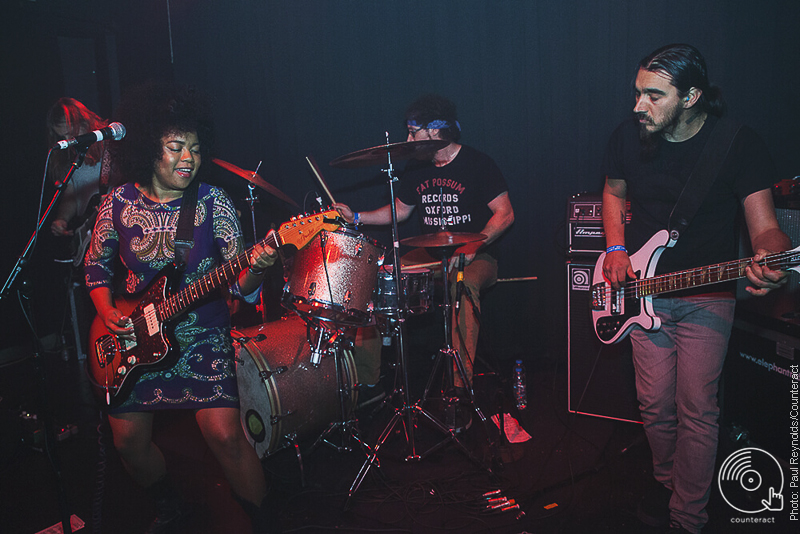 Seratones
With all these factors combined it was no surprise that Seratones performance went down a storm, particularly for the last song 'Trees', which saw Haynes grooving her way throughout the crowd shaking her tambourine marking the end of an exuberant and alluring performance. On a cold, rainy, mid-week evening in Birmingham, a loud dose of Seratones southern charisma was the perfect remedy to warm up the night.
Photographs by Paul Reynolds
English and Media Studies graduate, frequent traveler, vinyl and vintage enthusiast….fan of delta blues, folk, 60s/70s rock, psychedelia and the many gaps in between. Favourite artists include Wooden Shjips, Radio Moscow, All Them Witches and too many others to mention.