Review: Japandroids begin their UK tour at the O2 Institute
Canadian duo Japandroids played the O2 Institute on April 28th
The evening was the first night of their UK tour
Support came from the female fronted 4 piece, Dasher
A mixed age crowd filtered into the O2 Institute on Friday April 28th to witness Japandroids return to play Birmingham for the first time in 8 years. Currently touring in support of their long awaited 2017 album, Near To The Wild Heart Of Life, released 5 years after its 2012 predecessor Celebration Rock, the crowd waited in eager anticipation for the arrival of the Vancouver twosome.
First up were the Jagjaguwar signed, Indiana 4 piece, Dasher. Fronted by vocalist and drummer Kylee Kimbrough, their sound mirrors the Riot Grrrl punk feminist influences of bands such as L7 and Babes in Toyland, along with the thrashing guitars and heavy power of metal bands such as Sepultura. With deep rage filled vocals, gut wrenching shrieks and the ability to make even the most prolific of male drummers look somewhat feeble, Kylee Kimbrough is a force to be reckoned with and is the main powerhouse behind this stripped back yet thunderous post-punk foursome. With little interaction between the band members and the drone of feedback filling the gaps between songs, Dasher played a set of 6 tracks including their recently released single, We Know So. Gripping the crowds attention with their loud, raw and intense sound from start to finish, Dasher would be in perfect company supporting the likes of Melvins should they be looking for a future opening act.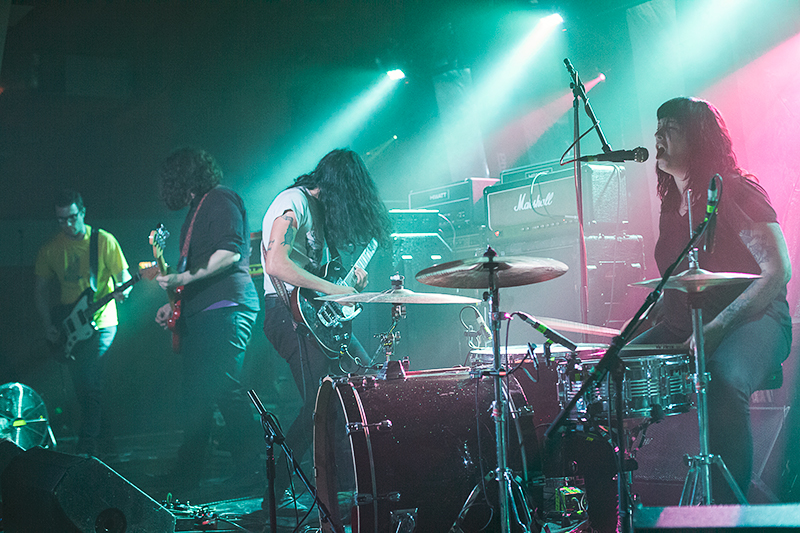 Dasher
The slightly 'lighter' in tone Japandroids took to the stage backed by the soundtrack of Mogwai's 'Punk Rock:', a musical monologue for the inspiration behind what was about to be witnessed. Despite their minimalist approach; 2 band members, 1 guitar, 1 drum kit, no fancy lighting or artistic trickery, and the possible risk of looking sparse on the large stage; their live performance proved to be anything but minimal. From the initial notes of set opener and current album title track, 'Near To The Wild Heart Of Life', followed by Celebration Rock's, 'Fire's Highway', Japandroids eradicated any possible pretensions that larger bands can often accumulate and instantly set the energy level soaring with their own brand of "heartland rock without the heart".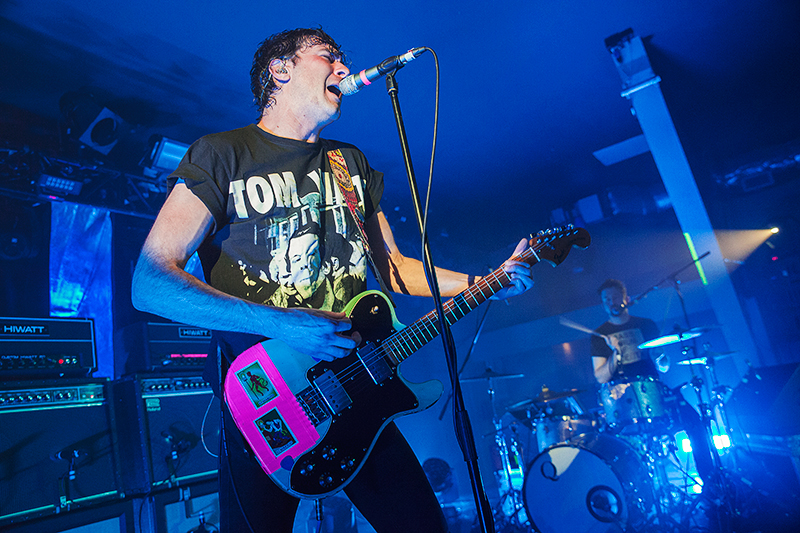 Japandroids
Sweat drenched and stage pacing vocalist/guitarist Brian King relentlessly filled the amps with his punchy power-chords and catchy riffs, David Prowse provided his hard snare shuffles and deep-rooted kick bass rhythm, whilst both members fully utilised their joint vocal abilities on all tracks. As a result, their sound was full and uncomplicated and it quickly became apparent that this duo are not simply part of the '3 is a crowd' music novelty, but that a bass player is certainly not needed nor is the sound of the bass missed.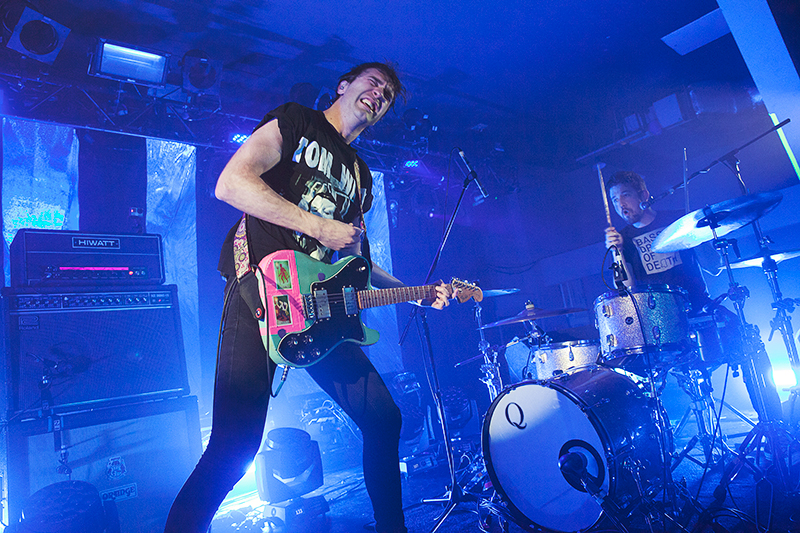 Japandroids
Despite being part of the alternative indie/garage/rock genre, it is obvious from the first listen that the songwriting on Japandroids current release shows a refinement of their style, radiates a sense of optimism and is a step forward from the brashness of their mainly punk influenced past releases. At points during the evening, their tracks hit euphoric realms creating an atmosphere not dissimilar to the sing-along heights of anthemic classics such as Bruce Springsteen's, 'Born to Run'. Following the shout-outs for numerous requests from their debut, Post-Nothing and their 2010 compilation, No Singles, the fuzzy feedback tones of 'Continuous Thunder' rang through the venue resulting in a swaying audience, lighters aloft, couples draped in each other arms, everyone belting out the lyrics and a sense of carefree youthfulness filling every soul in the room.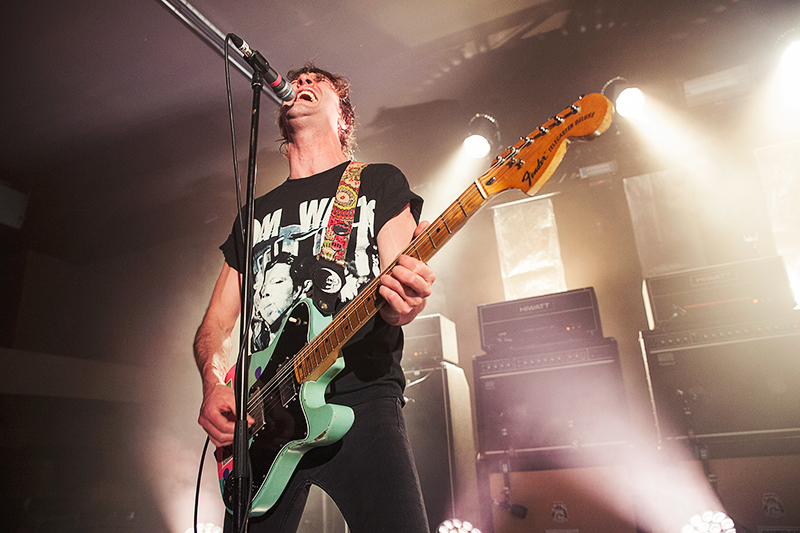 Japandroids
The energy they emit from the stage is contagious and the rapturous enthusiasm projected from the no nonsense duo was easily matched by the vigorous crowd. The sense of euphoric nostalgia continued throughout their 15 song set to their final track, the fast paced and distorted riffs of 'The House That Heaven Built'. Reveling in their successful return, King announced, "We promise to be back in the UK sooner than last time" before giving every last ounce of stamina to the lyrics "And if they try to slow you down/Tell them all to go to hell", for a crowd that continued to sing along with every word. The amount of support shown for Japandroids was unparalleled and as they left the stage their grateful appreciation for all in attendance on the opening night of their UK tour was obvious. As far as "Telling them all to go to hell" is concerned, consider it done if it means they will return to Birmingham much sooner in the future.
Photographs by Paul Reynolds
English and Media Studies graduate, frequent traveler, vinyl and vintage enthusiast….fan of delta blues, folk, 60s/70s rock, psychedelia and the many gaps in between. Favourite artists include Wooden Shjips, Radio Moscow, All Them Witches and too many others to mention.