Review: HOLY headlines the fourth annual Slime Ball to raucous effect
Swedish label PNKSLM brought a slew of sludgy bands to the Hare & Hounds on 30th September
Support came from Terror Watts, Lucern Raze, Swampmeat Family Band and Black Mekon
Headliner, HOLY, held the audience in a rapt state with a set of woozy prog-psych
After nights at Manchester Soup Kitchen and the Old Blue Last in Shoreditch, the PNKSLM convoy rolls into Kings Heath to round off their weekender at the Hare & Hounds. The fourth annual Slime Ball sees an eager crowd gathered to see what the Stockholm label has to offer.
A staple of the Birmingham music scene, Terror Watts play a precise selection of pop-punk nuggets from their 2017 self-titled EP. They round off their set with 'Tough Guy', a fan favourite which is also now available to buy. A standout riff in a set of many, Terror Watts leave the audience well and truly warmed up and ready for the evening.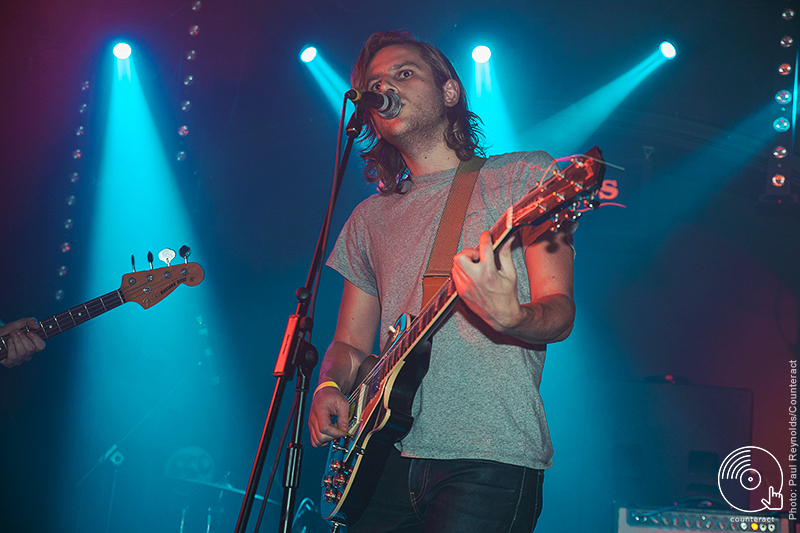 Terror Watts
Lucern Raze, featuring Killer Wave's own Joel Webster, proudly announce that they are "all the way from Stockholm and Kings Heath!". A set of surfy, sun-bleached tunes ensues that sounds a lot more Seattle than Stockholm. Debuting their first fresh material since 2015's Happy & Astray EP (also released on PNKSLM), their transcontinental garage rock is not to be missed.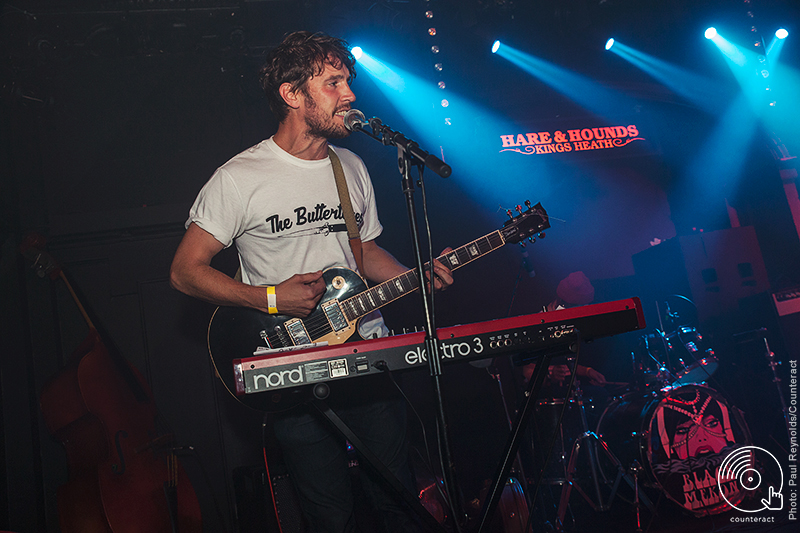 Lucern Raze
The audience are then treated to a set of punk-flavoured rock & roll served up by Birmingham's own Swampmeat Family Band. As usual, their set is both loud, tight, and excellent fun. 'I'm A Fucker, Not a Fighter' drips with rockabilly sleaze. No one in the crowd can resist grinning.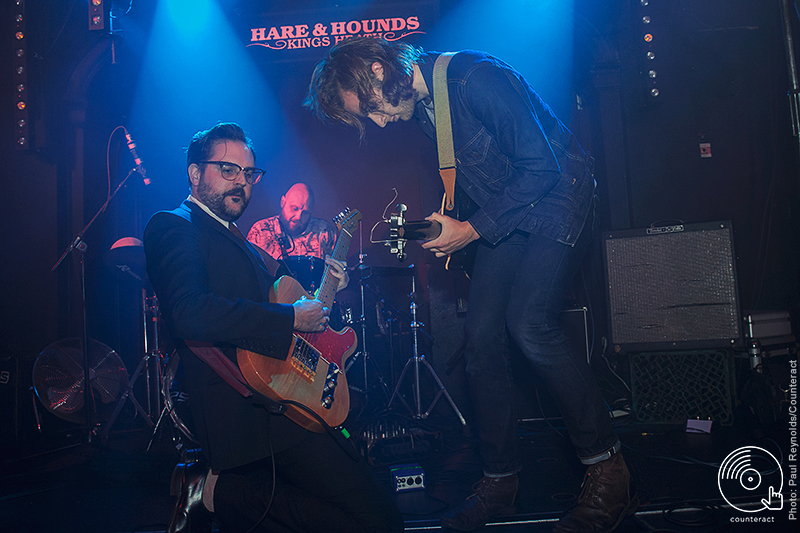 Swampmeat Family Band
Riding a wave of success from their new LP, One in the Hate, Black Mekon appear in white suits and their trademark black masks.
"This one's for anyone who loves dying."
The fuzzy assault of 'Frank Died Hanging From An Electric Fence' fills the room. The crowd begin to dance almost immediately.
"This one's for anyone who loves stealing."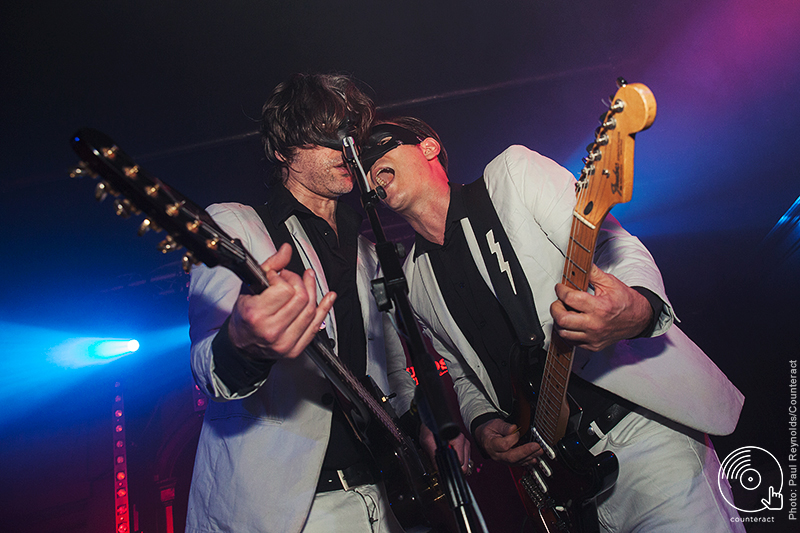 Black Mekon
The grinding riff of 'Janey Was A Klepto', the opening track from their new album, kicks into action. With an established back catalogue up their sleeves, Black Mekon go down the bold route of mostly playing tracks from their new LP. It's working.
"This one's for anyone who loves Priscilla."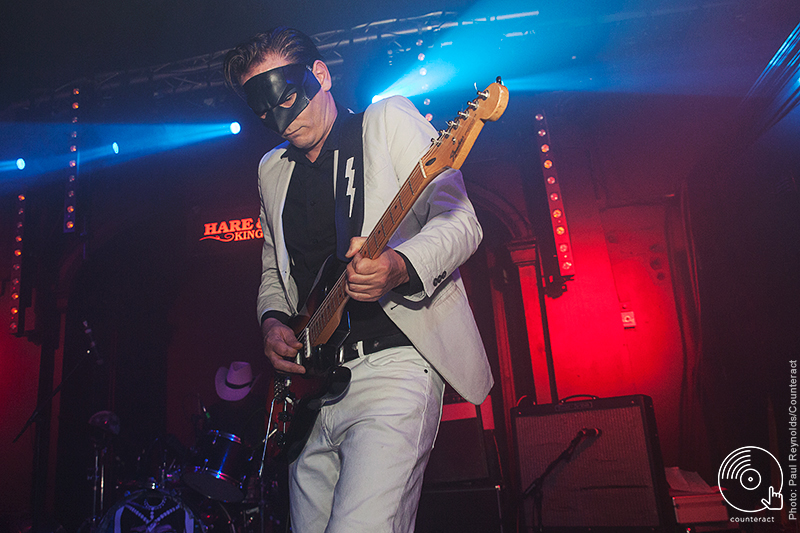 Black Mekon
A Cramps-esque swing signals the start of 2013's 'Backseat Babe'. A gaggle in the crowd woops with glee. At the heart of that gaggle is Priscilla, the muse behind the track. The set continues on this vein, but most of the introductions hereafter can't be repeated. MCs Frantic & Idle take the stage for a couple of tracks.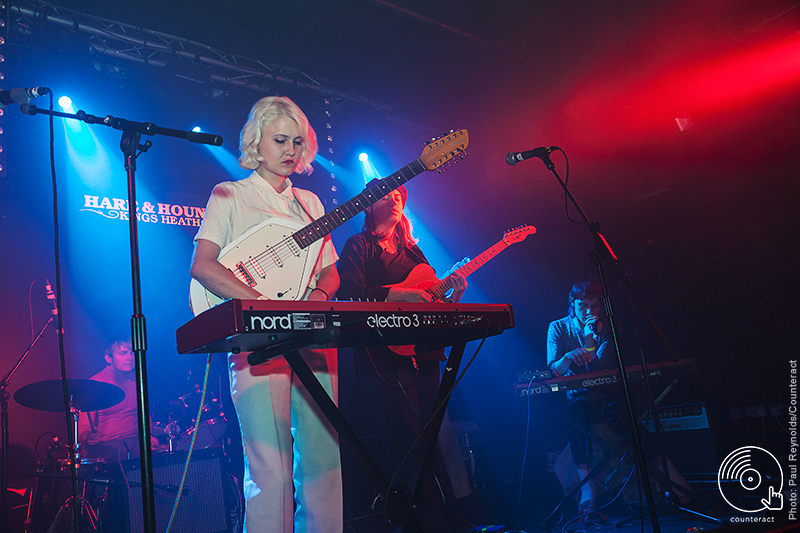 Holy
After an evening of growly guitars and equally growly vocals, HOLY's brand of angelic prog-psych is transcendent. Hannes Ferm takes centre stage, flanked by his band, and without introduction they begin with 'Night On Earth'. The crowd is instantly soothed. Back with his first release since 2015's Stabs (also on PNKSLM), Ferm is touring his new single, 'premonition', a near seven minute blissed-out odyssey of swirling reverb and ethereal vocals. Live, this track is even more intense. Completely enveloped, the crowd sways in the hazy atmosphere. A call and response between fuzzy guitar and piercing synth occasionally punctuates the gentle drone.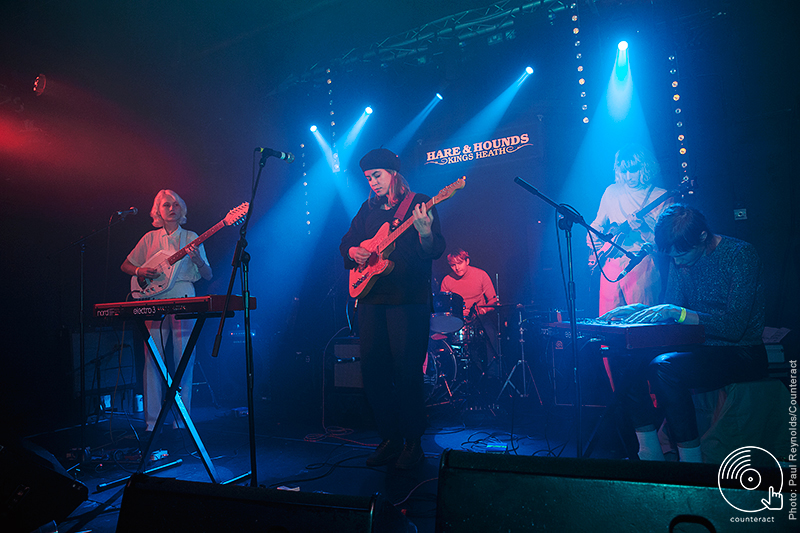 Holy
Photographs by Paul Reynolds
Visual artist, multi-instrumentalist, and scrounger. Always wearing headphones, probably listening to Ezra Furman, Sleater-Kinney or Goat.