Review: Hardcore punk legends NOFX ignite The O2 Institute
The first of only two UK dates for NOFX came at the O2 Institute on Thursday 14th June
Support came from Snuff and Bad Cop Bad Cop
NOFX performed a raft of classics from their back catalogue
The Fat Wreck Records family landed in the city in a riot of good natured, and sometimes edgy (this has landed NOFX's Fat Mike in TMZ tabloid hell recently), banter and explosive punk rock energy, with three bands sending the sweat levels soaring through the O2 Institute's ornate roof. Opening the show were Bad Cop Bad Cop, an all female quartet from Los Angeles, who plowed through a set of raw angsty hardcore anthems laced with catchy hooks and biting lyricism. Imagine a hyper-cranked up version of The Go-Go's spitting well aimed venom at the social disorder of Trumpism.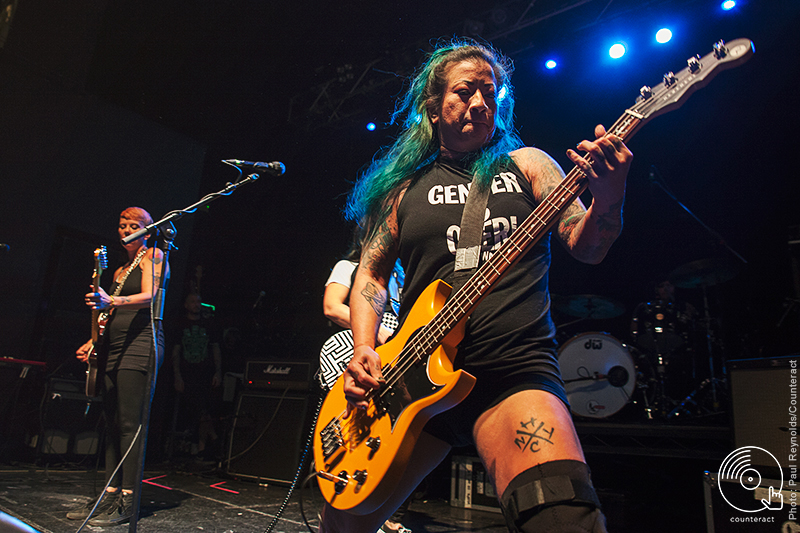 Bad Cop Bad Cop
Cockney charmers Snuff have been wielding their unique brand of good natured punk rock yobbery since 1986, renown for inventive covers, "we don't do covers" they mischievously announce whilst threatening to break into 'Bran Flakes', and the pile driving drumming/singing of founder member and mainstay Duncan Redmonds. Without ever missing a beat, Redmonds hammers through songs, his kit sounding like a thundering racehorse whilst delivering those trademark raspy Snuff vocals.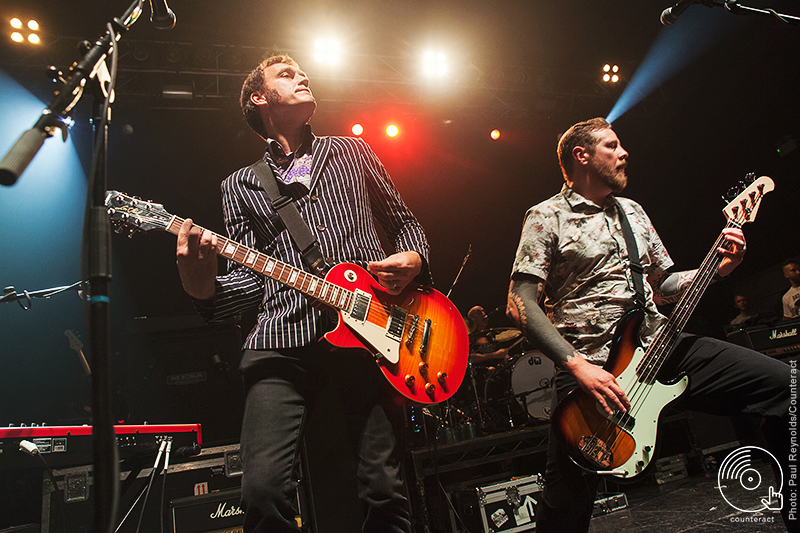 Snuff
The band charge through a set mixed with crowd pleasing classics and the mysterious new album which "hasn't got a name or release date". Stand out from the classics is ode to insanity 'Marbles' from the 2000 album Numb Nuts. The boys pull out two classic covers with 'Soul Limbo' and an impossibly catchy blitz through 'Whatever Happened To The Likely Lads'. Snuff save the best for last with NOFX's Fat Mike and Bad Cop Bad Cop's Rinh Re joining the band on stage for a glorious singalong of the anthemic hymn to absolute self-awareness, 'Arsehole'. The image of two thousand smiling faces singing, "we're all arseholes, we're a bunch of wankers", will linger long in the memory.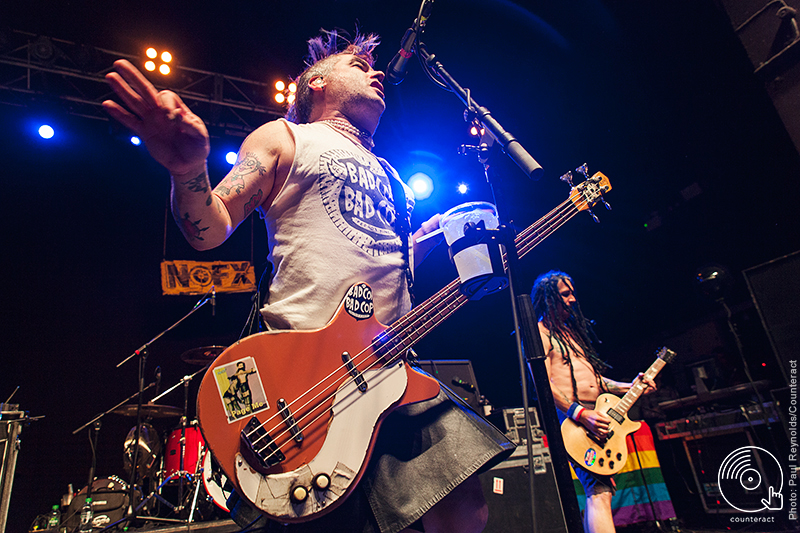 NOFX
There's an engagingly shambolic professionalism about headliners NOFX; possibly the biggest selling independent band ever, ten million records and counting on their own label Fat Wreck, whose legendary live shows veer between deliciously rambling and hilarious commentary from Fat Mike and El Hefe, to the tightest hardcore punk tunes ever realised, tunes heavy with political and social commentary. This is apparent in their shrug of the shoulders nonchalance to performing live, ambling on stage to the Rocky Horror show tune 'Let's Do The Timewarp', Fat Mike, resplendent in leather skirt and scruffy mohawk, mimes, mugs and minces, whilst the band plug in and get set, no  worries, we'll start when we're ready.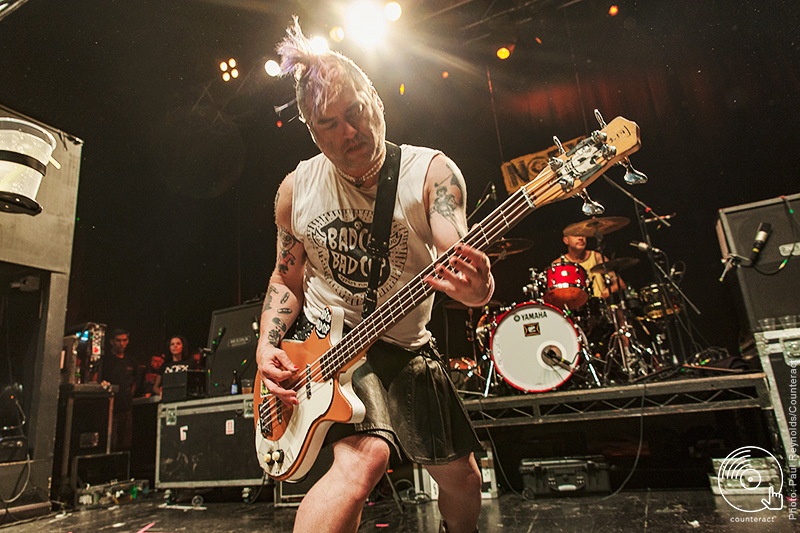 NOFX
The band rip through several classics in the gaps where Fat Mike isn't talking, at one point he announces he's just been informed, "we've been onstage thirty five minutes but only played twenty minutes worth of songs". Nobody cares, this is NOFX's charm, there's even a cheeky nod to the media furore surrounding his recent comments regarding the Las Vegas mass shooting (for which he apologised). After being hit with a coin he asks, "what's the matter, are you Country music fans?" In addition to coins and drinks, the usual ritual of throwing shoes at the band is observed, we noticed several sorry looking post gig punters wearing only socks.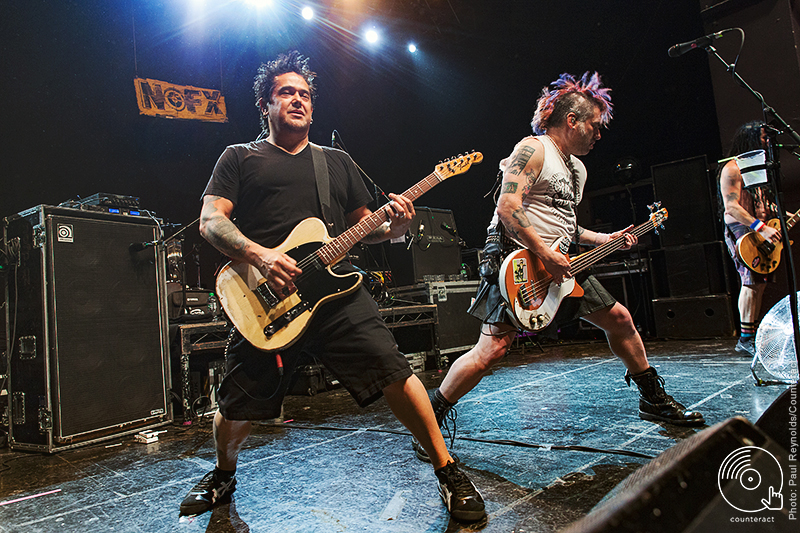 NOFX
Highlights include rousing versions of 'Leave It Alone', 'Perfect Government' and the set closing 'Linoleum' from the best selling album Punk In Drublic (1994), all three songs producing an eruption of crowd singing and violently sweaty moshing. There's an hilarious discussion about the song 'Ronnie and Mags', from Self Entitled (2012), with Fat Mike making the fair point that no other American punk bands sing about Margaret Thatcher and we should be grateful, we are. The band encore with four songs including the immense rage against alcoholism 'Bottles To The Ground' and the epic thrashfest of 'Stickin' In My Eye'. Then it's over, "I think it's time for you to go home now" intones Fat Mike, but he lingers along with guitarist Eric Melvin to chat to fans, that punk rock bonhomie remains solid.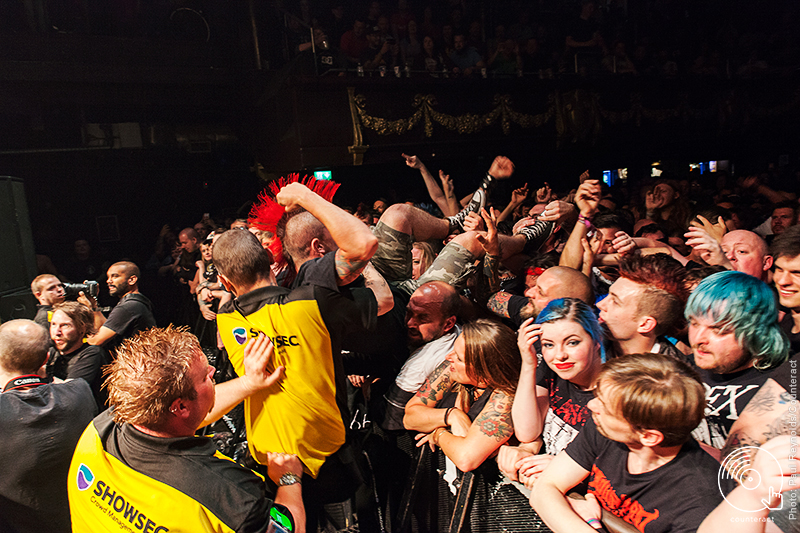 Photographs by Paul Reynolds
"Reviewer, previewer and writer of just about anything. Can usually be found with my eyeballs plugged into sleazy 70's exploitation cinema or riding an antique bike around Harborne. I have no issue with being bought pints or accepting bribes of any sort."