Review: Deap Vally get Femejism all over Castle & Falcon crowd
Deap Vally performed new tracks and fan favourites to a busy Castle and Falcon on Monday July 2nd
The L.A. duo enthralled the crowd with sleazy riffs and feminist singalongs
Support came from Melbourne rising star Ecca Vandal and the Midlands' own Violet
On arrival at the Castle and Falcon, the bar area is packed. 1 hour after the billed door time and the venue opens.
[amazon_link asins='B01GIH89NI,B01GIH8AH8,B00CZDUH94′ template='ProductCarousel' store='counteract03b-21′ marketplace='UK' link_id='80f0e35b-8351-11e8-b54e-71f1abe6386d']
Birmingham Promoter's protégés Violet finally arrive on stage. The Lichfield shoegaze outfit perform a set drenched in shimmering reverb. Their latest single, 'Jaded', is a slice of modish brit-pop. The room is packed, but this is due in part to the delayed start time. Their delivery is polished, and their sound is well-defined. The set blends together – Violet's music is palatable, but its a victim of the scene's fascination with form over function.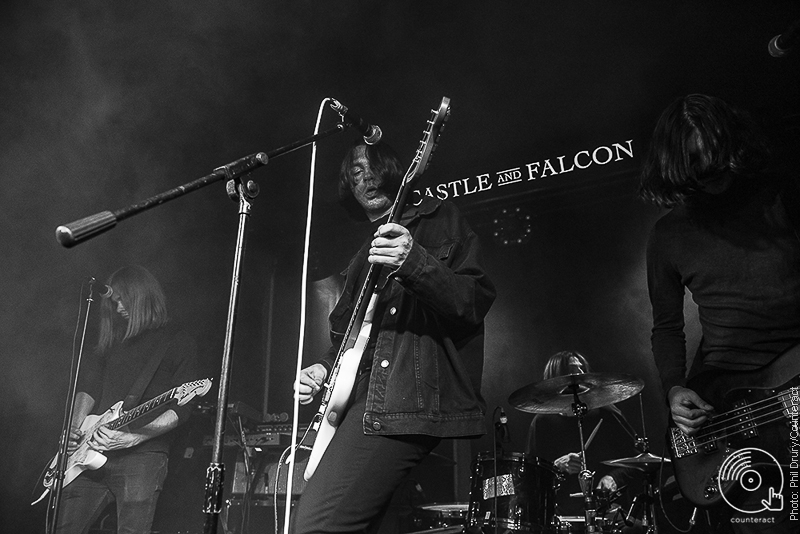 Violet
Following Bollywood-esque intro music, Ecca Vandal explodes into the room. Her band immediately back her up with a wall of pounding noise. If M.I.A. had been in Refused, this is how it would sound. The nu metal riff 'Price of Living' whips the crowd into a frenzy.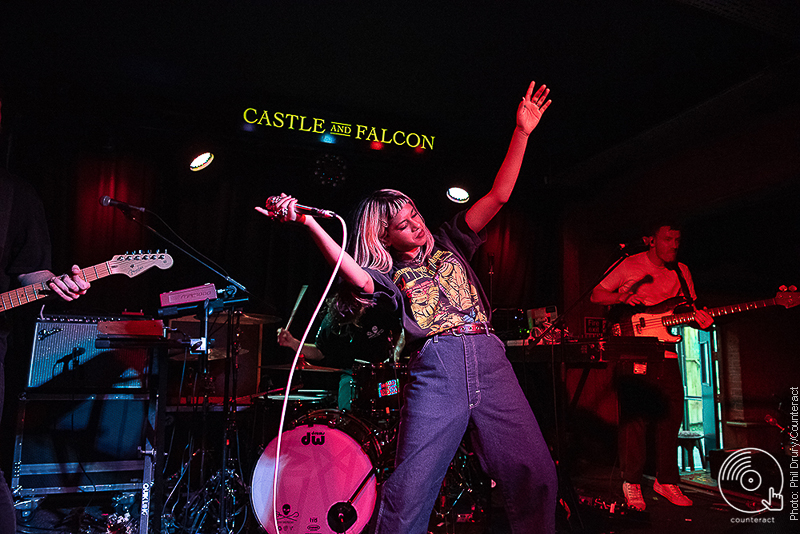 Ecca Vandal
"I'm seeing good energy over here, good energy over here – how're you doing at the back?" she asks, to an enthusiastic reply. Ecca Vandal is a captivating performer. She bounces across the stage to the pulsating synths, switching from pop-star vocals to a nu-metal growl effortlessly.
The crowd is excitable when Deap Vally materialise. Guitarist Lindsey Troy kicks off her shoes and the duo launch into their 2013 hit 'Baby I Call Hell'. A singalong ensues off the bat.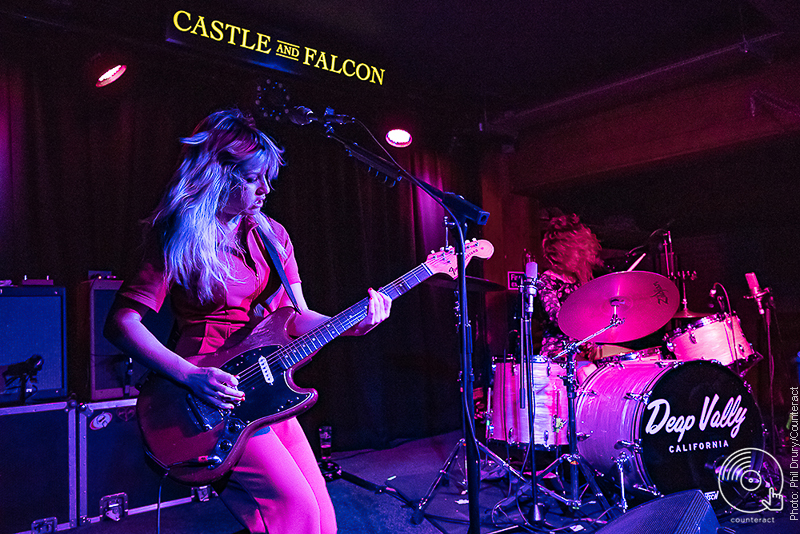 Deap Vally
The front row is almost exclusively woman, each one going wild every time Troy ventures near the edge of the stage. Drummer Julie Edwards is a powerhouse behind the kit, rattling through the unrelenting 'Little Baby Beauty Queen' without breaking a sweat. Troy, meanwhile, bludgeons the crowd with heavy blues licks. 'Gonna Make My Own Money' is an incensed, feminine war cry – if you felt let down by Jack White's latest release, go and listen to this on repeat in a dark room.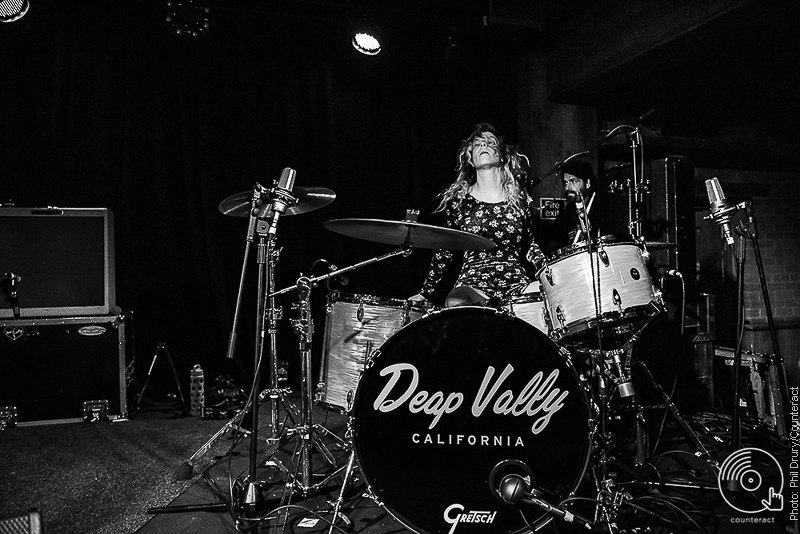 Deap Vally
New singles 'Get Gone' and 'Bring It On' are both instant crowd pleasers – the latter oozes seventies sleaze. The front of the crowd are pressed up against the barrier, eager to be as close to the pair as possible. Deap Vally's music clearly resonates particularly with their female fans, who scream along to 2016's 'Smile More', as Troy intones:
"Stranger in the bar tells me to smile more, I look at him and I ask, what for?
I am happily un-happy man, and no, I don't wanna shake your hand"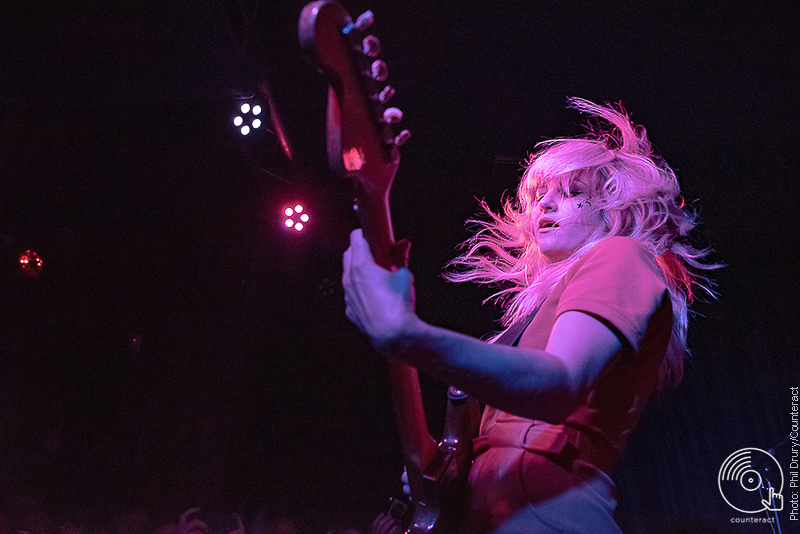 Deap Vally
From further back in the crowd, a gentleman spots his moment to shout to Troy that she has 'a great ass'. She smirks – "it's all the hamburgers I eat." as Edwards slumps over the kit.
Deap Vally's set feels like an induction into a loud, fuzzy sisterhood. When they return for their encore, Troy tells the crowd that they will be signing records, posters, and boobs over at the merch stand afterwards.
Photographs by Phil Drury
Visual artist, multi-instrumentalist, and scrounger. Always wearing headphones, probably listening to Ezra Furman, Sleater-Kinney or Goat.