Review: Biffy Clyro make a long-awaited return to Birmingham
Biffy Clyro returned to Birmingham on Wednesday December 7th, 2016
The Barclaycard Arena played host to Biffy's first Birmingham show since March 2013
Support on the night came from Long Island emo heroes, Brand New
It had been a few years since Biffy Clyro played the second city, and they're welcomed back this evening by a capacity crowd at the Barclaycard Arena.
Tour support Brand New unfortunately fell victim to an earlier than usual stage time, and while performing an as-ever impressive set, the majority of the crowd are absent.  With a set consisting mostly of tracks from their 10th anniversary record, The Devil and God Are Raging Inside Me, Jesse Lacey and co. power through the likes of 'Sowing Season' and 'You Won't Know' with aplomb. While the slowly swelling crowd may not have been representative of the support Brand New deserve, a small pocket of fans in the middle scream back every lyric to 'Okay I Believe You, But My Tommy Gun Don't', the soundtrack to many now-twenty-something's teenage emo years.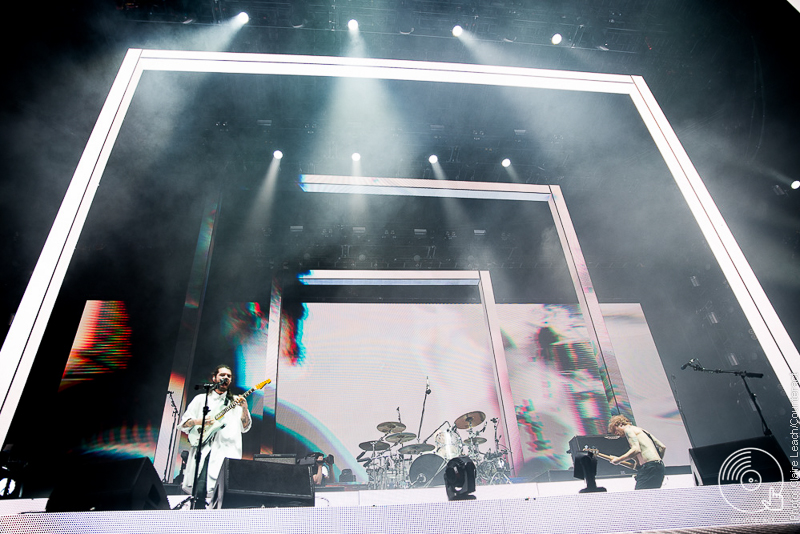 Half an hour later and Biffy Clyro arrive from the darkness with 'Wolves of Winter', taken from their latest record Ellipsis. The track ("We have achieved so much more than you possibly thought we could") seemingly a fitting soundtrack on Biffy's latest arena tour as their meteoric rise rapidly ascents.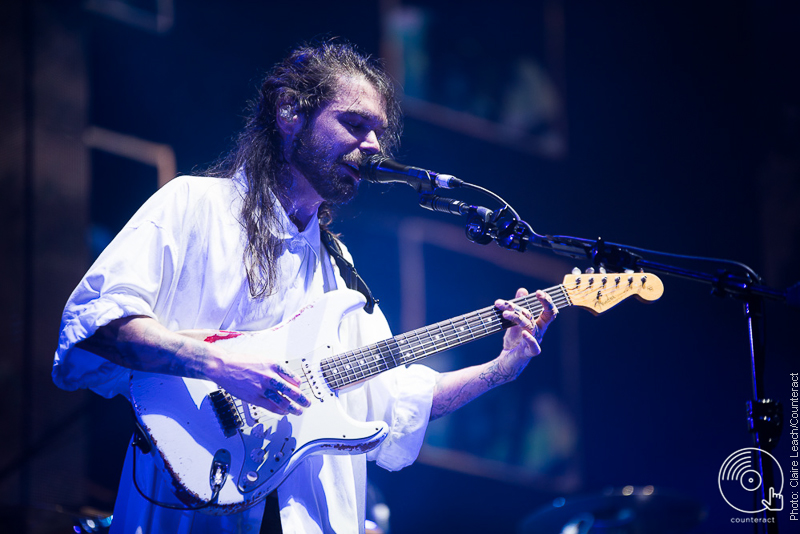 "It's so good to be back, Birmingham" exclaims frontman Simon Neil as they rattle through a number of hits across their discography, including 'Sounds Like Balloons', 'Black Chandelier' and the surprising inclusions of 'Justboy' from 2002's Blackened Sky and 'Wave Upon Wave Upon Wave' from 2004's Infinity Land. Unfortunately, unlike the former two, the latter two go down a little like a lead balloon as most of the standing crowd don't know them.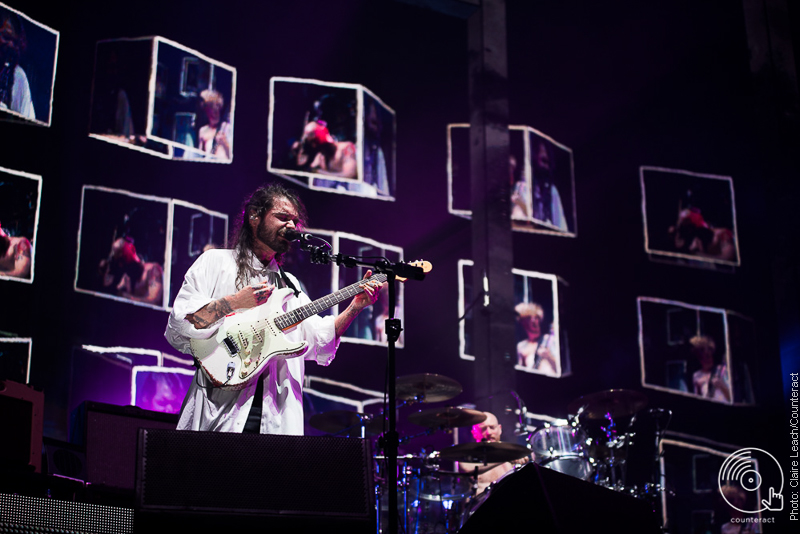 Those that the crowd do know though, they love. 'Bubbles', enticed by the enigmatic Biffy frontman sees a bouncing crowd on top form, while the frantic opening of 'That Golden Rule' results in a number of circle pits appearing out of nowhere.
In a set dominated by tracks from their July release, it's no surprise to see fans shouting back the lyrics at their idols. Even those album tracks which may get lost in the midst of its lead singles 'Animal Style' & 'Howl', the likes of 'Herex' and the explosive 'On a Bang', receive well-rehearsed appreciation at the front.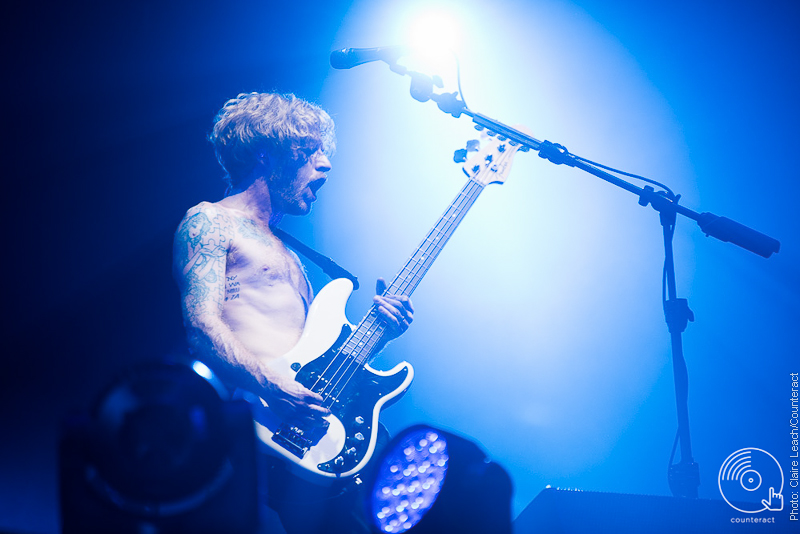 Though tonight, it's not just about the frantic rock. Biffy's slower, intricate numbers 'Medicine' and 'Many of Horror' see Simon Neil take up various positions on stage throughout, with main set closer 'Machines' bringing a touch of up close and personal intimacy to what no longer feels like a 15,000 capacity arena anymore.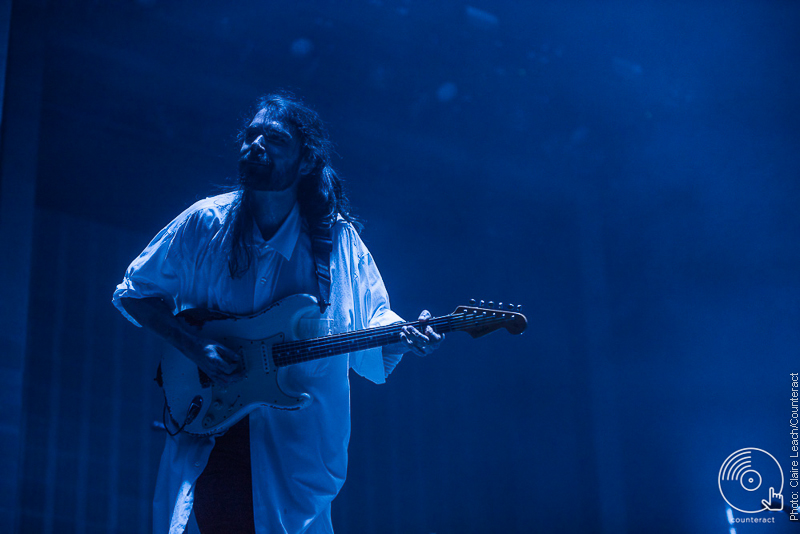 As "mon the biff" rings around the arena, the band eventually return for an encore consisting of 'The Captain', 'People' and final track of the night, the rip-roaring 'Stingin' Belle', to the delight of the Brummie crowd.
Tonight, Biffy Clyro further enhanced a unique connection with their fans, and while some may not like that they are adapting to arenas rather than sweaty Academy venues, they're definitely worthy of them.
Just don't leave it so long next time, eh?
Photographs by Claire Leach
Biffy Clyro played:
Wolves of Winter
Living Is a Problem Because Everything Dies
Sounds Like Balloons
Biblical
Spanish Radio
Howl
In the Name of the Wee Man
Justboy
Bubbles
Herex
Black Chandelier
Friends and Enemies
That Golden Rule
Folding Stars
Re-Arrange
Wave Upon Wave Upon Wave
Medicine (Simon Solo Acoustic)
Different People
Mountains
On a Bang
9/15ths
Animal Style
Many of Horror
Machines (Simon Solo Acoustic)
Encore:
The Captain
People
Stingin' Belle
Founding editor of Counteract. Freelance travel and music journalist.