Review: Maxïmo Park define showmanship at the O2 Institute
Maxïmo Park play a flawless set at the O2 Institute
The show was to celebrate the ten year anniversary of debut album A Certain Trigger
Stealing Sheep are a formidable support slot, with their electro-pop artiness
What were you doing in 2005? Perhaps you were watching Star Wars: Episode III, expecting that to be the last lightsabre-wielding ever seen on screen. Maybe you were listening to Fallout Boy and trying to explain to your parents the difference between an Emo and a Scene Kid. Possibly you were following the exploits of Paris Hilton, in whatever it was she actually did. Among all this, it's unlikely that you missed the emergence of Maxïmo Park, with their critically acclaimed, platinum-selling debut album A Certain Trigger. Ten years later, Maxïmo Park return to Birmingham's O2 Institute to celebrate the release of this album and their decade-long career.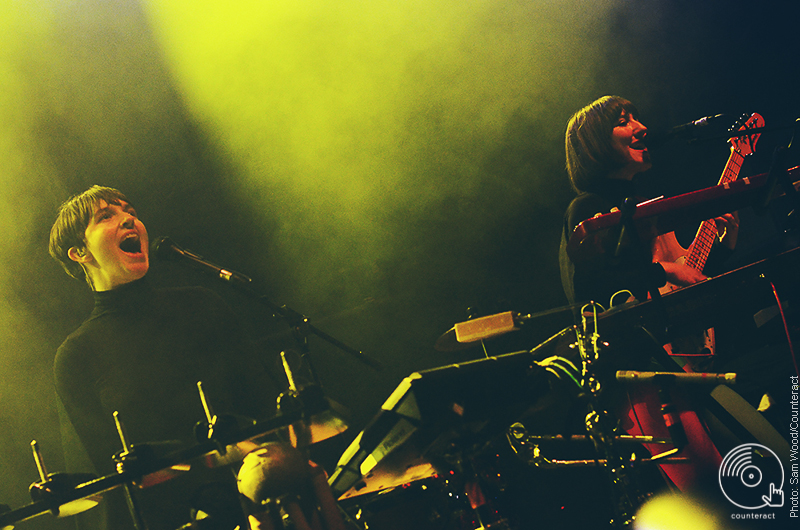 Stealing Sheep
The room goes dark and a low electronic rumbling fills the room. Three shadowy figures walk onstage and stand behind various electronic machines. The lights come up to reveal support act Stealing Sheep, a futuristic synth-pop trio dressed in florescent leggings and sunglasses. As a band with an art-school background, it's clear that their aesthetics are very deliberately chosen to match their robotic, Human-League-meets-Django-Django music.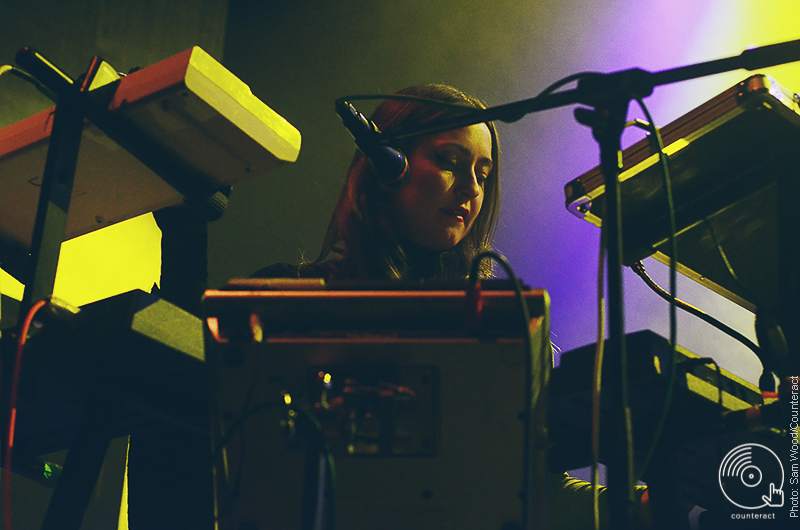 Stealing Sheep
Speaking of Django Django, Stealing Sheep recently supported the Scottish hipster-pop band on a UK tour to promote their album Not Real. The influence can be heard in their use of vocal harmonies and live tribal percussion which really has to be seen to be believed.
Their set – full of atmosphere and intrigue – seems to convince a large portion of the crowd, who can be seen nodding in approval at each other, and they leave the stage to a reception usually reserved for headline bands.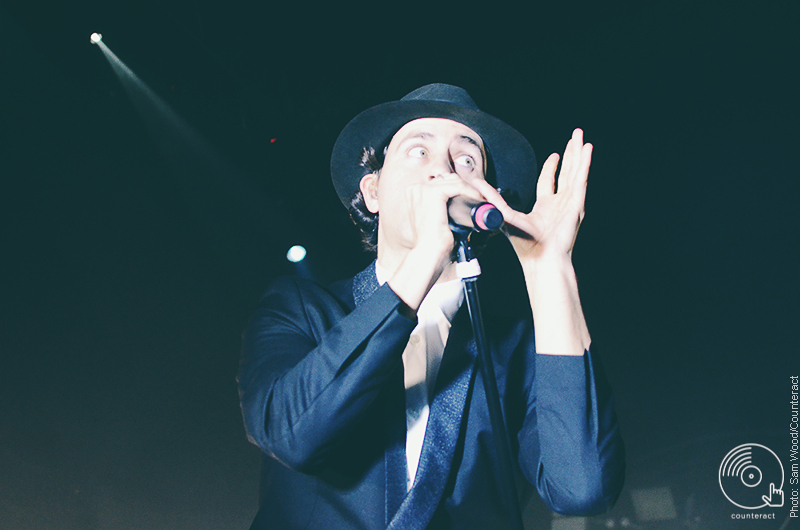 Maximo Park
As the sort of people who don't turn up for support bands begin to fill up the room, it becomes clear what Maxïmo Park fans themselves have been doing for the last ten years – getting married. The room can be equally divided (at least the area this reviewer found himself in) between Maxïmo Park Fans and Maxïmo Park Fans' Unenthusiastic Partners. Some of them appear to have not been to any gigs at all for the last decade; the band are set to come onstage at 8:30, and some people begin to check their watches and grumble at 8:32. Bands are not trains.
Maxïmo Park open with 'Girls Who Play Guitars', and frontman Paul Smith – fully refreshed from his solo endeavour The Intimations – instantly shows himself to be the definition of charisma. With his ever-enlarging trademark hat he leaps around the stage. Sometimes aggressive, sometimes camp, but always heartfelt and utterly self-assured.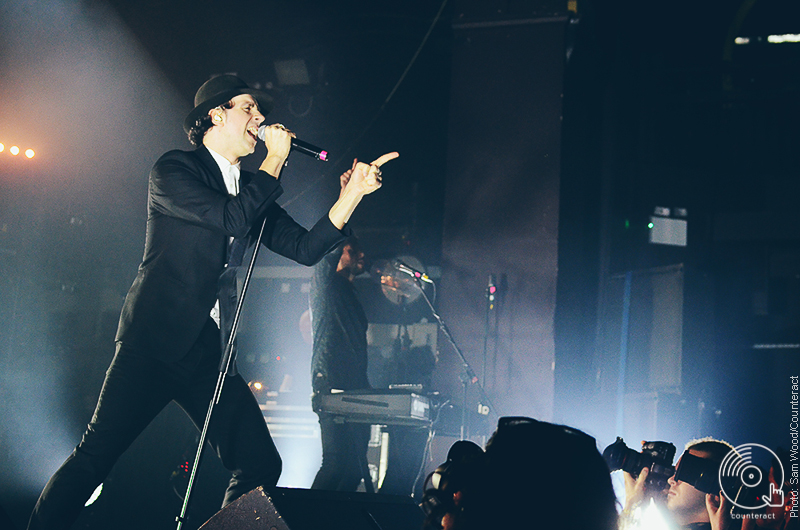 Maximo Park
For the first half of their set they play songs from their second, third and fourth albums, spanning their decade-long career. Fan favourites are the lunacy of 'Our Velocity', 'Give, Get, Take' and the mellow introspection of 'Leave This Island'. Although sometimes overshadowed by Paul Smith's showmanship, the rest of the band never miss a note, and have the tightly wound precision that only ten years touring can give.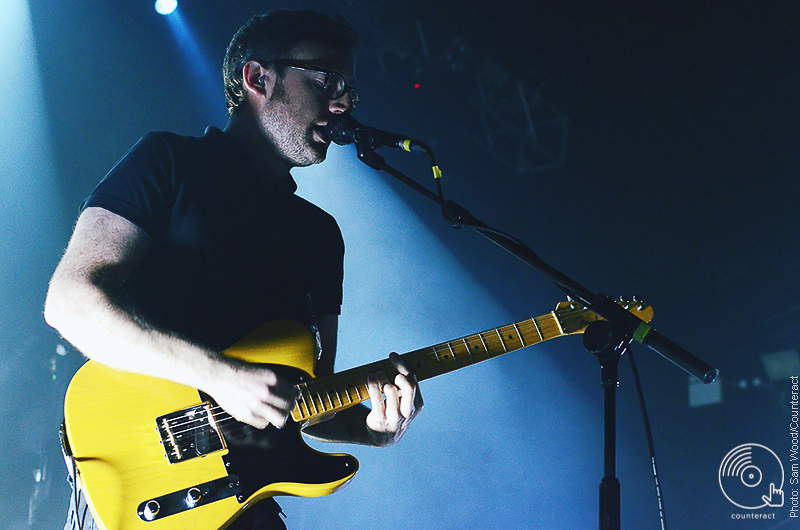 Maximo Park
The second half of their set, which Smith jokingly calls "the longest encore ever", sees Maxïmo Park playing A Certain Trigger in its entirety. There are few albums which stand up to this sort of challenge, but this one absolutely works, from the opening drum workout of 'Signal and Sign' to the poetry-in-motion of 'Acrobat'.
When the show is over, Maxïmo Park fans are visibly enthused, whilst Maxïmo Park Fans' Unenthusiastic Partners just seem keen to get home. Cheer up, Maxïmo Park Fans' Unenthusiastic Partners, with any luck we'll be seeing you again in 2025.
Photographs by Sam Wood