Review: Joanna Gruesome pack a punch at the Hare & Hounds
Cardiff quintet Joanna Gruesome came to Birmingham's Hare & Hounds on Thursday June 2nd, courtesy of local promoters, This Is Tmrw
Joanna Gruesome powered through a fuzzy set which was both joyous and explosive
Support on the night came from local bands Okinawa Picture Show and Yr Poetry – the latter being two members of Johnny Foreigner
Rolling in after a long drive from Glasgow, Cardiff five piece Joanna Gruesome filled up the Hare & Hounds for a night of chaotic fun during their extensive UK tour. It resulted in a night of energetic, enthusiastic live music from all three acts on the bill showcasing talents a little different from what is found in the charts.
First up was local Birmingham pop-punk duo, Yr Poetry. Following the frontman sweetly proclaiming "ten seconds till we begin playing" the Johnny Foreigner pair dove straight into chaotic trashing of guitar riffs and pummeling of drums. Whilst their presence seemed a little awkward, their performance was incredibly tight and fast paced creating a sound much grander than initially imagined from only two people in such a small venue. Chanted verses such as "we are not the champions this is not the end" created an anthemic fists-to-the-sky sort of aura resulting in an infectiously promising set.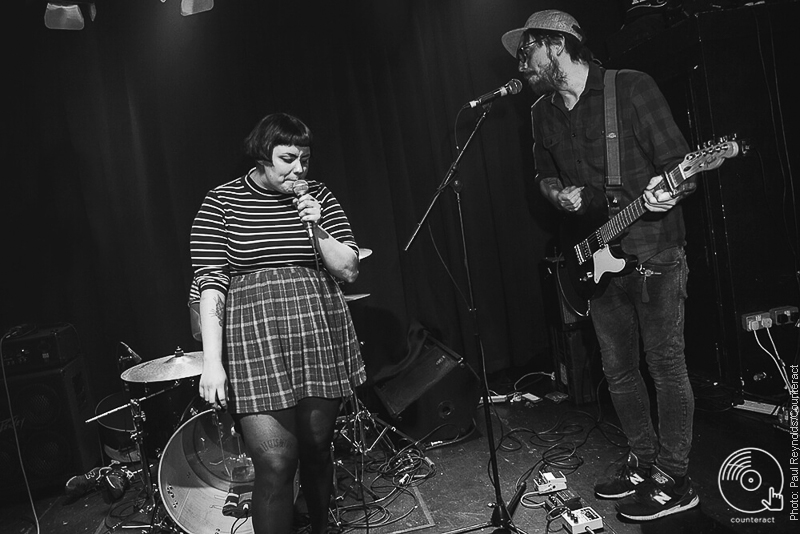 Okinawa Picture Show followed with a distinctive brand of fun rock music and more mellow vocals over contrasting loud blaring instrumentals. A rather lovely impression came across from the topics of their songs including one about a cat, their friend Naomi and endorsing vegetarianism. Audibly the tracks correlated well with the subjects as their whole set had a continuous skittering energetic feel.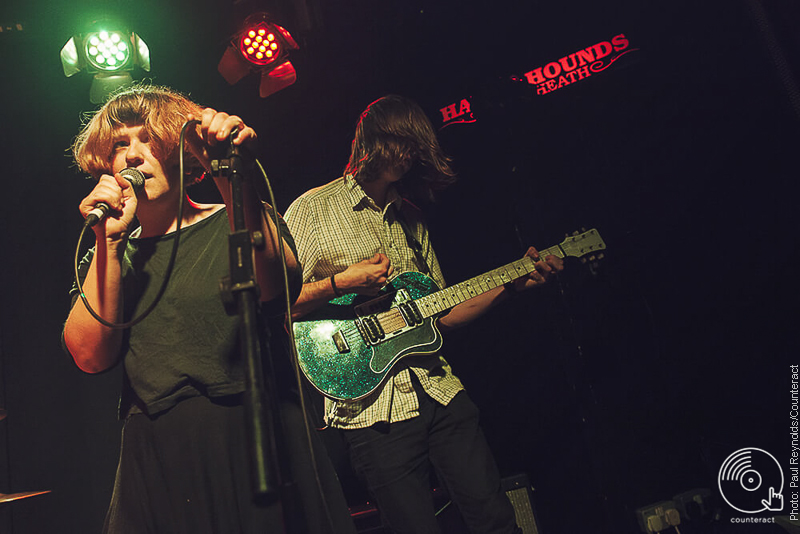 Joanna Gruesome took to the stage playing to a considerably more full venue than when it had started. Wasting no time blasting out an avalanche of sound building in momentum, their screeched vocals impacted powerfully on the crowd. The set progressed with a sonically diverse range, as some tracks were licked with an infectious rage whilst others had more mellow vocals over the continuously loud band – yet whilst they packed quite the punch, they never diverted from the impression of a sweet happy optimism.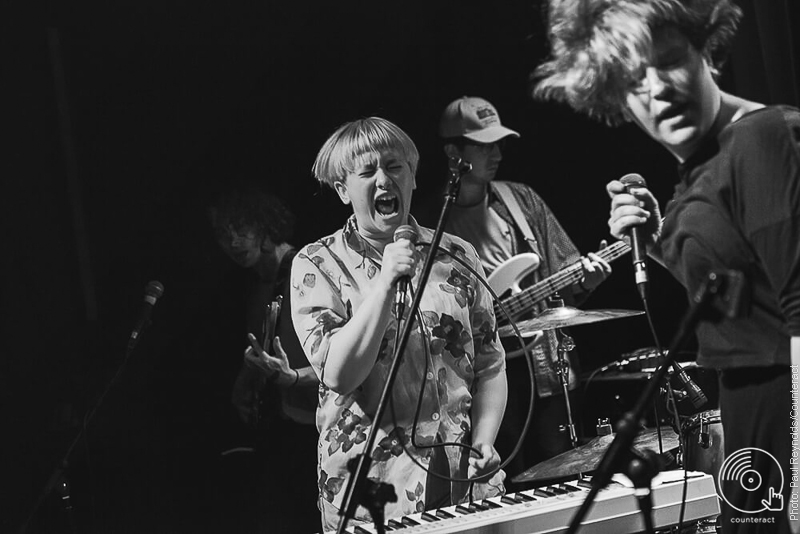 It could be resembled to a shaken bottle of pop as their noisy fizzy guitars were explosive in nature, but they remained sugary sweet despite the more aggressive front. It proved popular with the audience, as their performance was simply fun, headbangable music to jump around to. They shone as a distinctive group throughout their entire set showing sometimes having happier themes does not have to sacrifice depth or quality.
Photographs by Paul Reynolds
Media and Communications student with a passion for music and discovering new artists. 90% of the time you'll find me at a gig. I listen to a really wide range of artists such as The 1975, Two Door Cinema Club, Bombay Bicycle Club, Ed Sheeran, Disclosure, Lorde, Florence and The Machine, Ben Howard, as well as a tonne of pop music like Taylor Swift and Ellie Goulding.