Review: Bruce Springsteen captivates Coventry's Ricoh Arena
Renowned rock star affirms his title as The Boss as Bruce Springsteen and the E Street band put on a mighty show at Coventry Ricoh Arena on Friday June 3rd
Bruce and his band put on an impressive set lasting over 3 hours littered with iconic hits as well as a few rarities.
Spirits were high as Bruce frequently interacted with the crowd leaving fans pumped with adrenaline
In support of the recent re-packaging of 1980 album The River, Bruce Springsteen & The E Street Band headlined the Ricoh Arena in Coventry during a world tour. Despite his age there is still nothing stopping Bruce from putting on a mighty live show with a seemingly infinite length setlist and a barrage of intensely dedicated fans from all walks of life. You know what you are in for at a Bruce Springsteen show and he certainly did not disappoint – mighty passionate vocals paired with a phenomenal band, fans were in for an explosive performance mixing countless classics as well as a few surprise appearances thrown in. The songs carry themselves as there is no need for a warmup act or any sorts of bells and whistles to bump up the experience.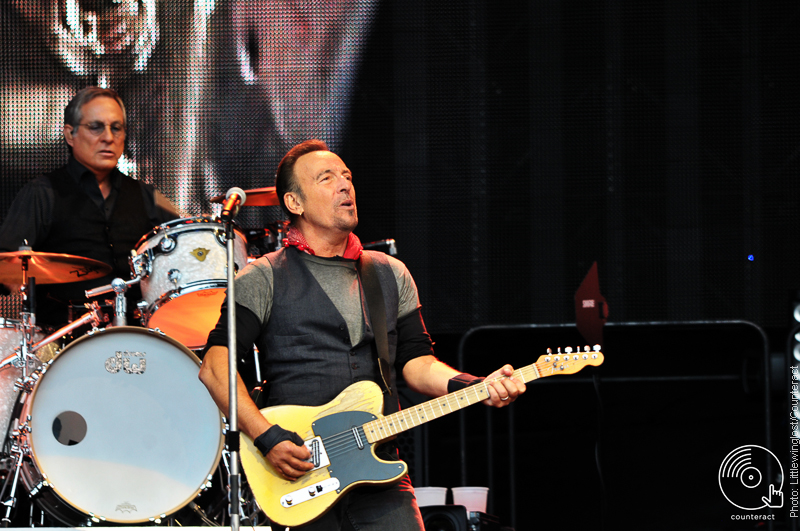 Proceedings began at a slower pace with a solo rendition of "For You" with Bruce crooning out the verses solo on the piano, stunning the arena into silence. This changed very quickly as after greeting the crowd, some of which had camped to secure a front spot, the band joined him moving straight into the mystifying chimes of "Something In The Night". Bruce roared out the verses resembling a mighty lion echoing through the venue. He had arrived and was going to give his fans a show at a standard none lower than spectacular.
The crowd were urged on by tracks such as "Prove It All Night" and "Sherry Darling" creating a sweetness in the air resulting in collective singing along. This was all combined with the enigmatic saxophone of Jake Clemons blaring out like a euphoric siren. It was a feature that contributed to sustaining the indescribably fantastic atmosphere sending shivers down the spine.
Fan requests are a feature that make every Springsteen show feel that extra bit unique and tonight was no different. After scanning the fans enthusiastically waving around banners filled with obscure B Sides and live rarities, Bruce selected some gems that did not disappoint. The first of which "No Surrender" from Born In The USA was bubbling with energy that had many bouncing in excitement. Another of which even Bruce was surprised to find as he jokingly remarked to the crowd that even many fans in the crowd won't have heard it. Outtake from Darkness At The Edge Of Town "Save My Love" was a stunning ballad filling the venue with it's immense sonic scale.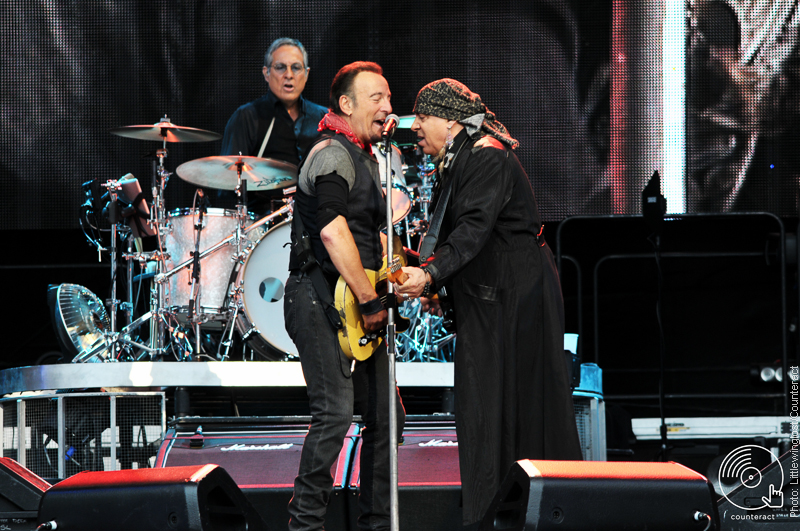 The recognisable opening riff of "Hungry Heart" lead into the first massive sing along hit of the night out of countless other similar moments. Bruce reacted in glee as he ventured to the crowd taking selfies with a gaggle of ultimate fans whilst still singing out the verses echoed throughout the whole arena. He even invited an incredibly lucky kid on stage for a sentimental moment allowing him to briefly sing along. The high spirits continued with the danceable rhythms of "Out In The Street", with the layered instrumentals creating an audible wave of joy crashing across the crowd.
"Death To My Hometown" demonstrated the darker side of Springsteen's material with a brooding full sound almost resembling an organ. The screeching guitars built up, climaxing in Bruce holding an impressively lengthy note that was captivating.
Iconic title track "The River" was stellar from the get go, as despite it's slower melody a continuing passionate response was sustained by the crowd. Many were seen coming together swaying belting out every word. Moments such as this perfectly exemplify the brilliance of Bruce Springsteen's live shows. Whilst the material stands powerfully recorded it is emotionally at another level when performed live and manages to make a connection with thousands of people at once.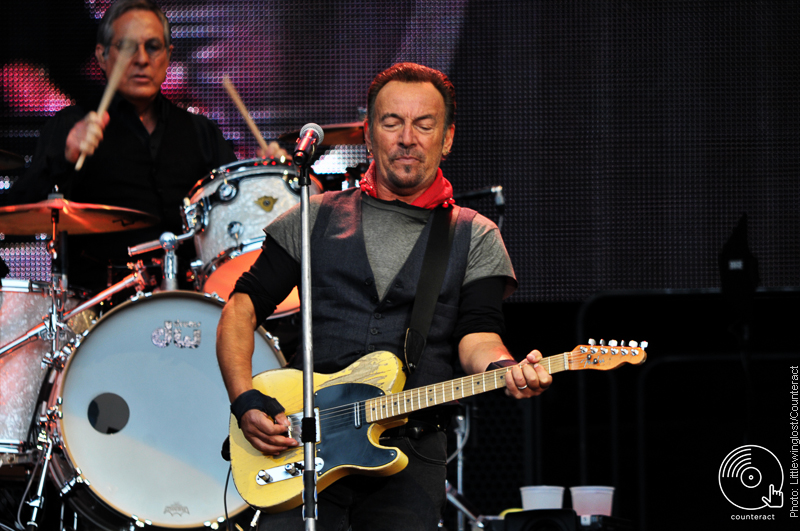 The opening synths of mega hit "Born In The USA" struck an electric bolt of energy through the venue which was only heightened with the following "Born To Run" and the hip swingable "Seven Nights To Rock". This led to the eruptive finish with an innovative and tight cover of "Shout" by The Isley Brothers which was made to sound as if it were their own song.
Before leaving, fans were left with a shiver inducing acoustic rendition of "Thunder Road" with the narrative verses hauntingly crooned out. It showed how Springsteen was able to pull off a softer more intimate number at the opposite end of the spectrum from the loud fantastic chaos he is often associated with.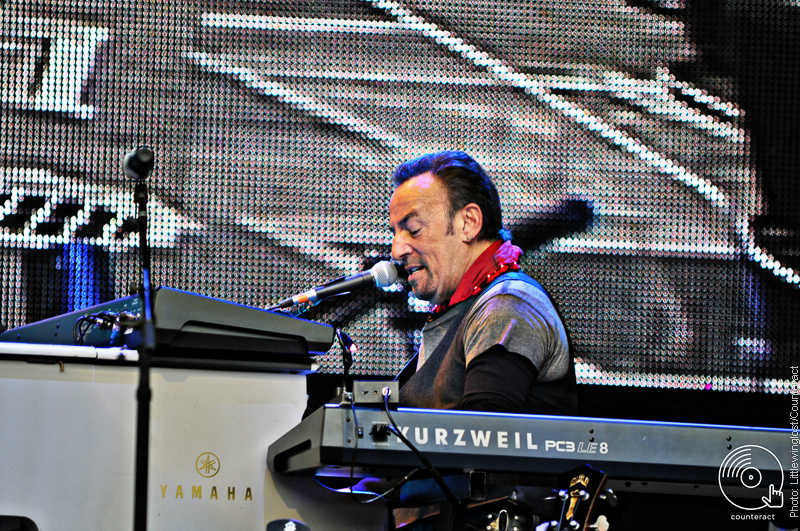 Despite its incredible length that very few other artists could pull off, Bruce Springsteen & The E Street Band put on an iconic show that was a musical roller coaster of emotions. A touching tribute to past members Danny Federici and Clarence Clemons was also a heartwarming touch as past clips and photographs filled the screen. The show was simply fully fledged immense entertainment to be enjoyed by revellers both young and old. Tonight, The Boss proved that he still has at least a few years left in him yet, and he – as well as his stunning band – is worthy of their status as an icon in the music industry both past and present.
Photographs by Littlewinglost
Media and Communications student with a passion for music and discovering new artists. 90% of the time you'll find me at a gig. I listen to a really wide range of artists such as The 1975, Two Door Cinema Club, Bombay Bicycle Club, Ed Sheeran, Disclosure, Lorde, Florence and The Machine, Ben Howard, as well as a tonne of pop music like Taylor Swift and Ellie Goulding.