Review: Eagulls showcase latest LP 'Ullages' at the Hare & Hounds
Leeds quintet Eagulls returned to Birmingham on Tuesday May 17th to showcase hits from their debut and stellar new record, Ullages
This Is Tmrw & Counteract favourites Sunshine Frisbee Laserbeam played one of their most impressive sets to date, following a recent show for us at The Flapper
Nottingham four-piece TV Crime and part-time Eagulls van driver, 99 Watts opened the show early on to an already busy room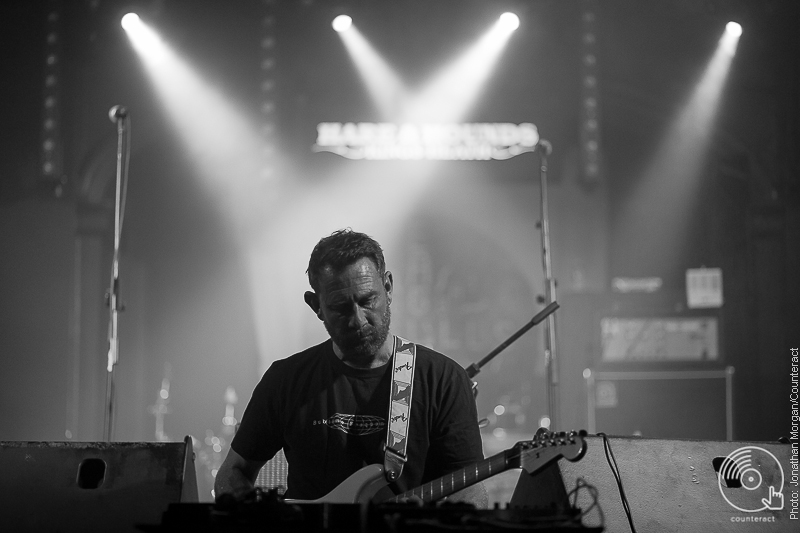 On Tuesday 17th May, the Hare and Hounds, Kings Heath, provided the venue for well known local promoters, This Is Tmrw, who put together an appealing night of four talented bands. With doors opening at the earlier than usual time of 7pm, the venue quickly filled up as the clock ticked on, being almost full to capacity by 8pm. When arriving at the venue, one man music creator (and part-time driver for the headlining band), 99 Watts, was fully focused on easing the increasing crowd into the evening by playing his experimental, guitar dependent tracks, accompanied by a vast collection of effects pedals, a keyboard, digital looper and sampler. Despite the assortment of complex-looking musical gadgetry, his relaxed tempo's and gentle musical simplicity, made for laid-back and originative listening, with songs such as 'Crane Generator' being particularly well received.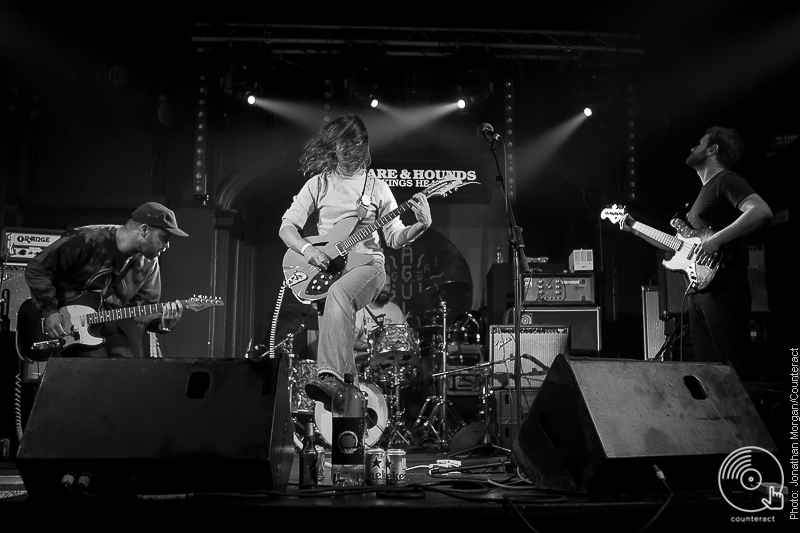 Second support came from Nottingham based quartet, TV Crime. Unleashing their mixture of garage punk-power pop into the crowd, the band lunged straight into a 7 song set full of upbeat energy and care-free attitude. Playing tunes such as 'Hooligans' from their EP of the same name, along with the heavier, 'Fake Tattoo', the band were engaging, consistent and clearly worked well together as musical collaborators. Other songs, such as 'Wild One' and 'Baby so blue', went on to further prove that not only does the lead singer have a great, slacker style vocal, but the band are also more than capable of getting everyone's heads nodding along to their catchy and melodic rhythms.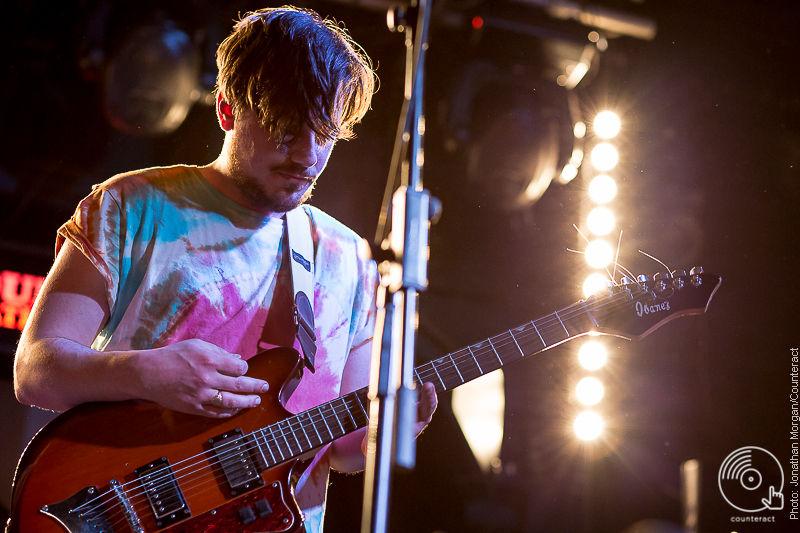 Unbeknownst to anyone in the room, by the time Hare and Hounds locals and Weird on Purpose record label creators, Sunshine Frisbee Laserbeam took to the stage, the evening was about to take an unexpected turn by the way of a badly timed technical hitch. Continuing along the genre of heavy, power pop-punk, the band opened their set to the song,  'Neighbours' from their 2016 album, Part Deux. The three layers of guitar and joint vocals provided a full bodied depth of sound which was unfortunately lost temporarily when the stage electricity went off at the beginning of the band's third song.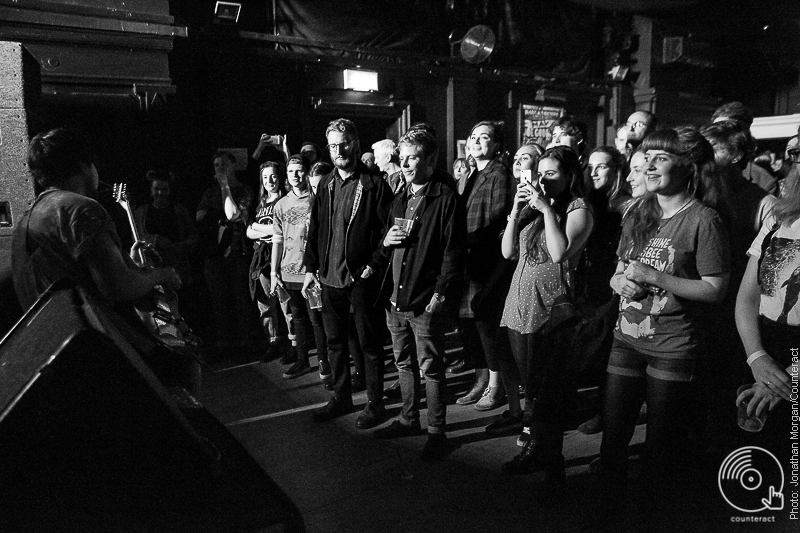 Being left with the stage backlighting going into a blinding frenzy, the band did not waste this perfect opportunity to have a few laughs by announcing that they were "starting a thing to eradicate all epileptics from Birmingham". It kept the mood light-hearted (no pun intended), a few amps were changed round and (minus the dazzling blinders), the band were back in full swing within five minutes. They launched into 'Paradise telephone', along with the franticly paced 'Auto' and later into their set included the song, 'No Sleep', from their upcoming and currently unnamed new album. As always, Sunshine Frisbee Laserbeam played a varied and entertaining set showing exactly why they are one of the Hare and Hounds' regular favourites.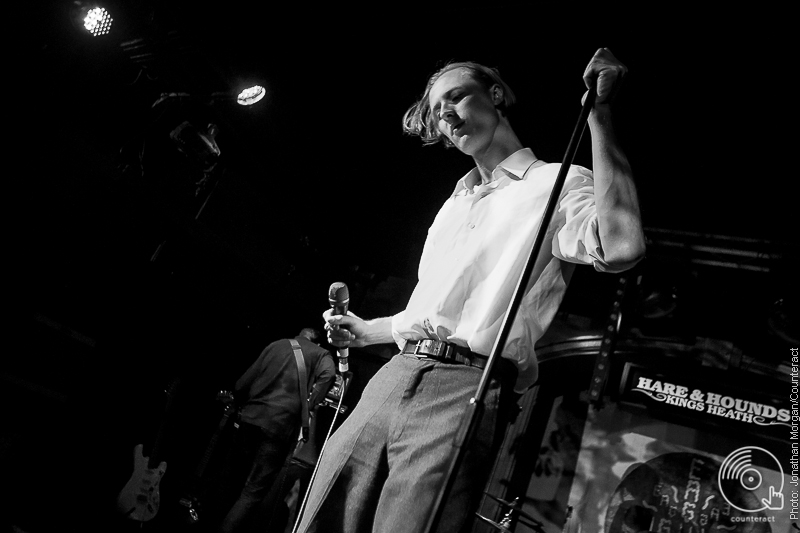 By the time Leeds 5 piece Eagulls took to the stage, the audience were keen to witness how the songs from their new album, Ullages, would come across in a live performance. The new album demonstrates a maturing transition into more of a dream pop, almost shoe-gaze writing style, compared to the pent-up, post-punk, urban angst of their self titled first release.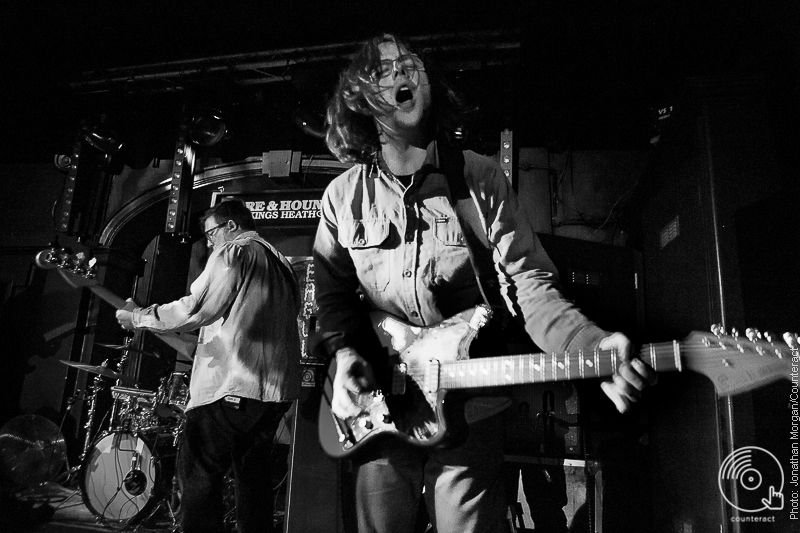 The band began their set with the melancholic, 'Lemon Trees', with vocalist George Mitchell clinging to his microphone, his distant gaze fixed onto a far reaching point for which it remained for the majority of the set. This was followed by the brashness of 'Tough Luck', 'Yellow Eyes' and 'Nerve Endings' from the first album, proving that the band are capable of exerting the same amount of uncompromising rawness as previously expressed, despite their new songs meandering into a gentler style and direction. The changes in their musical evolution became clear during, 'Head or tails', with its winding, melodic riff echoing an influence of The Smiths and the distinct lyrics, "It's hard to tell who we are this time," documenting their awareness of the difference in their musical identity. All band members remained pretty much rooted to the spot throughout their performance although this did not make their set any less mesmerizing. The delicate 'Euphoria' and 'My Life In Rewind', created an intensely vulnerable atmosphere which nobody in the audience could deny.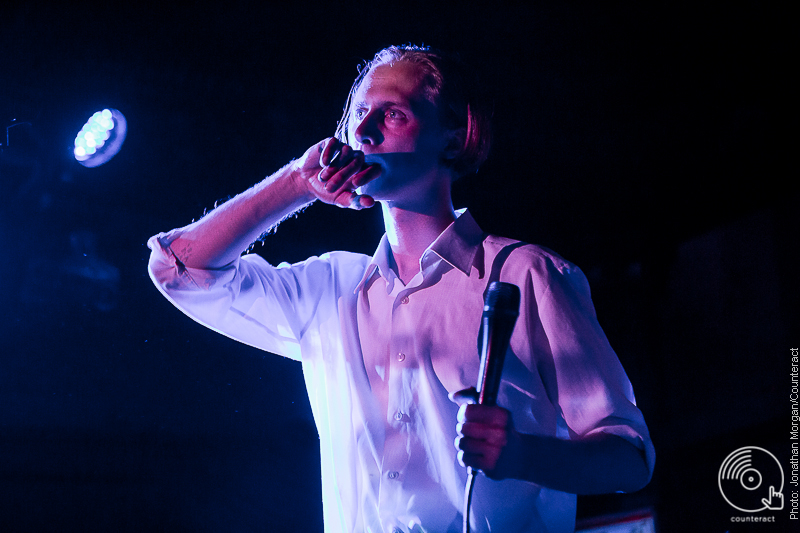 With no breaks between songs, the band ended their set on the post-punk, frustrated barrage of 'Possessed' before exiting the stage amongst the crowd with no intention of performing an encore. It is clear that Eagulls are not a band that are going to enchant the audience with lively stage presence, that is not what they are about. The main focus comes from George Mitchell's persona of isolation and discontent being projected through his tormented, reflective and haunting lyrics. Despite the undeniable dark undertones of Eagulls songs, at points the music reached heights of optimism and almost hypnotic, beautiful melody. Their transition and obvious advancement from their debut album shows a band with promise, a vision of progression and an active strength to experiment with new musical styles and ideas.
Photographs by Jonathan Morgan
English and Media Studies graduate, frequent traveler, vinyl and vintage enthusiast….fan of delta blues, folk, 60s/70s rock, psychedelia and the many gaps in between. Favourite artists include Wooden Shjips, Radio Moscow, All Them Witches and too many others to mention.