Tom Clarke on the music industry, Coventry and life after The Enemy
Lead singer of The Enemy, Tom Clarke, will embark on a small acoustic tour this month, including a date at the O2 Institute in Birmingham on Sunday November 26th.
In this exclusive interview, he reveals he is revelling in his new found freedom, if still slightly nervous on stage without his bandmates and the 'wall of sound to hide behind' that they gave him.
"It was very intimidating at first," says Tom. "You're much more naked and any mistakes you make are out there and obvious. Once I got my head around that it was actually quite liberating though."
Tom goes on to explain that the solo shows, which have been mostly just him and a guitar, allows him to take the songs back to basics, stripping them back to their most rudimentary form. I get the feeling that this simplicity is something Tom not only desired, but also needed in order to strive, and not just in the songs, but in his life in general.
He talks about the Music Industry, which was once upon a time about the music, integrity and pleasing fans, but is now something entirely different. "I grew to hate the industry. We (The Enemy) caught the end of the glory days of the music industry. When we started, Warner Brothers was a busy, bustling office with more people than it could actually fit in the building. When we left, the offices were as empty as the souls of the people picking up the crumbs."
[amazon_link asins='B001F52ZU2,B01116J2L4,B007GJOIO2,B01116IZTY,B001URRXCA' template='ProductCarousel' store='counteract03b-21′ marketplace='UK' link_id='c5b6a58e-d028-11e7-9579-4f9da55cca5e']
Strong words. It is no secret that there has been a huge shift in the music industry, and Tom touches on the reasons why. "Radio stopped being leaders and started following online trends instead. Essentially as music became digital and the money disappeared, the industry became more petty and greedy."
His disdain for the modern industry, is emulated in how he is currently doing business. He is going to great lengths to try and do things differently, and more in line with his own beliefs. "Everything I'm trying to do right now involved circumnavigating the usual industry routes. I'm dealing directly with venues and the plan is to give all my new music away for free, directly to fans."
Dealing with venues must now be second nature to Tom, who owns the Empire music venue and nightclub in Coventry. He is obviously very proud of this venture and talks up its ability to, not just slot into Coventry's nightlife, but also be a world class, intimate gig venue. The Empire has not just been popular with fans but with musicians too. Indie royalty The Libertines played a one-off, secret gig there last year, and cult band, and Coventry sweethearts The Cribs will play there in January.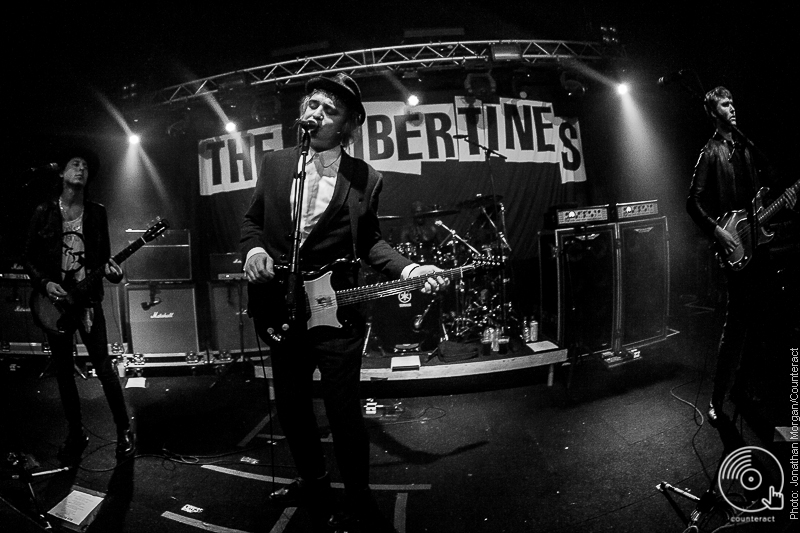 The Libertines at Coventry Empire, 19th January '16
Speaking of the venue, Tom is gleaming. "What we have done is created a space in Coventry where touring acts can play live with all the amenities and technical equipment they're used to on the touring circuit." This concept gives the venue a musician's venue type of feel. Tom himself hopes to announce some dates there next year.
The growth of Empire may contribute towards Coventry's bid to win the City of Culture title, and this is something Tom feels will be a huge benefit for the city. "If Coventry wins the bid there will be a huge amount of money earmarked for further investment in arts and culture, which would obviously be a great result for the city and those who care about growing and preserving the creativity of the city, myself included!"
His passion for music is obvious and this shows when I ask him if he is looking forward to the tour. "Very much so, it's only a handful of dates but the last run of dates blew me away. One thing that hasn't changed is the passion with which the fans sing every word back. It'll be a great way to end an amazing year!"
Fans can expect some familiar songs on the tour as well as one or two new things to sink their teeth into: "I'll be playing a lot of historic Enemy songs, as well as a brand new track, which you can get for free just by buying a ticket online!"
What does the immediate future hold for Tom? He has his sights firmly set on his music. "My main focus is on writing new material, getting back to the studio to get writing and recording again and planning a tour for next year."
Tickets for Tom Clarke's gig on November 26th at the O2 Institute in Birmingham can be found here.
Tom will play the following dates on his solo run:
November 24th: O2 ABC, Glasgow
November 25th: O2 Ritz, Manchester
November 26th: O2 Institute, Birmingham
December 1st: O2 Shepherds Bush Empire
Music, gigs, beer, football. Like to discover new music, and support local acts. Favourite bands include Beatles, Elbow, Frightened Rabbit, The Walkmen amongst many others. Journalist for local news providers, including Trinity Mirror and BBC.