Interview: Bryony Williams discusses the 'State I'm In'
Bryony Williams discusses her forthcoming third solo EP, signing a record deal and how a Birmingham restaurant inspired a new song.
Many people have faced the disappointment of cancelling vacations thanks to Covid-19; but not many sign a record deal a few days later.
For Bryony Williams, curtailing her backpacking adventure became one of her most shrewd decisions. After returning home, she scheduled a Zoom call with former tour buddy and record label boss Joe Booley. "Joe runs Beth Shalom Records, and we had a virtual meeting to discuss releasing one of my singles," Williams explains. "However, after some discussions, we ended up finishing the meeting sorting out a record deal for my third EP."
That EP in question, State I'm In, is set to be released on Friday 30 October. Bryony has no complaints with how things are going with Beth Shalom so far. "It's been a great experience," she beams. "Instead of solely relying on myself for releases, I now have someone to bounce ideas off, to keep track of things and gain wider press.
"As a vinyl collector myself, it's also amazing that Beth Shalom are also releasing my previous record, 2018's Conscious, on transparent yellow vinyl."
Releasing new music as a grassroots artist in current times can be troublesome – mainly due to the inability and uncertainty surrounding independent music venues – but, for now, Bryony is optimistic. "It has been beneficial for me," she says. "It's allowing me to focus on my online presence and connecting to a wider audience. Also, not having the expectations to perform live is quite relaxing…however, there'll a tour coming in March next year."
Being take able to take her foot off the gigging gas has also helped Williams craft some of her most expansive, versatile and exciting music. "I don't think people will know what's hit them," Williams smiles. "The songs touch upon depression and a great date in Cherry Reds. The record also contains one of the saddest songs you'll hear in your entire life.
"I wrote the record in a six-month timeframe and I think all of my engrained childhood influences are there – Nirvana, The Beatles, etc., but with some Aussie and West Coast indie-pop thrown in."
Indeed, State I'm In's first couple of singles are two of Williams' brightest, brilliant concoctions. Lead single I Can Be is a sweet, sun-tinged rocker bursting with positivity, from Williams' rich vocals to the explosive middle-eight. Meanwhile, sophomore cut Knockin' is a suitably stomping slice of fuzz rock, before dissolving into a dreamy, ethereal bridge.
"The middle-eight of Knockin' could certainly be interpreted as the exhaustion of depression or, in fact, when you're in a great mood and loving life," Williams explains. "But the final verse interrupts this calming segue with some real dirty tones."
Knockin' also boasts a particularly creative lockdown video (below), featuring Williams' enthusiastic parents performing the track with a few garden implements.
---
Taking a slightly different approach, her latest track, Dive, was released at the beginning of October. The Wolverhampton singer-songwriter hopes these new tracks will resonate with listeners."These songs represent me as a person," she explains. "When listeners analyse these songs, maybe they'll understand me as a person behind the artistry."
In the meantime, it looks likely Bryony Williams may have to hold off on finishing off that backpacking trip for a while yet.
Bryony Williams' new EP, State I'm In, will be released on October 30. Physical copies are available to pre-order.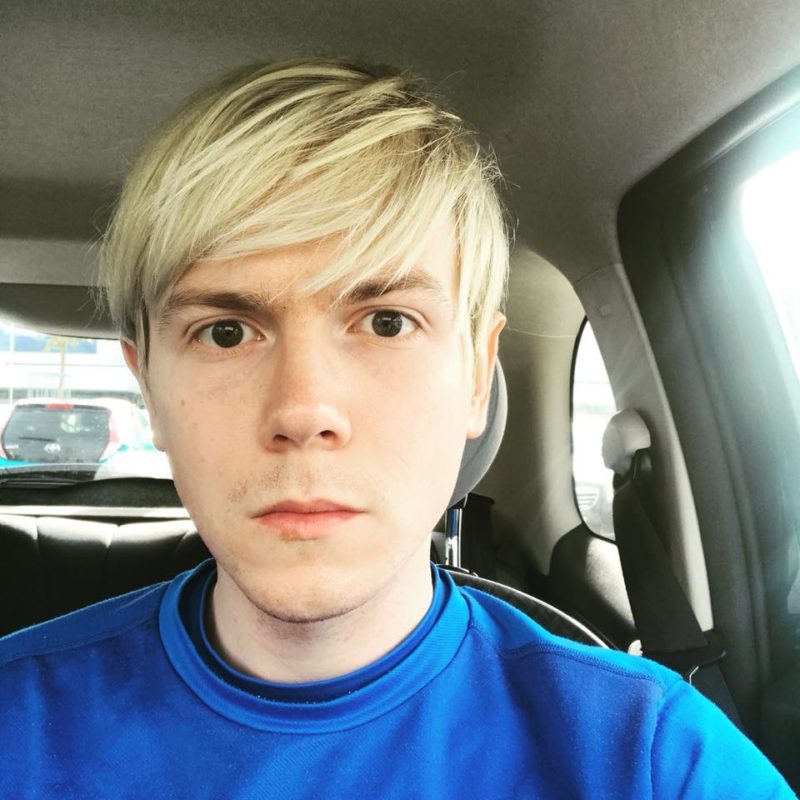 Tied to the '90s. I love anything with a good melody. Favourite acts include DIIV, Best Coast, Wavves, MBV, The Lemonheads, Bully, Pavement, Weezer, Wolf Alice, Mac DeMarco and Dinosaur Jr.