Film review: Atlantics blends star-crossed lovers with supernatural satire
★★★★☆
In Atlantics, director Mati Diop tells a heady story of fantastical love against economic oppression in Dakar.
Atlantics is the highly anticipated feature debut from Mati Diop, who blends romance, satire and horror to create a unique story of love framed by the migration crisis. The film was unveiled at Cannes earlier this year to great acclaim, winning Diop the festival's second-largest prize and making history as the first black female filmmaker in the main competition.
This point is as much a celebration of Diop's creativity as it is a bitter indictment of the ingrained gendered and racial exclusions permeating Cannes. Nonetheless, Atlantics was subsequently picked up for distribution by Netflix, where it happily resides for widespread engagement with the pertinent, human issues raised in this original, unusual feature debut.
Since starring in Claire Denis' 35 Shots of Rum (2008), Diop has been an established French actor and creator of a series of poetic short films. The first of which was 2009's Atlantiques, a documentary telling a young man's story of making the perilous yet frequently undertaken ocean journey from Senegal to Spain, in pursuit of relative economic prosperity.
This same journey frames her feature, though the focus has boldly shifted – the journey is made not by the protagonist, but entirely offscreen by her lover. Instead, we see the impact of conditions of class, gender and economy in Senegal to tell an ultimately – albeit messily – hopeful story of female emancipation in a context neither built for nor particularly concerned with women.
---
Atlantics follows Ada, a 17-year-old Senegalese teenager full of life and potential, beautifully portrayed by first-time actor Mame Bineta Sane, whom Diop street-cast for the role. When we meet her, she is ten days away from marrying Omar (Babacar Sylla), an arrangement conducted on her behalf because of his wealth and her parents' acquiescence. However, Ada is in love with Souleiman (Ibrahima Traoré) a local labourer with whom she shares hidden moments of affection and devotion.
Through these parallel relationships and the economic ties framing them, the narrative effectively blends both romance and social commentary. It is Souleiman who we meet first, protesting with colleagues against three months' missing wages from a prosperous property developer. Out of frustration and necessity, "the boys" depart en masse by boat in search of a better life, leaving the young women with whom they shared joy and affection to consider their own societal roles.
It is from this point that the film's true ingenuity comes to fore. While well realised, young love against the odds is not particularly ground-breaking in itself, and the early stretch setting these themes up is effective if not invigorating. In these scenes, the desiccated, unspecific Senegal locations are the most vividly engaging elements, as we observe exposed brickwork, dustbowl commuting and meaningful looks shared through a passing freight train. This is not a setting often captured in western filmmaking.
The emotional weight of collective loss of companionship is not a commonly depicted circumstance, certainly not in UK/US filmmaking – other than perhaps war films. Diop movingly captures this in an oceanside nightclub, which we see offers a discrete meeting place for the young women and men. The room is illuminated like a party in full swing, yet populated by only girls, full of life and sexuality, comforting each other for their loss of hope and love.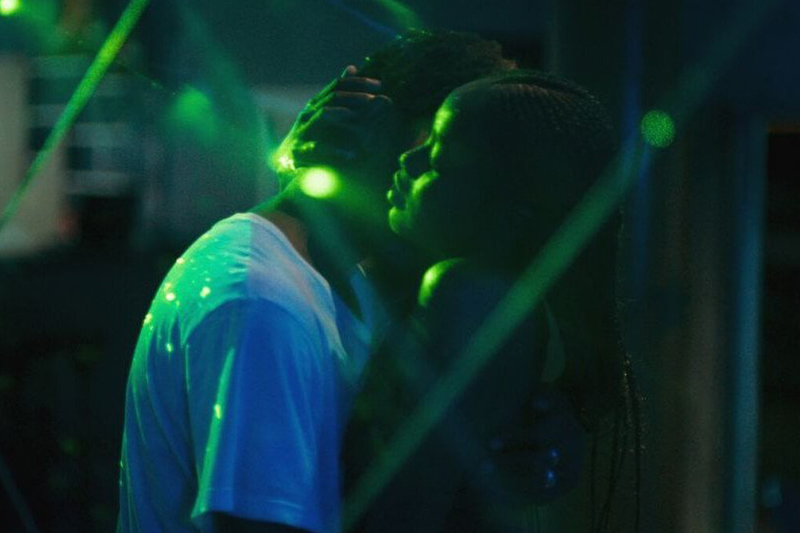 Atlantics
Such an unsettling development is emphasised by the eerie, otherworldly tone underpinning the whole film. Discontent with the social order and the girls' existence on its periphery is captured in mood, and the sudden group departure is presented as an existential sleight. In response, Diop intoxicatingly incorporates elements of fantasy, horror and mystery as events unfold, including Ada and Omar's hollow wedding, inexplicable arson and the pursuit of economic recompense.
The extent of patriarchal oppression on these young women in raised again and again, with Ada made to take a "virginity test" and pressure from all sides towards loveless matrimonial deference. We see the flipside of economic pressures: whereas young men are pushed to sea for a better life, young women must uphold a religious, unrealistic ideal of feminine perfection for the consumption of powerful men.
Despite the great many factors conspiring to divide Ada and Souleiman's true love and oppress their awakenings towards independence, gratifyingly I found Atlantics to be ultimately hopeful in its depiction of youth in revolt. Potential is not wasted but transferred, with each injustice feeding incrementally into the pursuit of emancipation. With Ada's personal journey, Diop uniquely shows that progress towards unsettling the patriarchal economic order will be collective, powerful and loving.
You can stream Atlantics on Netflix right now. Well, what are you waiting for?
---
Like this? Try these…
I write about and curate film, based in Birmingham. Programme Coordinator for World of Film International Festival, screening new independent world cinema in Glasgow and beyond. Equally devoted to the popular and the niche. Lover of live music, hardcore punk and festival season.