Resident Stories: Bournville – more than just Cadbury World
Described as "one of the nicest places to live in Britain" by the Joseph Rowntree Foundation in 2003, Bournville has stolen the hearts of not just its residents, but anyone who has had the pleasure of visiting. In the first of our Resident Stories, Counteract writer Rhiannon Davies tells us why she loves where she lives.


Where: South Birmingham, surrounded by Cotteridge, Selly Oak, and Stirchley
In three words: Historic, picturesque, homely
The Seasons of Bournville
Seasonally, there is no wrong time of the year to visit Bournville. Spring is lit up by the Easter parade at Bournville Infant School, where hundreds of children will be prancing around the village in their homemade Easter bonnets. A summer stroll through the village will capture the locals sitting outside Bournville Bread Basket enjoying their ice creams, with the Bournville Garden Centre full to the brim with residents bulk buying their flowers for their picturesque front gardens. This changes seamlessly into a glorious autumnal walk across the village green, where you can warm your hands around a cup of hot chocolate from the new Kafenion and admire the wonderful Christmas display in the Garden Centre, as the locals get ready for the new season. And there is nothing quite like Christmas in Bournville.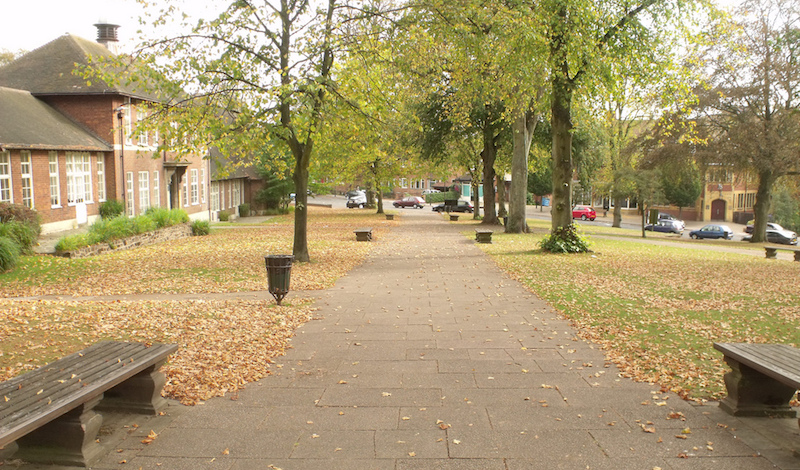 Bournville Village Green in autumn
©Elliott Brown / Flickr
Planted in 1948 to commemorate the 90th birthday of Dame Elizabeth Cadbury, the 60 foot Atlas Cedar is a spectacle that shines across Bournville, drawing people in from all over the city. It has been described on BBC Midlands Today as "possibly the biggest and best Christmas Tree in the region" – but in our opinion, there is no 'possibly' about it. The infamous light switching on ceremony at the Green, which will take place on Saturday 1st December, is a celebratory display of local talent – with performances from local choirs and musical groups, plus a special appearance from Santa on his sleigh to open the proceedings. And there is no better place to spend your Christmas Eve than 'Carols on the Green', led by the vicar of Bournville Parish Church Peter Babington, accompanied by the infamous Carillon and pork baps from the Bournville Bread Basket, where people from all over the globe come to sing carols and celebrate Christmas together.
Facts
Bournville was founded in 1900 by George Cadbury (chocolate-maker and philanthropist) on the principle of affordable housing for people on low-incomes from a wide-range of backgrounds, known as the 'Ten Shilling' or 'Sunshine Houses'.
The Cadbury Recreation Ground and the Swimming Baths were built to ensure the health and fitness of the workers, which was a big priority to the Cadburys.
'Bourn' is taken from the name of the local stream, and 'Ville' is taken from the French for 'village', due to the French rivalry in the chocolate-making business at the time.
Bournville was often utilised as a blueprint for many other model villages, laying the foundations for the development of garden cities and introducing the benefits of open space into modern town planning.
Places to visit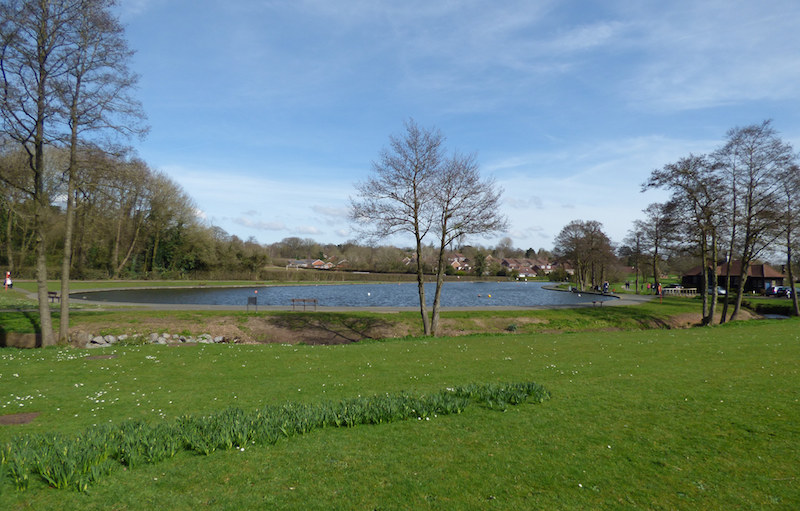 Bournville Lake
©Elliott Brown / Flickr
Purple Gallery – Opened in 2005, this independent art gallery showcases paintings, original prints, ceramics, sculpture, jewellery and craft items by emerging and established artists. It truly is a local gem and well worth a visit.
Leverton and Halls – Nip across the road to have a delicious bacon sandwich from Leverton and Halls, one of Bournville's iconic independent cafes.
Sycamore Road – Sycamore Road is the home to a delightful row of cute shops; from Louise's knick-knacks and florist, to Christine's wool shop and new independent cafe, Kafenion.
Bournville Lake – This quaint, scenic lake is home to the Bournville Radio Sailing and Model Boat Club, where you can catch the yacht races every Sunday morning, and the powerboat racing on Tuesday and Thursday mornings, and Sunday afternoons.
Things to do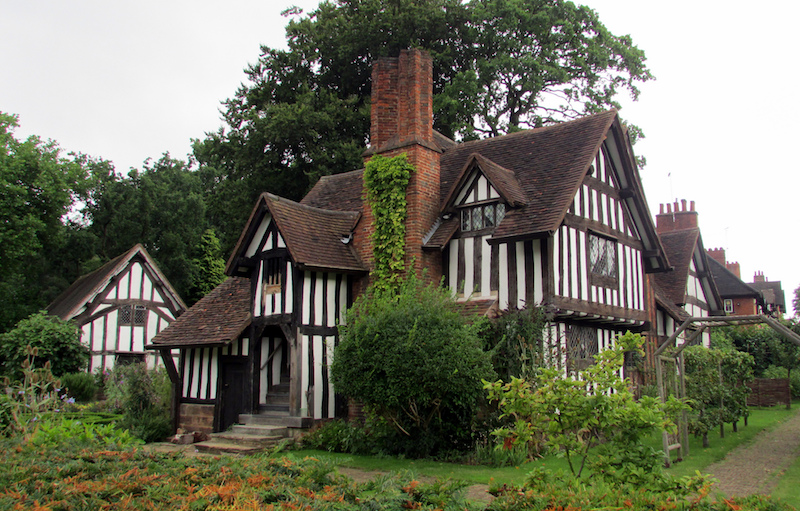 Selly Manor
©Reading Tom / Flickr
Selly Manor – As you finish your stroll up Sycamore Road, you will come to Selly Manor , a timber cruck framed Manor House dating back to the early 14th Century, which acts as both a museum and a venue for various functions (you can even have your wedding here!). It is also home to the Laurence Cadbury furniture collection, and is situated right next to Minworth Greaves, which runs as part of the Selly Manor Museum.
The Carillon – Bournville's infamous and glorious Carillon is the beating heart of Bournville. It was a gift by George Cadbury to his workers in 1906 after a visit to Bruges in Belgium, and is one of the finest and largest instruments of its kind, with 48 bells. You can visit the Carillon and watch it being played on Saturdays!
Bournville Village Festival – This takes place once a year in the summer on the Cadbury Recreation Ground. It includes a craft market (selling cakes, jewellery, paintings etc.), with various performances such as, the traditional Maypole Dance performed local school children, concluding with a spectacular fireworks display.
Parks – Bournville park itself is the perfect place for a picnic beside the brook, complete with tennis courts and a play area (that will be completely covered with school children as soon as the bell rings for the end of the day) – and even the location of the annual rubber duck race. Rowheath Pavilion – a venue/pub/café has a beautiful garden with a fantastic fishing lake, and also hosts various events that light up the place in the summer. The huge park opposite comes equipped with rugby posts and is the perfect place for a game of sport with friends!
Cadbury World – If you're alive, then you've probably heard of Cadbury World. Established on the 4th August 1990, Cadbury World is the beacon that attracts thousands of tourists to Bournville each year. Here, you can learn more about the history of Bournville, sample the infamous chocolate, and even learn the art of chocolate-making yourself! If you still haven't paid it a visit, then why not make a day of it and try out the wonderful other treats Bournville has to offer, too?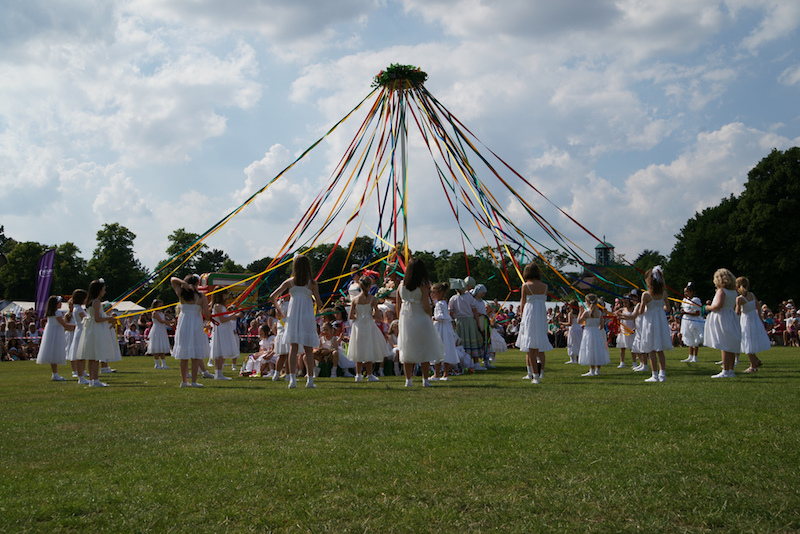 Bournville Village Festival
©Tracy Kent / Flickr
Bournville is a home to just under 30,000 people, drenched in a proud history that many find it impossible to part with. If you haven't yet visited Bournville, then make sure you make it down before Christmas to marvel in the magnificent tree that lights up an already magnificent place, home to many magnificent people.
Header image © Elliott Brown / Flickr
Passionate about TV, music and Birmingham.