Venue guide: The Arches, Coventry
The Arches is a snooker hall and live music venue situated in Spon End, Coventry. This venue contains both snooker and pool tables and hosts live bands on Friday and Saturday nights, as well as stand-up comedian nights. The majority of acts appearing are tribute bands.
Venue Information
The Arches has a fully refurbished snooker room, with pro steel back pool tables that are also used in the Pool World Championships, with snooker cue sales and repairs. There is a fully licensed function room with catering which can be decorated to the customers needs so people can book the room out for parties or other special events. If snooker or live bands isn't to your taste, the Arches also has their sky blue bar with a plasma screen, which shows live sports, and the venue serves hot and cold food throughout the day.
What's On
Find out what events are coming up at The Arches here.
Getting to The Arches
The Arches is five minutes outside of Coventry City Centre, located in Spon End, underneath the railway arches, making it relatively easy to get to if you are walking from the city centre.
By car
Coventry is most accessible by taking the A444 into the City Centre, and then the B4101 for around 5 minutes. As it is situated near the City Centre, there are many hotels that are available.
Parking
This venue offers free parking and is therefore easily accessible by car.
By public transport
The Arches is located a mile away from Coventry's train station and the bus station is just less than two miles from the venue. The buses that take you to the venue include the number 6, 6A, 10 and 18. For more information on public transport in the West Midlands, please visit networkwestmidlands.com.
Spot something wrong? Are we missing a venue? Let us know at richard@counteract.co.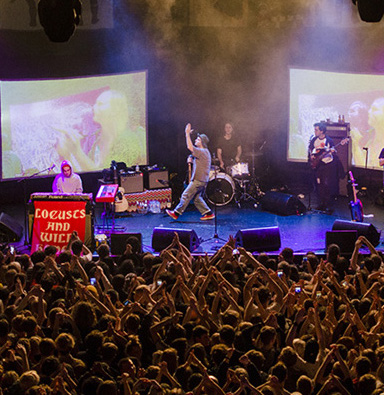 Key information on the best live music venues in and around Birmingham, Coventry, Wolverhampton and the surrounds.