Venue guide: The Wagon & Horses, Birmingham
The Wagon & Horses is a dual venue pub in the back streets of Digbeth, hosting regular live music and a fully stocked bar.
One of Birmingham's oldest and best kept secrets, the Wagon has played host to a plethora of local and international bands over the years, as well as dozens of weekend-long festivals. The main courtyard sits under a purpose-built shelter, just a flight of stairs away from the secondary indoor venue above the pub's main bar. A good mix of live rock and dance/dub soundsystems appear at the venue ensuring a varied crowd at all times.
Venue information
Not far from Birmingham's huge Rainbow complex, the pub sits at the very start of the Digbeth High Street, a stone's throw from Birmingham City Football Club and the Custard Factory. Hot and cold food is served over the bar between midday and 2:30 every weekday. Most of Birmingham's main music promoters host nightly live shows over the venue's two stages.
What's On
Find out what's coming up at the Wagon, head to wagonandhorsesdigbeth.com.
Getting to the Wagon & Horses
By car
The Wagon & Horses is situated just off the main Digbeth Deritend, on the same road as the Rainbow Warehouse.
Parking
Parking is available on the local back streets, as well as a small walk away from the venue in 2 or 3 large pay and display car parks.
By public transport
Buses down the Digbeth high street operate throughout the day, and New Street and Moor Street stations are both a 10 minute walk away. For more information on public transport in the West Midlands, please visit networkwestmidlands.com.
Spot something wrong? Are we missing a venue? Let us know at richard@counteract.co.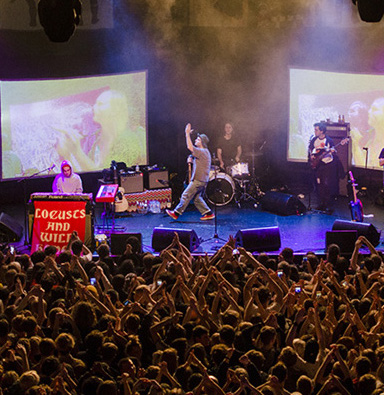 Key information on the best live music venues in and around Birmingham, Coventry, Wolverhampton and the surrounds.