Review: White Lung bring Canadian punk rock to The Flapper
Respected event organisers, Birmingham Promoters and The Flapper play host to a night of unique and intense talent on Friday May 27th
Support bands, Apathy and You Dirty Blue gave impressive and enigmatic performances 
White Lung thrashed through a hardcore punk rock set living up to the audience's expectations
On Friday 27th May, The Flapper in Birmingham along with well known event organisers Birmingham Promoters played host to a night of 3 unique and exceptionally talented bands. The downstairs venue was dimly light, had an air of intrigue and high expectation and was almost full to capacity by the time the headlining band took to the stage.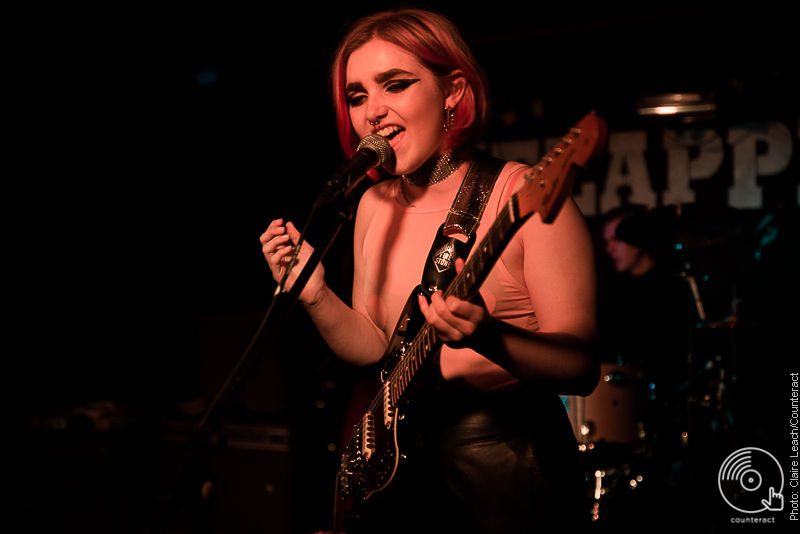 The first support band to take to the stage was the male and female, Birmingham based guitar and drums duo, Apathy. Playing a set-list of songs edged with melancholic charisma and a strong female vocal ability soaring to intense high notes and delving to lower soulful tones, this band made for a perfect opening act for the evening. The front woman poured her emotion into the microphone, thrashing out grungy, garage rock guitar hooks and intricate melodies, along with the steady drumbeats. Their 7 song set was one of feeling, with tracks that not only showed their ability to play vigorous rock music, but also displaying a side full of soulfulness and emotional honesty from a highly focused duo.
Next to unleash their musical talent was the Tamworth based twosome, You Dirty Blue. Playing a collection of songs from their debut EP, 'Pictures From Pages', the blues filled guitar riffs, heavily grooved undertones of the bass organ and a powerful, full force drumbeat, equated to an intense, engaging and highly impressive performance. Songs such as the frantically paced, foot tapper, 'Bolan Shoes', along with the gently winding, crescendo building, 'Ghost Dance Camp', had elements of pop-rock although heavier numbers, such as the EP finale, 'Pictures From Pages', evidenced a band that can energetically, rip roar through a heavy rock frenzy with effortless ease and enigmatic stage presence.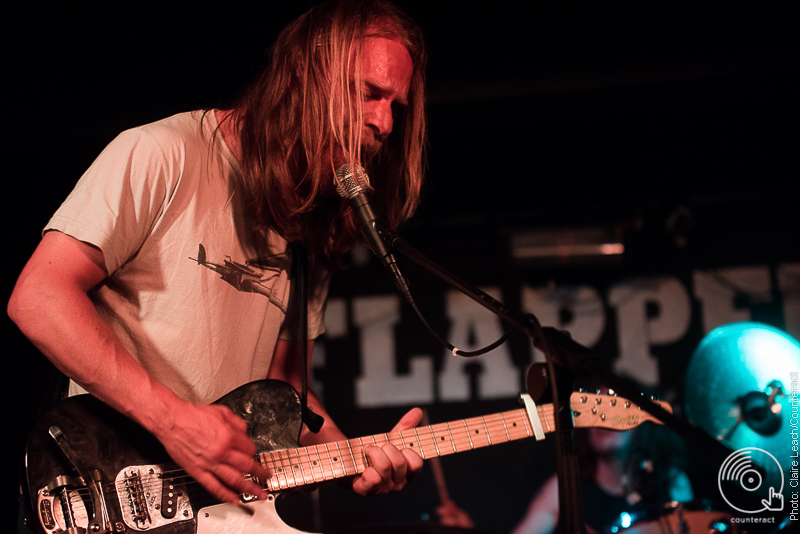 Their catchy riffs, unique song-writing style and imaginative lyrical content set this band apart from their contemporaries of similar musical genre. The dragged through the dirt, gravel and grit vocals, along with the primal thudding, consistent and fully charged drumbeat prove that You Dirty Blue not only have the ability to command the full attention of an entire room, but would also not be out of place among the heavy blues inspired rock bands that make up label rosters by the likes of Sub Pop and Alive Naturalsound. With a live performance as impressive as this, it is clear that this band are fully capable of moving from the support slot into the well deserving headline position and it is no surprise that they are quickly becoming Birmingham's new favourite band.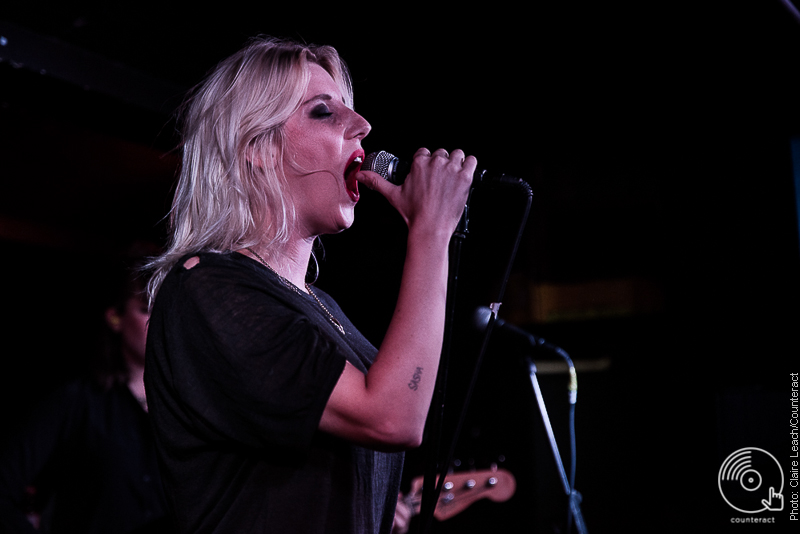 By 9.45pm it was time for Canadian 4 piece, White Lung to hit the stage. The much anticipated performance came with high expectation from the audience and I can safely say that White Lung did not disappoint. Following the release of their 4th album, the 2016 LP, 'Paradise', front woman, Mish Barber-Way along with fellow band members dived straight into a 14 song set full of as much angst, showmanship and hardcore punk rock performance as anyone in the crowd expected to witness. With a high impact sound full of crashing drums, thrashy, interweaving guitar and a snarling, adrenaline fueled vocal loaded with beauty and brutality, the band raced through their songs with little room for a breather.
They played songs from the new album, the unashamedly loved up, riches to rags powerhouse, 'Kiss me when I bleed', along with the soaring goth-pop influenced 'Below' and the ferocious 'Hungry'. Despite the new album reportedly being toned down in comparison to the blood boiling punk stance of their previous releases, this was not evidenced when watching them live. They played each song with an equal intensity level as the next, with the mic grabbing, arm thrusting actions and focused stare from Mish working to emphasize the intent of her lyrics. The band captivated and successfully provoked the audience into their delightfully menacing punk rock world. They thrashed through the powerfully brash, 'Drown with the monster', from their album, 'Deep Fantasy', along with the sharp, self reflecting declaration, 'Down it goes', with Mish's vocals consistently screaming wild, yet melodic fury through the rafters.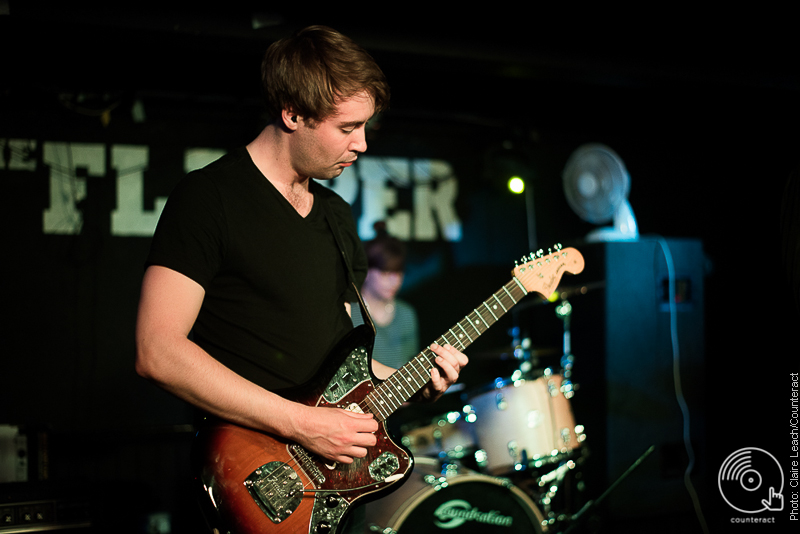 Although their set was 14 songs long, with the majority of them being under 3 minutes it all seemed to be over far too quickly and the band did not do an encore. That being said, with a performance as almighty, energetic and chaotically forceful as the one we had just witnessed and a front-woman that does not pander to the expectations or demands of others, an encore was not expected nor needed and the audience left the venue completely satisfied.
Photographs by Claire Leach
English and Media Studies graduate, frequent traveler, vinyl and vintage enthusiast….fan of delta blues, folk, 60s/70s rock, psychedelia and the many gaps in between. Favourite artists include Wooden Shjips, Radio Moscow, All Them Witches and too many others to mention.