Review: Thee MVPs' short, sharp fuzz resonates with Sunflower crowd
Local promoters Sonic Gun brought London's Thee MVPs to Birmingham on Thursday 15th September
Support on the night came from local bands Bad Girlfriend and Domesday Outfit
Domesday Outfit open to a quiet Thursday night crowd at the Sunflower Lounge.Venue guide: The Sunflower Lounge, Birmingham The Stourbridge three-piece deliver a solid set of fuzzy, un-self-conscious metallic rock peppered with some doomy riffs. Frontman Adam Lamb squirms about on stage, tiptoeing despite his height to reach the mic. Lamb's collection of pedals spills out of his over-sized board and on to the stage, and at times he makes good use of them – psychedelic soundscapes are produced, and not the drawn out sonic experiments usually described as soundscapes.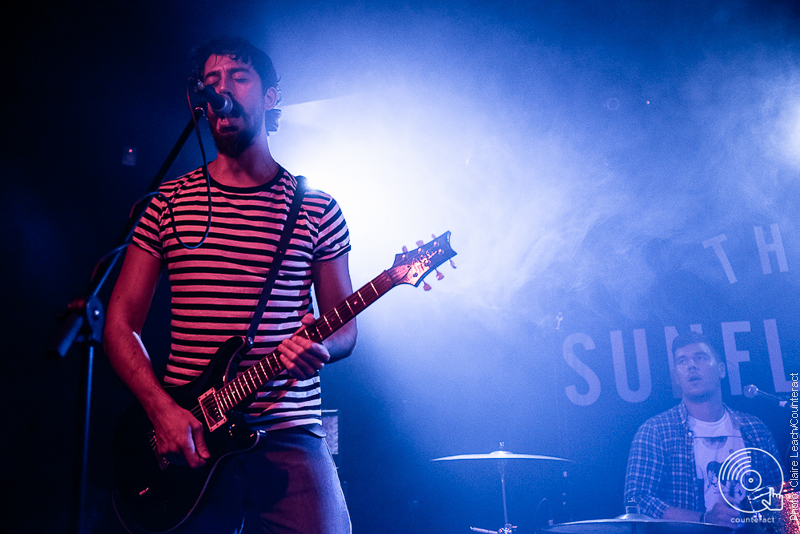 Domesday Outfit keep things fun by never losing sight of their hooks. With vocals at times erring into Dio territory, plus George Land and Sam Bispham making up a solid rhythm section, Domesday Outfit are an interesting group. Their set is a refreshing change from some of the run-of-the-mill baby shoegaze bands often seen around town, although a quick listen to their bandcamp confirms that Domesday Outfit actually produce their best work in the studio.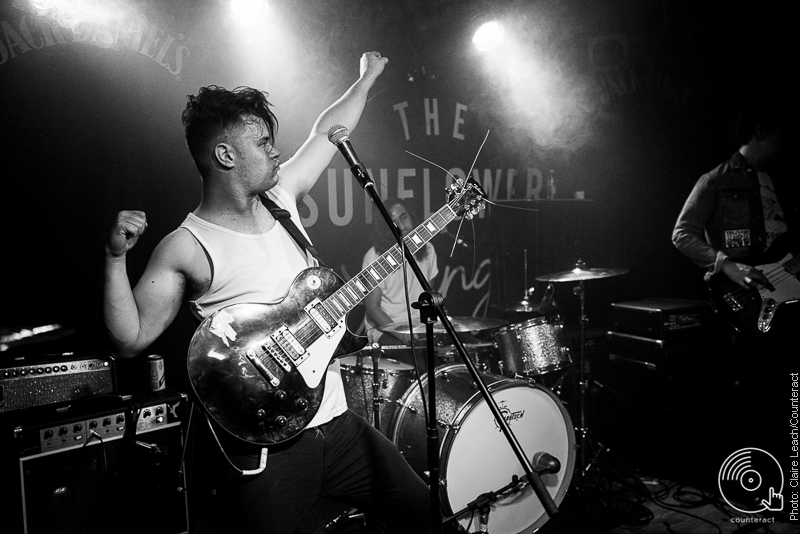 The start of Bad Girlfriend's set was marked by guitarist Connor Hemming ricocheting around the basement of the Sunflower, a momentum that he maintains throughout. Watching Hemming it's impossible not to grin; he's a photographer's dream, climbing onto chairs and barreling into the crowd to performing shredding solos and shower the audience with merch. He's like an excitable cross between Isaac Holman of Slaves and Jack Black. On more than one occasion, bassist Richie James is forced to coax him back onto the stage to begin the next song.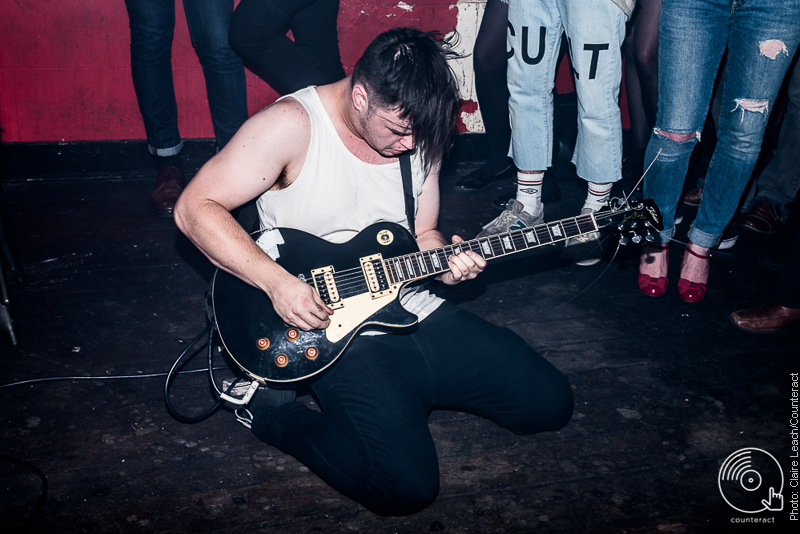 Between the unrepeatable crowd banter and unrequited calls for a stage invasion, the band DO play some great songs, including new track "Feel Good Hit of the Summer", prefaced by a reference to the Queens of the Stoneage track of the same name. The highlight of the set is a gleeful, sing-a-long cover of Beck's "Loser", after which Hemming tells the crowd, "this one's about friendship, and you're all our friends here…" He's right too. Bad Girlfriend's straightforward, energetic sound wins over the lukewarm crowd, and their enthusiasm is contagious.
"We are Thee MVPS! From London!"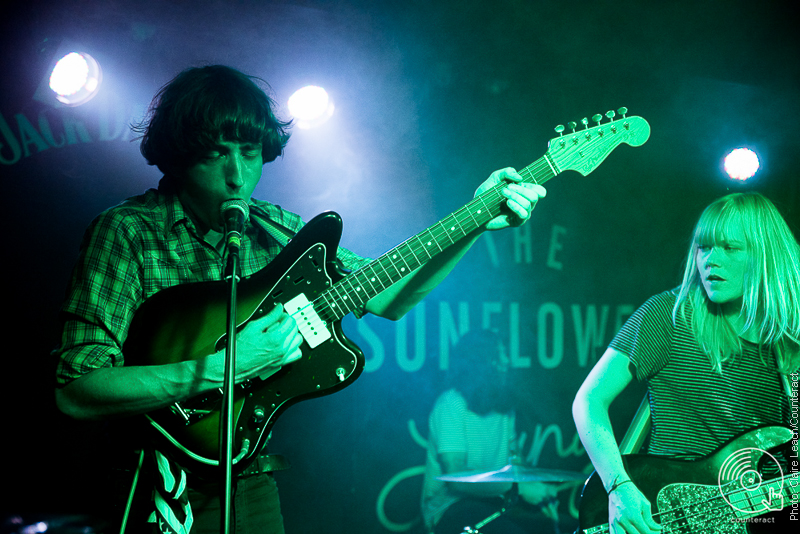 Headliners Thee MVPs launch into 2014's "FUNeral" promptly to a now healthier-sized crowd, and Charlie Wyatt exclaims that it's, "so nice to see you all here on a weeknight!" Bassist Josefine Johsson cuts an intimidating figure on the stage flanked by Wyatt and Alex Ives on guitar and vocal duties.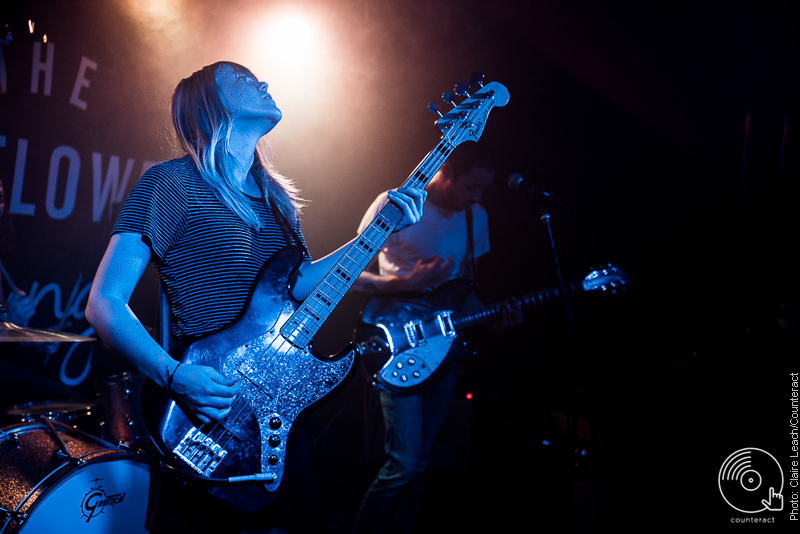 Wyatt gurns his way through the setlist, a mixture of old and new tracks including 2015's satisfyingly Weezer-esque "Edgar", punchy summer anthem "Big Pussy" from their recent ELH+3 EP, and brand new single "Slimelord". The latter, a riff-heavy offering that clocks in at over four minutes, has been in the works since 2013 and roasts "no socks but dress shoes bozos attending shows to hassle women".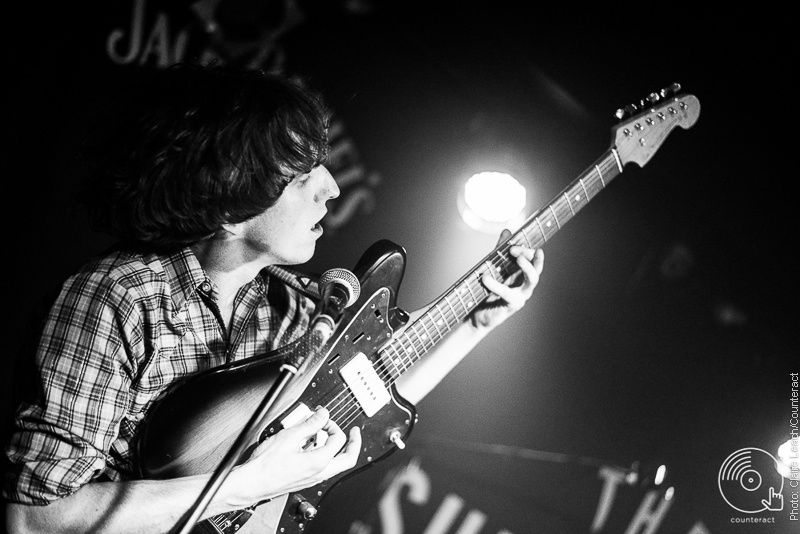 Off the back of this they launch straight into a spirited cover of The Damned's "Neat Neat Neat", showcasing Johnssons considerable bass chops, before finishing with the fuzzed-out "US Airways" from their self-titled 2014 EP. A short, sharp and perfectly formed performance leaves the audience wanting more.
Photographs by Claire Leach
Visual artist, multi-instrumentalist, and scrounger. Always wearing headphones, probably listening to Ezra Furman, Sleater-Kinney or Goat.