Review: The Moonlandingz surpass all expectations at Hare & Hounds
The Moonlandingz played the Hare & Hounds on 28th March in support of latest release Interplanetary Class Classics
Rebecca Taylor's vocals shone among a busy performance
Support was provided by Goat Girl
---
Should you believe the press that surrounds their debut album, The Moonlandingz are a "fictional band" blinked into reality by little more than force of will. This itself should make it difficult for them to headline the Hare & Hounds, but allow me to explain….
In their initial inception Johnny Rocket and The Moonlandingz were created as broad brush characters to support the narrative arc of Johnny Rocket, Narcissist & Music Machine… I'm Your Biggest Fan, an album released by Eccentronic Research Council back in 2015. The album, featured guest appearances from Lias and Saul from Fat White Family and long spoken word monologues delivered by actress Maxine Peake. The songs on this album charted The Moonlandingz progress as they played tiny, stinking venues in the north of England and gradually wove a compelling tale of obsession, inflated egos and chip suppers. They were set against a backdrop of creepy circus music and lush analogue synth lines. Everyone was happy.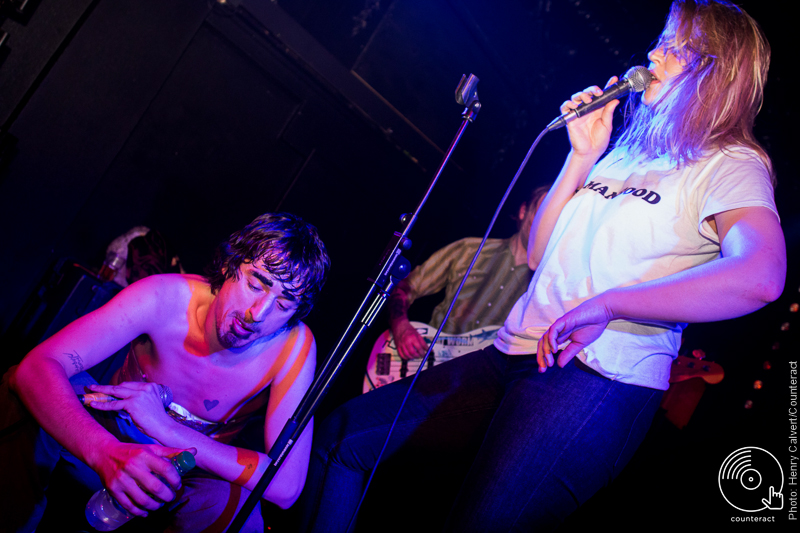 The Moonlandingz
Most recently however, the fictional band gained a new lease of life, propelled by a loose group of collaborators which include members of Fat White Family, Slow Club, Eccentronic Research Council and most notably Randy Jones from the village people. It is this line up, which claims responsibility for their excellent, recent release Interplanetary Class Classics. An album packed full of sleaze ball glam stompers, recorded at Sean Lennon's Studio in upstate New York.
Up to speed? Good. Fictional or not, tonight the band are in fine form.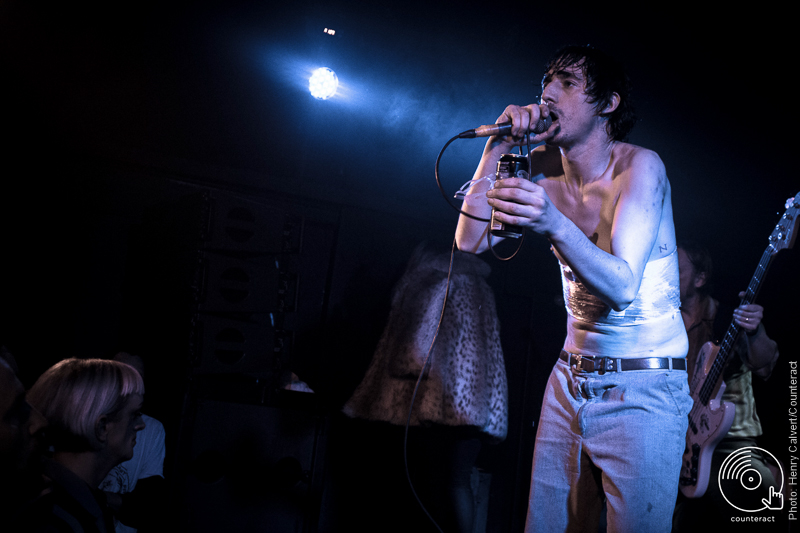 The Moonlandingz
They scream, yell and croon their way through a 45 minute set at breakneck speed, clearly influenced heavily by garage punk heroes such as The Stooges and The Cramps. The interplay between musicians is staggering and the stage presence of all involved is magnetic. In particular Rebecca Taylor's vocals shine, adding a soulful new lease of life to older track 'Black Hans' and stealing the show from a frantic Lias who remains in character as Johnny Rocket throughout tonight's performance. All too soon, the distorted vocals give way to a haunted house jumble of synth loops and they are gone.
Support comes from Goat Girl who work hard to drag the spirit of early 90's girl punk into 2017. Angry slurred vocals contrast against bright insistent lead lines and wildly unbalanced time signatures. Staggering towards their allotted time, their final song implodes in a fog of chainsaw guitars. All of this is much more charming than it sounds.
Photographs by Henry Calvert
An avid follower of the Birmingham music scene who enjoys strong black coffee, and staring at pictures of cats on the internet.