Review: The Killers kick off world tour with buoyant Birmingham show
The Killers kick off their world tour with the first of two nights at Birmingham's Genting Arena on November 6th
Many of the tracks from their new album Wonderful Wonderful receive their live debut
The band are touring without original guitarists Dave Keuning and Mark Stoermer
[amazon_link asins='B0748BKRFZ,B00020QXU4,B0748CRWDZ,B01DVG3ZZQ,B000HWZ5TW,B008VMTZ3W,B075NG686L,B00ET2D0CU' template='ProductCarousel' store='counteract03b-21′ marketplace='UK' link_id='ac021122-c533-11e7-99fe-d95a868663be']
With the heavy guitar intro of 'Wonderful Wonderful', the titular opening track from The Killers' latest album ringing out in the arena, a screen displaying an image of scorched earth slowly rises to reveal drummer Ronnie Vannucci, Jr. The accompanying whoops and yelps of applause suddenly gets louder as mercurial frontman Brandon Flowers side steps from behind the drums into view and stands there motionless, like Elvis in a still from "Jailhouse Rock".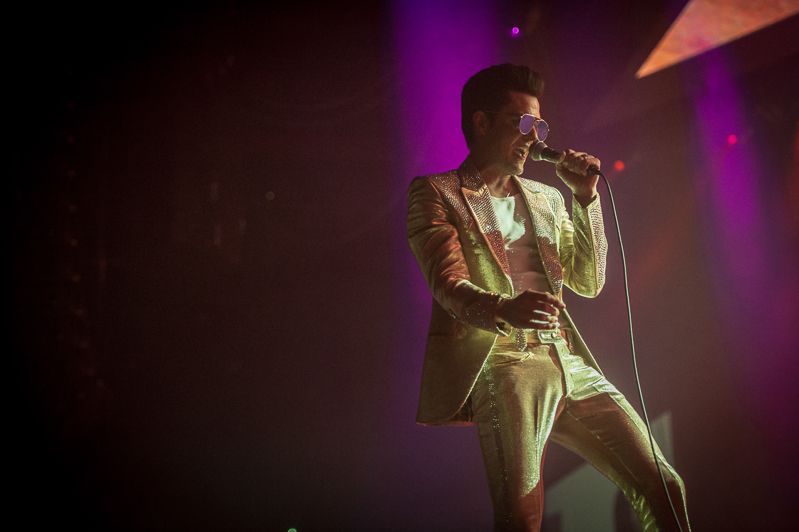 Of course The Killers have always been about putting on a show and with Flowers they have the perfect frontman to do this. He is 'The Man', of the self-titled second track from the new album that sees images of American neon cowboys flash up on screen as confetti is fired off into the audience. He is also the glittering preacher cum kitsch game-show host that delivers 'The Calling', another new track saved for the encore with its desert rock sound and religious and political overtones a far cry from the fist-pumping energy rush of their earlier stuff. On stage he commands attention both through his striking appearance and his voice which seems to get more powerful with age.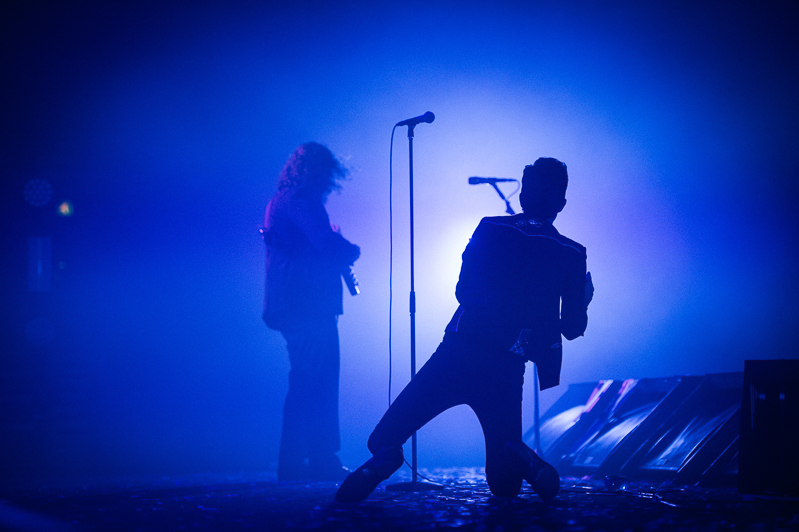 Flanked by two huge glitzy downward pointing arrows on the right and a rural water tower to the left, the band looked to have brought all aspects of their homeland with them. That is of course apart from original guitarists Dave Keuning and Mark Stoermer, who announced that they wouldn't be joining the band on their world tour that kicks off here tonight in Birmingham for reasons (not unknown). So instead we have replacements Ted Sablay and Jake Blanton taking up the mantle with obvious questions raised as to the future of the band. But for now it is business as usual as 'Somebody Told Me' from debut album 'Hot Fuss' and 'Spaceman' from 'Day and Age' get the crowd jumping and pumping. Fitting in perfectly with this is 'Run for Cover', another new track and one which harks back to that familiar energy rush of the noughties.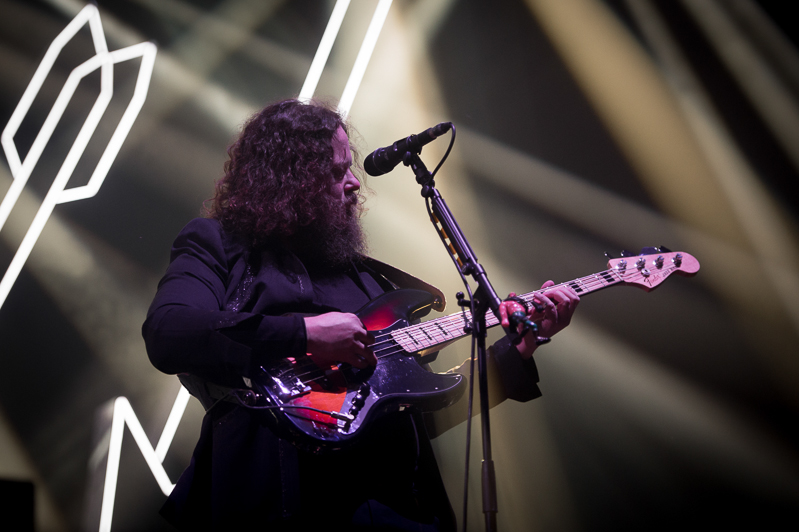 With a quote from Hemingway, Flowers introduces 'I Can't Say', not played live since 2013, its country soul brought home by the accompaniment of three female backing vocalists. A bass heavy version of 'Reasons Unknown' equipped with a false ending adds gravitas to the original, fed through by their current reflective and intense sound perhaps? And while you appreciate the need for them to play out the new songs (the majority of which get their live debut tonight) there is always a yearning for the familiar anthems of the earlier albums. A mid section lull brought about by new down tempo tracks 'Rut' and 'Life To Come' is offset by a euphoric 'Human' and a rare appearance of 'This River Is Wild' a song which according to Flowers has taken on new meaning with the passage of time. The "I've got soul but I'm not a soldier"mantra of 'All These Things That I've Done' ends the main set in typical Killers grandiose fashion as more confetti is fired in the air and streamers unfurl from the roof.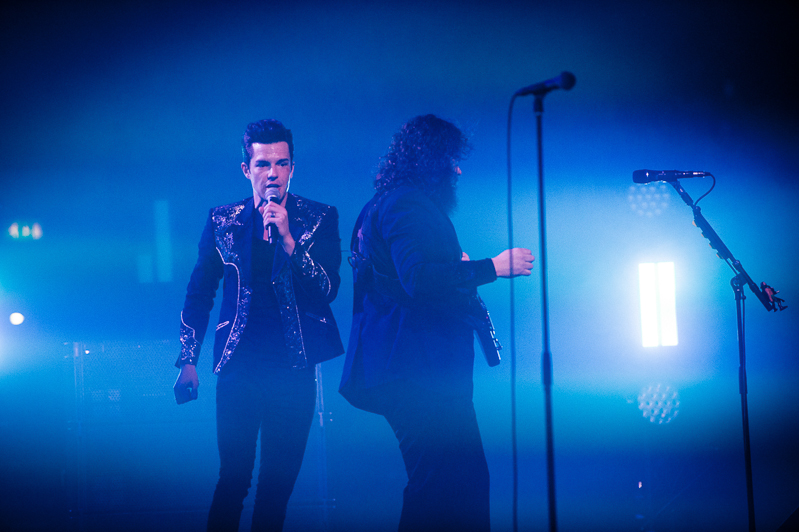 A now glitter-suited Flowers returns to see out the evening in style with 'Believe Me Natalie' accompanied by lasers that light up the streamers like fibre optics and a triumphant 'When You Were Young' that showers the stage with golden rain. It is left to 'Mr Brightside' to green laser the bejesus out of the place and though there may be uncertainty in the air, for now you can rest assured that Flowers is taking care of business.
Photographs by Rob Loud