Review: Oscar's lo-fi pop incites Rainbow Cellar stage invasion
Oscar came to Birmingham's Rainbow Cellar on Saturday October 1st
Excitable cellar crowd invaded the stage during Oscar's most popular tracks
Support on the night came from Girli 
The first day of October saw throngs of gig goers soiling their converse in Digbeth's puddles and shaking their umbrellas under bus shelters; on an evening where Jamie T, The Magic Gang and Oscar were playing in varying venues across Birmingham, the streets were full of colourful jackets, dyed hair and cigarette smoke that snaked across the city, leading up to the heavy structure of The Rainbow.
There is clearly no such thing as too much pink. The iridescent lights petered out and were replaced by a fuschia glow as Girli took to the stage in a personalised tracksuit, immediately carrying the audience through an energetic performance of 'ASBOys' complete with synced dancing and dense beats.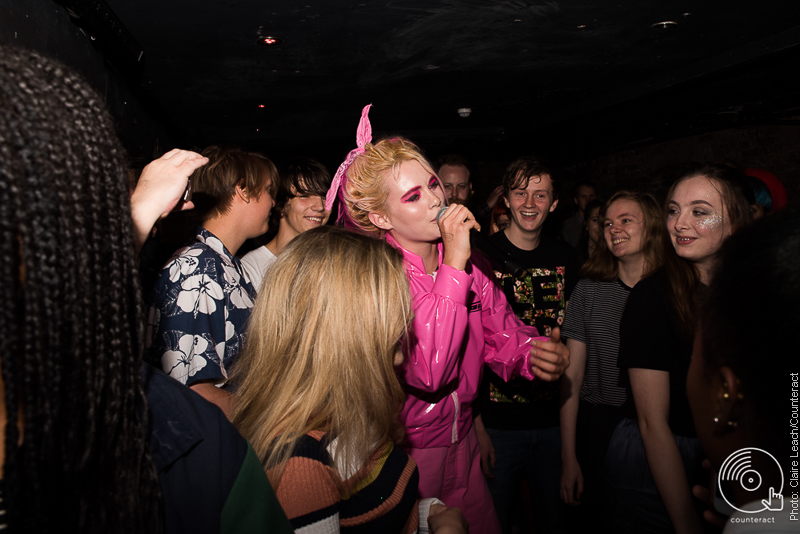 The peak of the set was 'Find my friends', weaving her way through the eclectic audience as though the Cellar had been transformed into a house party with better pyro. After belting through the noughties pop infused 'Girl I met on the Internet', leaning on a giant brightly coloured pack of tampons, she said with complete ease,"So if you're on your reds the Girli tampons are out now!" A cheer erupted from the cluster of teenage girls in the front row representing the demographic that Girli's songs allude to: carefree adolescents making their ways in a patriarchal society. The set ended with the punchy and perky 'So you think you can fuck with me do ya', refreshingly foul mouthed and charming she charged into the crowd who had been transported into a nineties video game and crouched on the ground, flanked by fans before erupting into the effervescent chorus.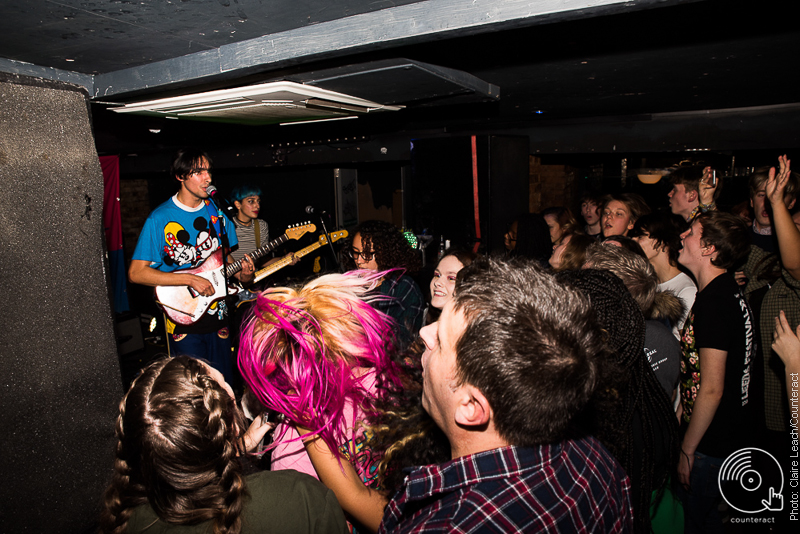 Oscar's banner hung like a tapestry from the rustic brick walls as a mirage of colour flickered against it – he stepped out on stage, cutting a reserved yet colourful figure and kicked his set off with 'Beautiful Words', a melodious and synth heavy track with trance like vocals that dipped in and out of depth. "This is a song about my mum smoking weed", he said quietly, before launching into the obscure and older, 'Caramel Brown', a refined pop melody with sweet swirling notes.
Girli's set felt far too short, so to see her bound on stage with Oscar for 'Breaking My Phone' was met with a sonorous cheer. As she rapped during the chorus, they almost resembled an archetypal pop duo but with a greater sense of individuality.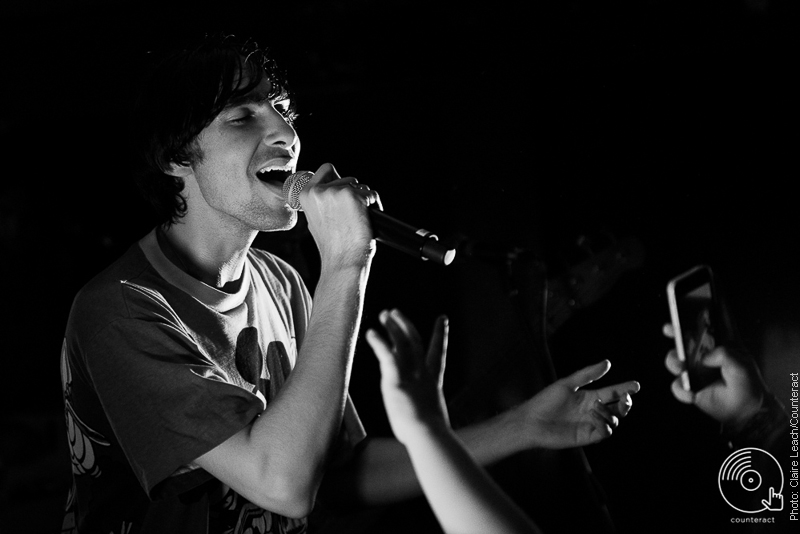 "Nice trousers!" a voice emitted from the audience to which he replied, "Thanks, I made them myself.", before picking up the pace with 'Art School Antics' a preppy and eighties-esque track that was accented by the stammering keys and silky bassline that seamlessly flowed into the harmonious 'Only Friend' that dispersed a dreamlike ambience.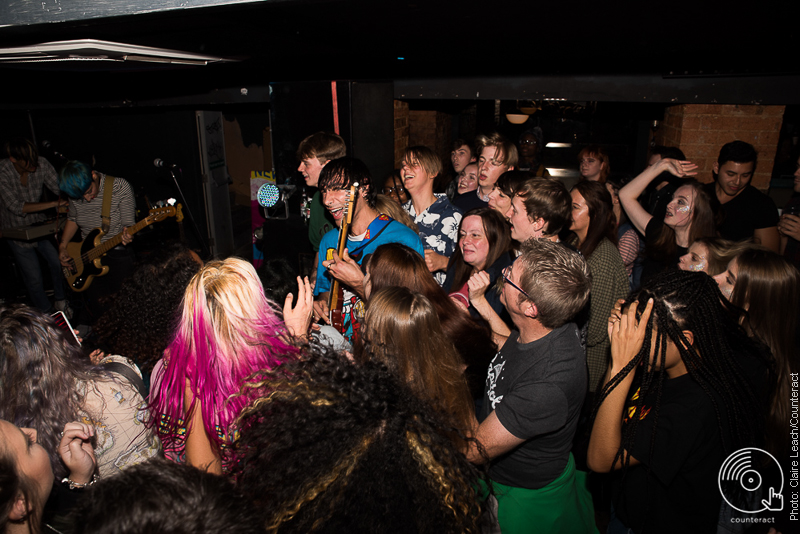 'Sometimes' ended the set with the complimentary sound of fuzzy guitar riffs and baritone ripping into the air with vigour; just when we thought it was over, Oscar and his band burst into the chorus for a second time as he fell into the crowd of raucous dancers with his guitar – including Girli.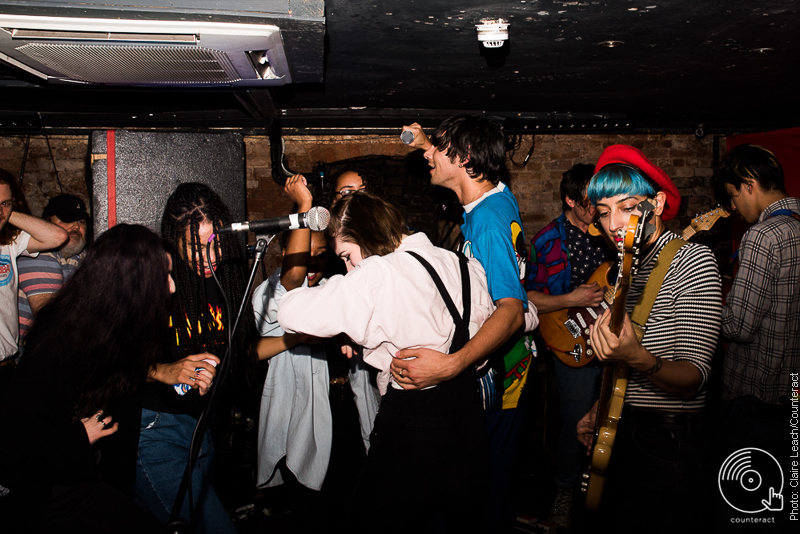 With a stylishly executed gig, and backed up by possibly the most well dressed and simultaneously skilled band I have seen in a while, Oscar certainly sets himself apart from the plethora of interchangeable indie acts to present the perfect formula of obscurity and relatability.
Photographs by Claire Leach