Review: Goon Sax bring lo-fi Aussie charm to The Hare and Hounds
Goon Sax play a cosy show to an enthusiastic room at The Hare and Hounds June 5th
Support came from The Bank Accounts and Quinn
Good natured banter and relaxed fun vibe filled the night
The Bank Accounts are a joyously unique live band, the Birmingham three piece mix stripped bare musicality with a sharp self-mocking lyricism steeped in fun, good humour and personal experience. Less a gig and more of a spiky punk cabaret with showman in chief Ben coming off like a new wave Mr. Tumble with his loud shirt, upstart energy and boundless banter.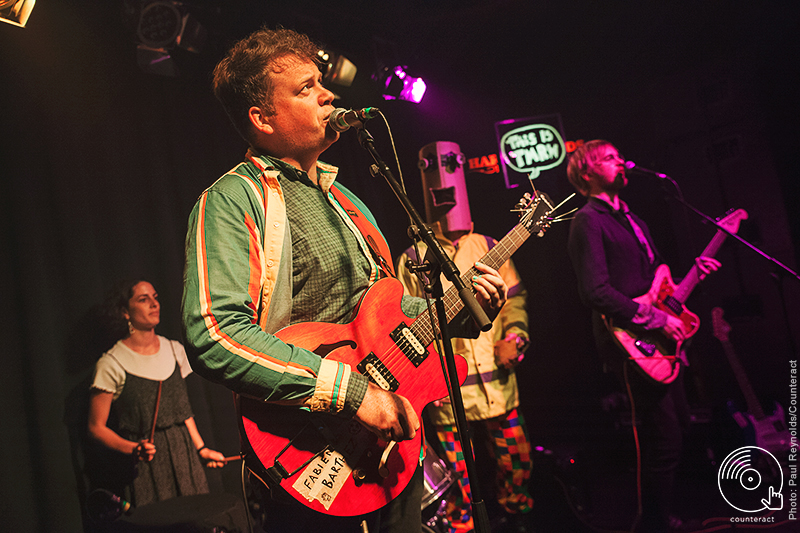 The Bank Accounts
Watching the band riff off each other and the audience is hilarious and we'd have happily watched them cracking jokes all night but luckily the tunes are great too. Throw in some guest dancing shenanigans from Gorilla Bot's Robo Ben and what could go wrong? With all that in mind they kick off proceedings with the downbeat, 'It's Ok To Feel Things'; a beautifully wrought song of emotional reflection, hey, these guys have depth too. Set highlight was the gloriously elongated romantic fug of 'Pet Shop' featuring what is probably the most minimalist guitar duel in musical history.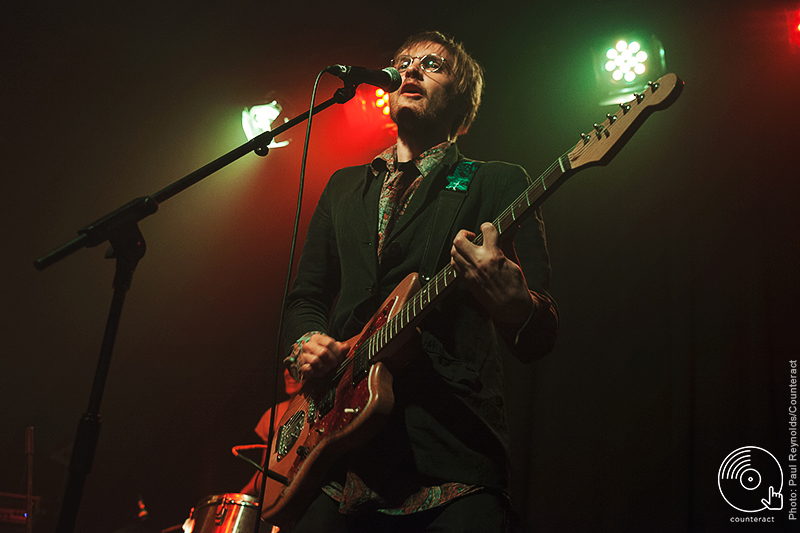 The Bank Accounts
The sweet tale of awkward dating recalls Half Man Half Biscuit but with a cheerier disposition. We also loved 'Girls', which Ben introduced with ''this guy in a white van called Sophie a c###", remember folks "girls are people too". The Bank Accounts generate a warm fuzzy glow and we like that.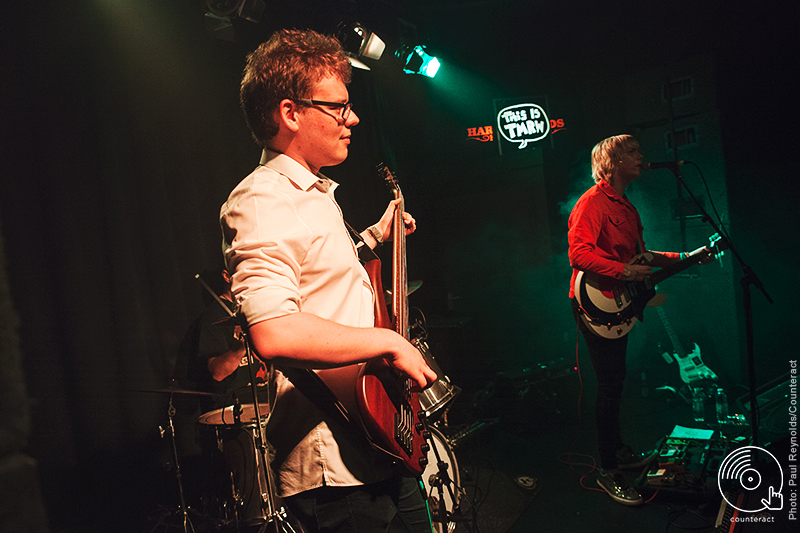 Quinn
It was always going to be hard for the band that followed The Bank Accounts fizziness on stage so we did feel a bit sorry for Quinn, they should have opened the gig. The powerhouse trio's blend of glam pop and Wheatus-like teen anthems sat awkwardly sandwiched between the studied minimalism of the other two bands, it felt a bit like we were watching them rehearse at times. The guys gave it a good go though and we look forward to seeing them again soon.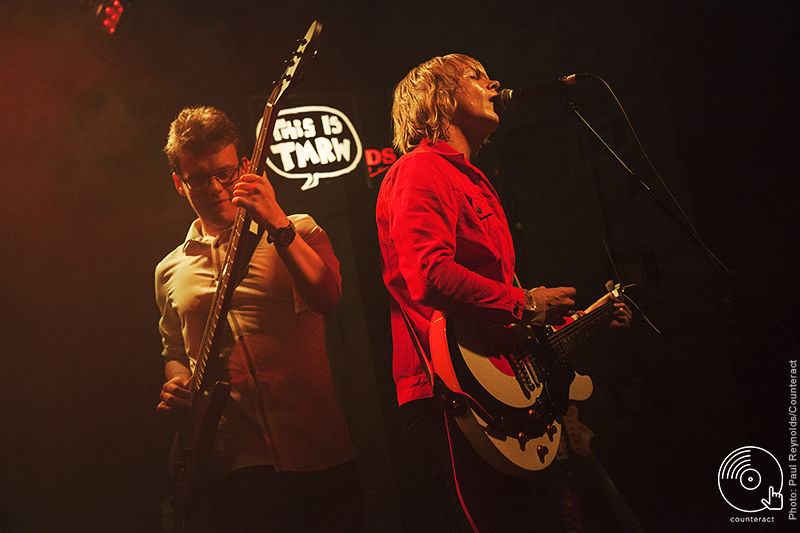 Quinn
Goon Sax ambled on stage and immediately exuded an ineffable Aussie charm, possessed of a warm and natural lo-fi demeanor that infects their music and lyrics. Last year's debut album, Up To Anything, is a classic of minimalist self-deprecating world weariness without ever slipping into mawkish darkness and we thoroughly recommend it.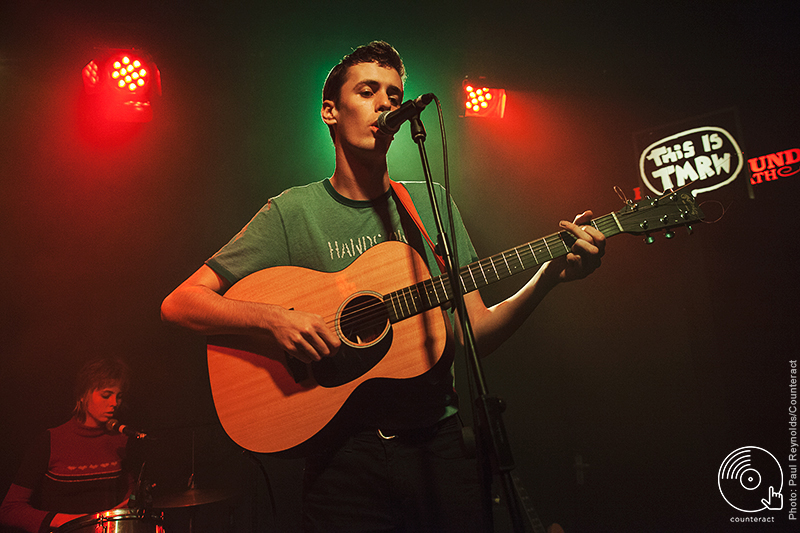 Goon Sax
There's an uplifting resonance throughout their gentle angsty songs that is magnified tenfold live. James Harrison and Louis Forster share guitars and vocals, with drummer Riley Jones chipping in on singing duties too. James is almost puppy-like in his enthusiasm, which is matched perfectly by Louis' laconicism and Riley's chilled wit. It's so cosy we never want to leave.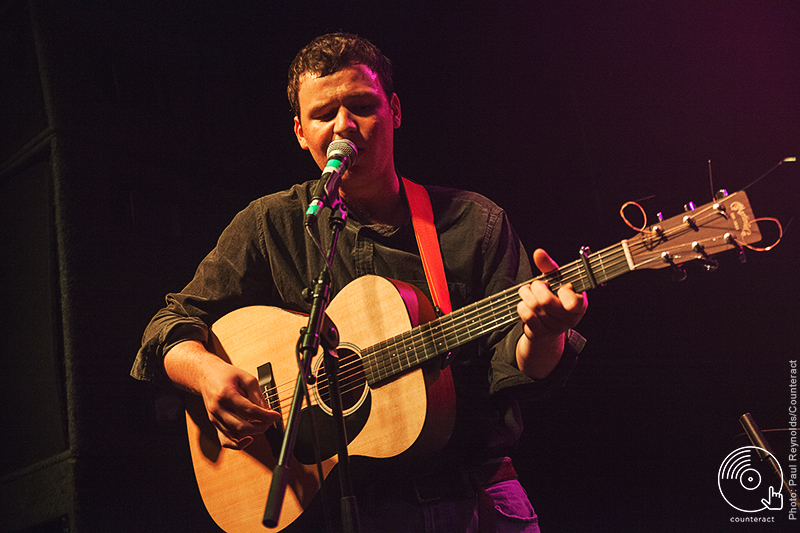 Goon Sax
They open with the album's title track 'Up To Anything' and we're headlong into The Goon Sax worldview, measured catchy melodies and existential lite songs, 'I want people to wonder about me'. The whole Goon Sax canon contains a benign curiosity into the perplexities of the universe in which we can hear the faint musical aroma of Violent Femmes, The Clean, and The Pastels. It's a heady mix of restrained strumming, singular percussion and lyrical eccentricity. Louis and James casually swap instruments between songs and on one occasion back again before the song even begins. This horizontal verve is sublime and effortless.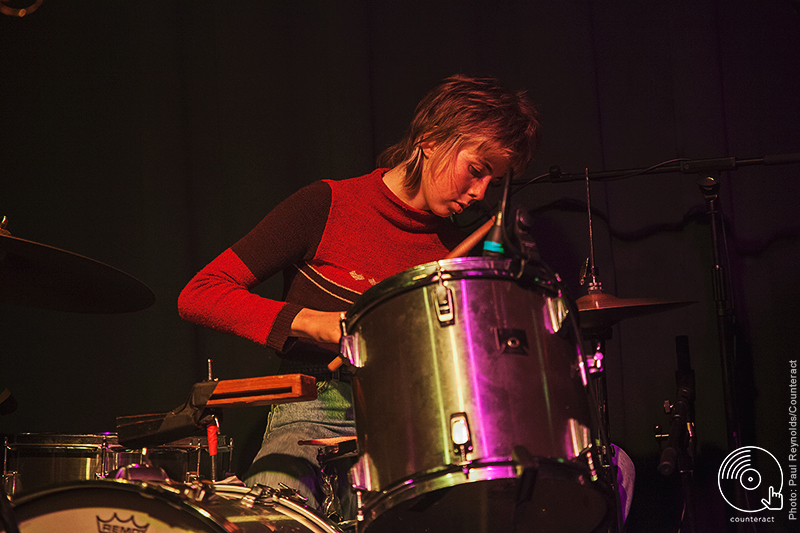 Goon Sax
In a set full of classics the picks for us were 'Icecream (On My Own)'; containing possibly the greatest and certainly the catchiest, anomic dairy chorus ever written about ailing friendships with "I eat ice cream on my own", the earnest and hilariously introduced 'Home Haircuts' and heartbreak anthem, 'Boyfriend'. There's time for a nod to Galaxie 500 in the slightly despairing 'Anyone Else', Louis neatly wrapping The Goon Sax's wry self deprecation in the line, "Why am I doing what anyone else could do?" Thing is, no one else is doing what these three Brisbane teenagers are doing. Go buy the album and make sure you show up next time; take note kids, "Life is pretty nice, but it isn't paradise".
Photographs by Paul Reynolds
"Reviewer, previewer and writer of just about anything. Can usually be found with my eyeballs plugged into sleazy 70's exploitation cinema or riding an antique bike around Harborne. I have no issue with being bought pints or accepting bribes of any sort."