Review: A raucous romp from Adam Ant at Birmingham's Symphony Hall
Adam Ant played the Symphony Hall on May 12
Support came from all girl glam band, Glam Skanks
The night is a stand and deliver performance of 23 songs on a tour made of anthems
Adam Ant is one of the enigmas of the music industry and no one really knows what to expect tonight. There is real anticipation in the air at The Symphony Hall as hardcore fans fill the bar dressed in full highwayman garb, some even with the trademark Adam Ant warpaint.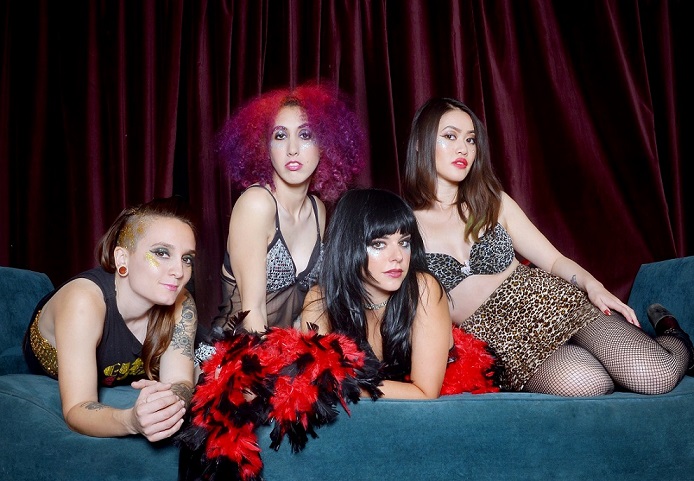 Glam Skanks
First on stage tonight, Glam Skanks, an all-girl glam band. Each member looks like they've been plucked from a legendary glam rock band, pretty badass. Lead singer Ali Cat has an air of Joan Jett about her, her chat with the crowd is kind of like the way Paul Stanley from Kiss talks…
"I know life sometimes can get tough!
And I know life sometimes can be a drag!
But people, we have been given a gift,
we have been given a road
And that road's name is… Rock and Roll!"
Sadly she did not holla that legendary quote, but it didn't matter because Glam Skanks were writhing, rocking out and dishing out tongue-in-cheek sleaze throughout their punchy set. At times the girls busted out tunes that would be at home in a T Rex or New York Dolls set and I even heard a Rage Against The Machine style riff at one point. Song of the night was the sneering 'Bad Bitch'. Wham bam thank you Glam Skanks.
Next up time for the main event! Adam Ant and his band explode onto the stage with the frenzied 'Beat My Guest' from the 1980 Kings of the Wild Frontier album. Immediately eyes are drawn to the two raised drum kits and the appearance of the band which is quite Gothic and 80s rock. Adam himself now looks like Captain Jack Sparrow (which is a good thing, obviously), bizarrely he doesn't seem to have aged in the past 20 years. One of the drummers is a woman with a deathly stare and giant, enormous, stupendous backcombed blonde hair, very impressive really, and his bass player looks like he's stepped straight out of the hack n' slash video game 'Devil May Cry'. Well it would be a bit disappointing if they were polished corporate rockers like Bon Jovi wouldn't it?
In the opulent surroundings of The Symphony Hall, it's unsure how the mostly ageing crowd will respond to a rock gig, they certainly aren't about to sit there with their hands folded. Everyone is out of their seats from the off but things start going crazy when they play late 80s comeback hit 'Apollo 9', closely followed by 'Friend or Foe' and 'Antmusic'. Throughout the show they covered everything from smash hits, to lesser known early stuff and comeback classics, everyone was happy.
Adam has just the right amount of banter with the crowd, focusing mainly on the performance and some seriously freaky facial expressions which are all part of the show of course. He shouts out "This tour is Anthems, that means if you know the words sing along!". The sound is fantastic and some of the crowd make a rush to the front towards the end of the set, pure joy on their faces as Adam sarcastically wags his finger in their direction.
They end the 23 song mammoth set on the double of 'Goody Two Shoes' and 'Stand and Deliver', but of course that is not the end! They return after a short chant for more from the crowd and treat them to three early classics. Adam regales the crowd with a tale of playing Birmingham in the late 70's sleeping on top of the gear in the band's van. A raucous romp from start to finish. Prince Charming definitely didn't forget all his standards tonight.
Music/Arts/Leisure/Brum
www.mazzysnape.com