Review: Marina and the Diamonds performs euphoric set at the O2 Institute
Marina and the Diamonds played Birmingham's O2 Institute as part of her "Neon Nature Tour"
Several costume changes and a powerful vocal performance surpassed fans' expectations
Clock Opera supported in anticipation of their upcoming 2016 album
Marina Diamandis, known under the stage name Marina and the Diamonds, could be perceived as one of the most distinctive and bold modern pop stars without massive commercial success. The "Neon Nature Tour" follows the release of her third album Froot earlier this year with its 80s disco synths and rhythms proving successful amongst dedicated fans.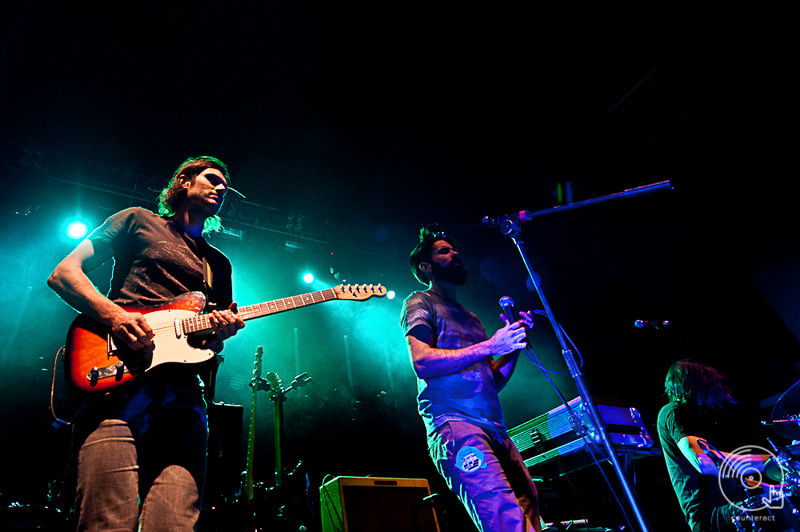 Clock Opera
An unusual pairing for a support act came in the form of Clock Opera mostly showcasing new material from her upcoming untitled second album due for release in 2016. Light guitar riffs layered with drums and twinkling synths along with the high-pitched vocals of the bearded frontman. Recent single 'Changeling' had a solid catchy bass line and verses sung out with a dramatized passion. At times, the band's performance didn't seem entirely cohesive as elements occasionally felt clashing but overall it was a decent set to open the evening and provided something a bit more alternative as opposed to Marina's sugar sweet anthems.
Anticipation was high as Marina and the Diamonds uniquely split her set into three acts, one for each album, highlighting the evolution of her music visually and sonically.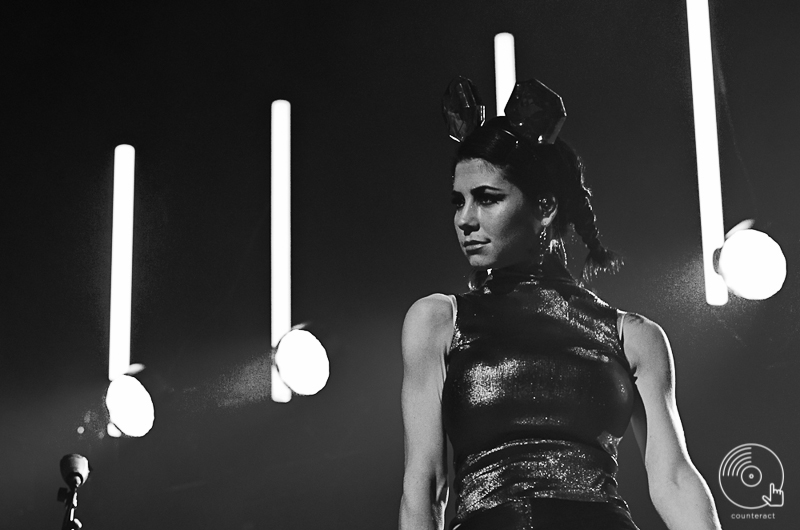 Marina and the Diamonds
The set commenced with The Family Jewels segment as the first act, performing older fan favourites from her debut album. Starting proceedings with early single 'Mowgli's Road' her presence was immediately solidified with power as she sang out the verses with impressive vocal strength, echoed by her adoring fans. Cute satirical emoticons flashed on the screens through 'I Am Not A Robot' while Marina performed with theatrical flare. The first heartstring pulling moment came with 'Obsessions' as Marina crooned out the tragic story over the piano melody. The act finished on a high note of 'Hollywood' with it's spiralling synths and pumping drumbeat. Her vocals remained distinctive sonically very close to the original recordings.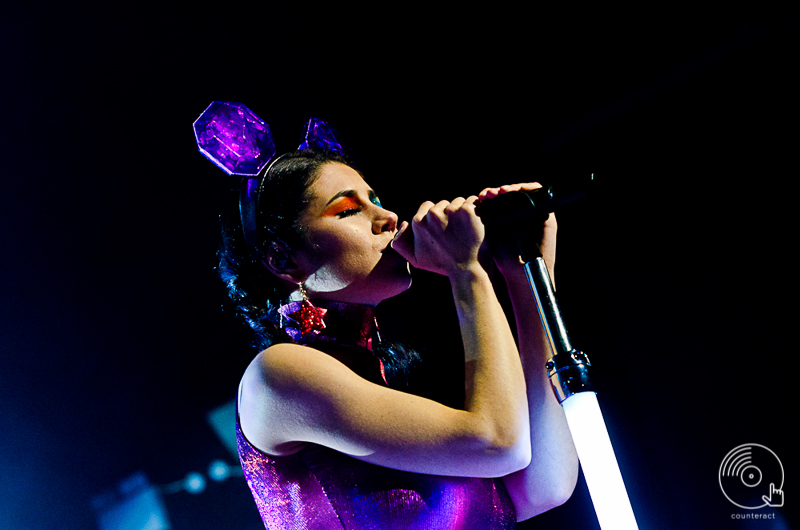 Marina and the Diamonds
Following a dramatic transition, Marina emerged in a new pink costume opening the Electra Heart act with fiery dance-pop banger 'Bubblegum Bitch'. The fast rhythm and rock star guitar sent the audience into a flurry of excitement screaming along to the sassy tune. 'How To be A Heartbreaker' and 'Primadonna' maintained the high sugary sweet energy creating a carefree atmosphere. 'Lies' closed the act drenched with a powerful dubstep baseline and an intense belted chorus.
The spiralling synths and glossy guitar riffs of 'Froot' exuberated an 80's danceable sound as the crowd continued bouncing and singing along passionately for the opening of the final act. A more instrumental based sound was showcased in the new material 'I'm A Ruin' and 'Forget' as Marina's band performed catchy riffs with pounding drums creating something distinctive against the rest of the set. Marina performed solo for 'Happy' as the encore with her raw vocals delivering personal emotive verses creating a tear-jerking impact. 'Blue' concluded the gig on a euphoric note combining bopping synths and anthemic vocals.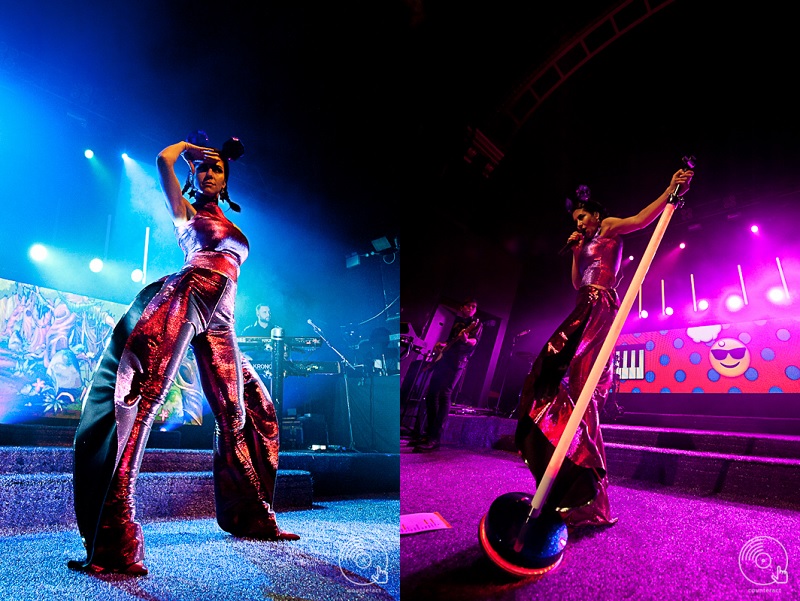 Marina and the Diamonds
Marina and the Diamonds full set created a unique atmosphere as she expressed her distinctive albums styles, essentially combining multiple tours within one show. Her dedication to putting on a quality show is commendable and she surpassed already high expectations from her fans.
Photographs by Katie Foulkes
View the full set here.
Media and Communications student with a passion for music and discovering new artists. 90% of the time you'll find me at a gig. I listen to a really wide range of artists such as The 1975, Two Door Cinema Club, Bombay Bicycle Club, Ed Sheeran, Disclosure, Lorde, Florence and The Machine, Ben Howard, as well as a tonne of pop music like Taylor Swift and Ellie Goulding.