MeMe Detroit releases single Soc Med Junkies ahead of Birmingham show
MeMe Detroit is an out of this world, cosmic swirl of decades past. The glittering electro synth of the 80s, the grit and grungy guitars of the 90s and the fresh, uplifting acoustic indie of present day. However, listening to MeMe Detroit never feels like a throwback.
MeMe Detroit's new single 'Soc Med Junkies' plunges into rock and roll with heavy grunge influences. Its an impassioned look into the world of social media, and an infatuation and addiction to it – calling for people to take a step back and enjoy the real world. Bass takes the lead in subdued verses alongside drum stick snaps, before the chorus catapults head first into a riot of crunching guitars and strong vocal melody.
MeMe's repertoire is extensive – her 2017 album, Live to Love You'll Love to Live, is splattered with collages of inspiration – although the acoustic indie ballads such as 'Emily' and 'Stand Up You're Living' are poles apart from her more recent, electrified releases.
The Midlands singer, musician and DJ is able to twist genres and fuse them together to create mind bending concoctions. Last year's release 'How She Runs' was a glittering synth explosion, a story about love on the dance floor that erupts into romantic, Bowie-esque guitar riffs that are as fresh and invigorating as a first encounter.
Bowie is a heavy inspiration in MeMe Detroit's calibre. Her cover of Bowie's 'Ashes to Ashes' manages to turn the iconic, springy instrumentation into something gritty and almost sombre. It's layered thick with electric guitar and powerful vocals – but still keeps the weird and whimsy that Bowie, and MeMe, both perfect.
For those with an unrequited love for 90s grunge, and a soft spot for synth lustre of the 80s, MeMe Detroit will be a welcome addition to their record collection. The tenacity of new single 'Soc Med Junkies' is just a small look into the energy that MeMe brings to her sound – every lyric and riff is impassioned and well thought out with a message.
MeMe Detroit recently performed at The Night Owl's Bowie Night – appeasing an impassioned crowd of Bowie fans. By popular demand, she will be returning to The Night Owl on May 5.
Tickets for MeMe Detroit at The Night Owl are on sale now and also include entry to a soul and retro club night afterwards.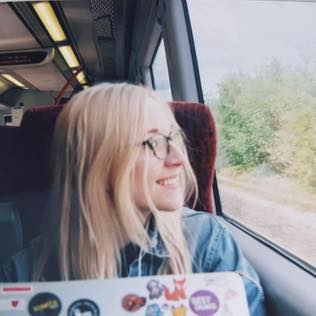 PR, events and social media by day, lover of all things geeky and retro. Can often be found scribbling notes at the back of the gig.