Clean Cut Kid talk touring, spare time and their forthcoming debut album
Imagine your subconscious, singing along to an infectious indie pop-rock melody, an upbeat, electronic and happy track. Except, in reality, it's a heart-breaking trickery, a psychedelic fusion of gritty meaningful lyrics clouded beneath a mask of clever musical arrangements that lifts your spirits. This is the sound of Liverpudlian quartet Clean Cut Kid, husband and wife Mike and Evelyn Halls, Saul Godman and Ross Higginson.
Just three nights in to their first ever UK headline tour, and a humble Ev and Saul unwind with me on a retired sofa in a deserted Kasbah, Coventry. "It's been amazing, each night has been sold out" Evelyn says. "We've done a whole summer of festivals and unless you're headlining the whole festival then you don't really get much time to set yourself up properly, there's such quick changeovers. So to go from quick turnarounds to up to three hours of sound checks, rehearsals and set up, it's cool that's it's our own entire gig."
Since they've hit the radio buzz they've climbed to the forefront of our playlists, the band calculate covering thirty-two festivals, a BBC live lounge performance, recording their anticipated debut album, their ten date tour and future plans to support the Courteeners on their arena tour all this year. A tired looking Saul explains: "Well one clue as to how we cope with the busy schedule is that we have Dom (their tour manager), he uses a tour app that he literally puts everything in. We get notifications to meet at the van for instance; he just does everything for us." Lucky we have mobile technology then.
"Spare time?" Saul reiterates my question to me, "Not move" he laughs. Ev snuggles down a little into the comfort of her seat, and says: "We set off about 3pm today and I literally just slept until the last moment I could" they both laugh with exhaustion. "I'm really close to my family, I kind of just see them at gigs at the moment, but they're really understanding and supportive."
Although accumulating a substantial following in record time and mixing with the likes of Alex James and Annie Mac, the band are down to earth and gratified in the opportunities they've received. Debuting their newest track 'Make Believe' earlier this month on Annie Macs Hottest Record in the World the official video release received over 50,000 views in two days. "We were over the moon with how people received it, when we put out 'We Used To Be In Love' it got a ridiculous amount of response and we thought that was the best experience, and then when this came out it was even better" Saul says. "It's one we've been playing live for a while, and it's always gone down well, so we know people like it".
"We had so much fun doing the video, it's painful though cause we got pulled around on these harnesses, on this bed which was like 12 double mattresses big with a parachute over the top, they made it out of bed sheets and it was amazing, the coolest set we've ever worked in." Ev adds.
"Mike likes to mix up his arrangements, 'Make Believe' is actually really sad, we put an acoustic version out yesterday, and it is heart breaking when you strip it down and the chords and lyrics have these undertones.  Its right at the end of a relationship where they know it's over, but there's a pretense that just for a few minutes, it's still okay.
"We like tricking the audience into feeling good about it, but when they get down to reading into the lyrics, it's totally different to the sound it sits with."
Rooted in Liverpool it's not with surprise that the pair claim it a favourite location to play, but Saul names an ultimate favourite as the Lousiana in Bristol, "You walk in the room and its full front to back, and everyone's clapping you on the back. There are lots of music fans in Bristol."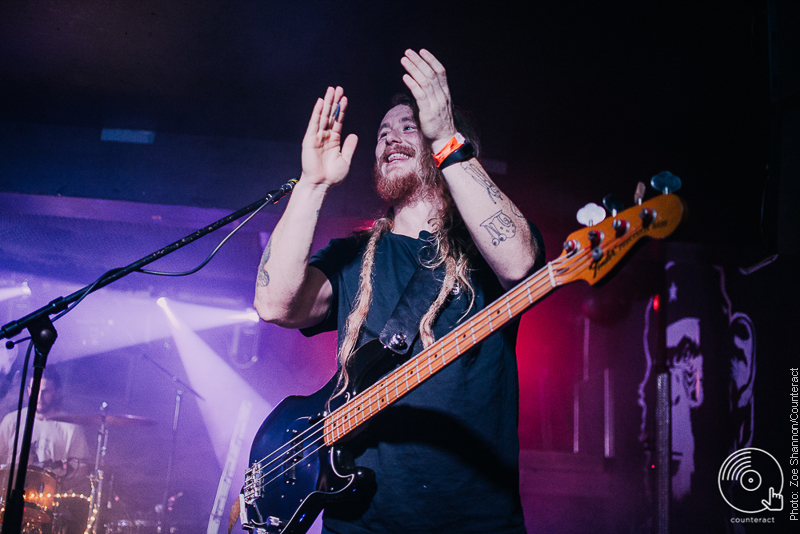 Persistence certainly paid off for the harmonious couple Mike and Evelyn after deciding to extend the band. "It was fate, me and Mike were playing together as a twosome, but wanted to develop a band, a really important thing was the attitude of that person and their overall vibe.
"Mike remembered this guy that five years ago was working in a studio called Saul (Saul smiles) and he was this mad crazy guy with some weird hair, but he was the nicest, most music loving person he'd ever met, and was boss on guitar.
"We looked everywhere and couldn't track him down, and then we were just walking down the road one night and there he was busking, so we rocked up and asked if he fancied a jam. Saul asked if 4 o'clock was alright, we thought he meant the next day, but he meant 4am!
"We tried to cover everything as a three, it was very stripped back and raw, but a little DIY. We found Ross (drummer) at an after school music workshop we worked on – like School Of Rock but in Widnes!"
Bonded by their musical bones the band are clearly shaped by sounds from a number of era's and artists. With backings reflective of electro-punk Vampire Weekend and 80's rock-pop vibes, "It's the stuff we grew up with" Evelyn says, "Fleetwood mac, the Beatles, Bob Dylan, Prince… but we also like recent stuff like Arcade Fire, Vampire Weekend, Band of Skulls.
"Our favourite festival was Glastonbury – predictable I know – but the romanticised view is like ten times better than what I'd imagined."
So what of their long awaited debut album you might ask? The band look coy: "You can put it on your Christmas list, but it might not be this Christmas, we have a potential date but want to keep it under-wraps." The mysteriousness eats at me.
The grounded band has a gracious aura, and it seems a combination of opportunity and purpose has driven the bands climb in recognition and has acted as a catalyst to the bands energy and diversity. Evelyn explains: "I really enjoyed the live lounge, we felt so lucky to be asked, as we were fairly unknown, so it was a pivotal moment for us.
"The first play of 'Vitamin C' on radio, we got everyone round with champagne, it was so over the top, but we were so happy because I'd personally dreamed about that for so long. It's so hard to get played, the things you have to go through, so we appreciate the struggles that bands face.
"We just felt so lucky that we'd made it through the process and we're very grateful to the people that gave us a shot."
Energised by the outcome of this year, 2017 looks promising, Saul beams: "If we did thirty-two festivals this year, think thirty-two countries next year."
It looks like overseas fans will also be getting a dosage of this addictive foursome, "There are a couple of European dates which we can't wait for, we always have plans for US invasion, but we'll be touring the UK again." Evelyn finishes. Well we couldn't prescribe a better pick me up than that of the 'Vitamin C' musicians, so be sure to get your tickets.