Review: Friday at Mostly Jazz, Funk & Soul Festival 2016
Mostly Jazz, Funk and Soul Festival is the highlight of every South Birmingham based music lovers calendar. This year's line-up is as impressive as ever with heavyweight headliners De La Soul, Average White Band and George Clinton Parliament Funkadelic.
You'd expect Friday to be the quietest day with people still at work but the festival site is buzzing from the off. The picturesque Moseley Park has been transformed into a delight for all the senses, a kaleidoscope of colour, an array of pleasing smells and of course, incredible music fills the ears. People of all ages, including parents with their young children mill around finding their ideal spot to set up for the day.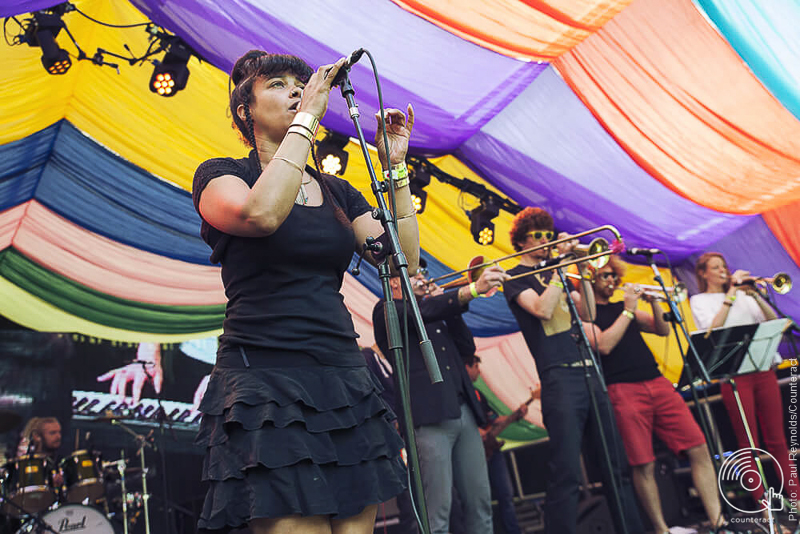 Alternative Dub Orchestra get the day started with their unique blend of delicate vocals, constantly evolving sounds and time signatures. Made up of drums, bass, guitar, violin, trumpet, synths and vocals they vibrate throughout the park and it almost feels like the trees are humming along and the breeze blowing in time. Call Me Unique is well established in Birmingham and in the past year has really started to break though both nationally and internationally. She not only has an incredible voice and stage presence but also a really unique style which incorporates traditional Jazz scatting whilst somehow managing to sound fresh and relevant. Unique plays a passionate set in which she treats the audience to the first official debut of brand new single; the melancholic and sincere 'Birds'. It all sounds perfect in the idyllic park setting with the sun shining and birds fluttering past the stage.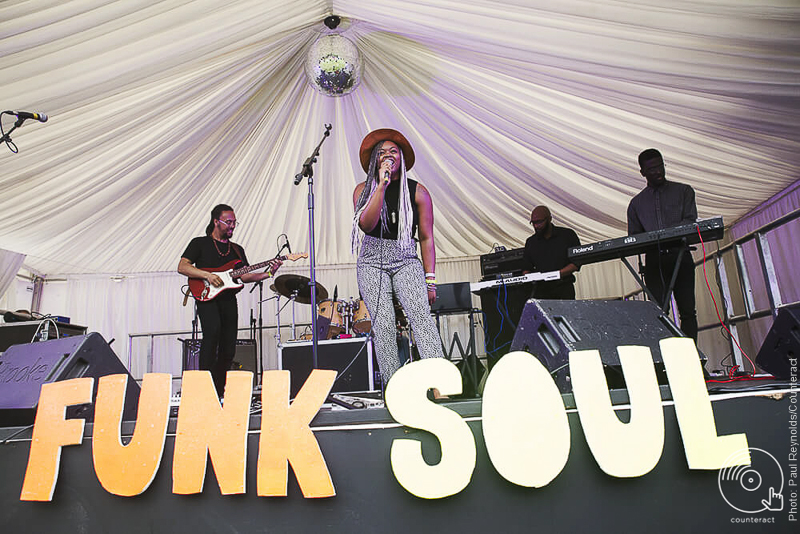 When you hear that the band features members of legendary ska band The Beat (including original drummer Everett Morton) and Mickey Billgham of Dexys Midnight Runners then your expectations are already pretty high. Beat Goes Bang do not disappoint, they play tight as hell delighting the crowd with classics such as 'Hands Off She's Mine', 'Mirror in the Bathroom' and Blue Oyster Cult's 'Don't Fear the Reaper', the crowd are down the front for the first time today and some serious skanking and ass-shaking is going down.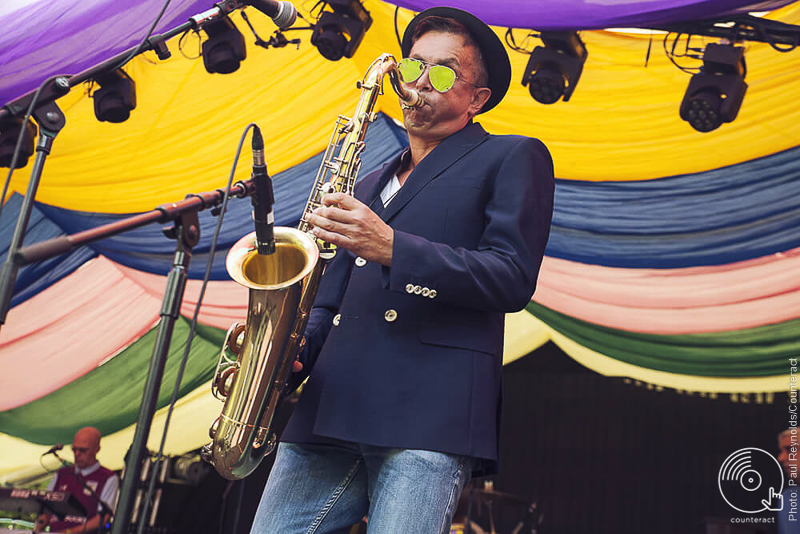 It's obviously a pleasurable experience for all concerned as enigmatic frontman Jason Ensa even shouted out that he had "got a semi on" part-way through their set. With such a brilliant voice and command of the stage we'll let him off.
A distant trumpet noise catches people's attention and all eyes turn from main stage to the green where several young brass players, AKA Bostin' Brass, are making their way, tootin' and blowin' through the crowd. A few drunken folks join the parade as kind of Jazz Bez's freaky dancing along to the music. The band take the stage and the raise in amplification results in a cheer of approval. They play incredible versions of classics such as 'Mr Big Stuff' and 'Move On Up' along with several pleasingly upbeat tunes that have everyone smiling and dancing around gleefully. Definitely ones to watch, find them doing their thing at the infamous Jazz at the Spotted Dog night every Tuesday in Digbeth.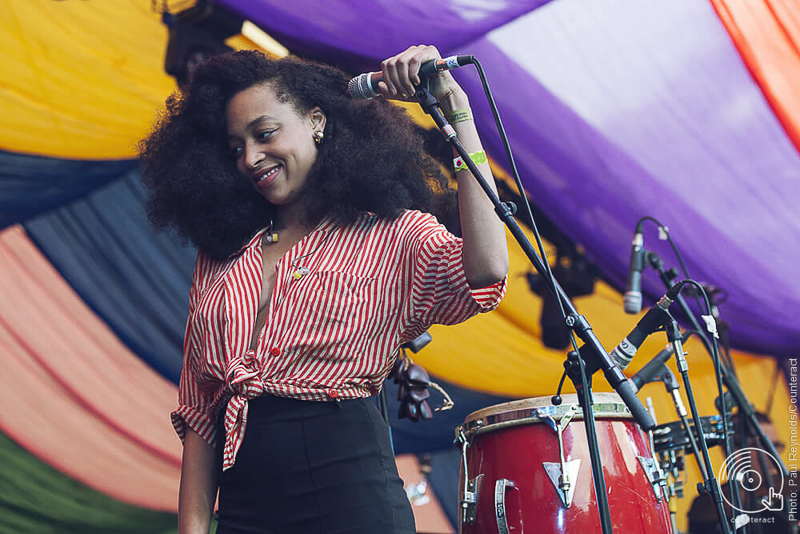 The stage is dense with musicians and it's hard to tell quite how many people are up there but we've been reliably informed there are 12. Nubiyan Twist have an infectious jazzy groove and despite a subtle start they have everyone's undivided attention from the off. Vocalist Nubiya Brandon is enchanting and effortlessly cool. The band ethos is to encourage artistic and social unity between different cultures and musical styles. It's not surprising when they play a Fela Kuti cover (brilliantly), but it was surprising when Nubiya goes to the back of the stage to make way for band mate Pilo Adami who sings the final track introducing it as Afro Beat and is equally as amazing and enchanting. There are plenty of impressed faces and it wouldn't be surprising if the online sales of their self-titled debut album on Wormfood records suddenly peaked in the Moseley area.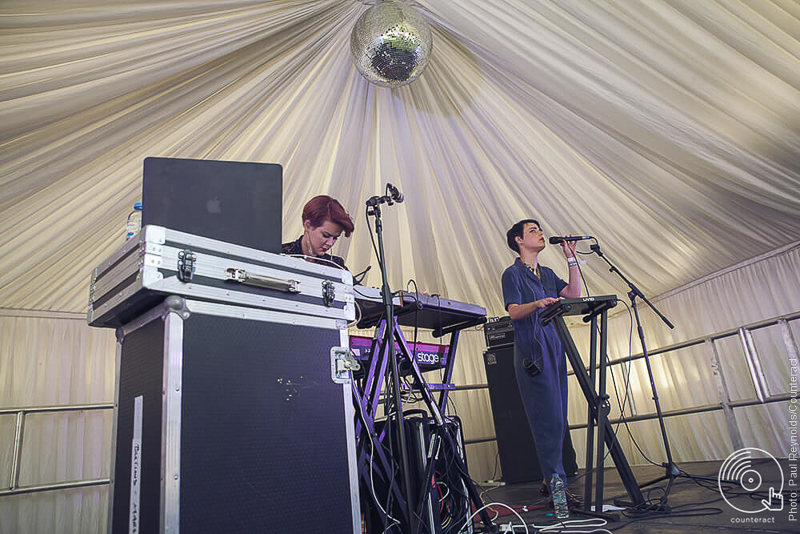 Wyles & Simpson are an English electronic duo combining haunting vocals and melodic synths who have worked with the likes of Nile Rodgers, Chase and Status and Rihanna. Unfortunately the duo seemed a bit lost compared to all the 8 to 12 piece bands that had played before them. The music was excellent but for this kind of festival some interesting visuals a la Spiritualized would have really added to their presence and the overall experience.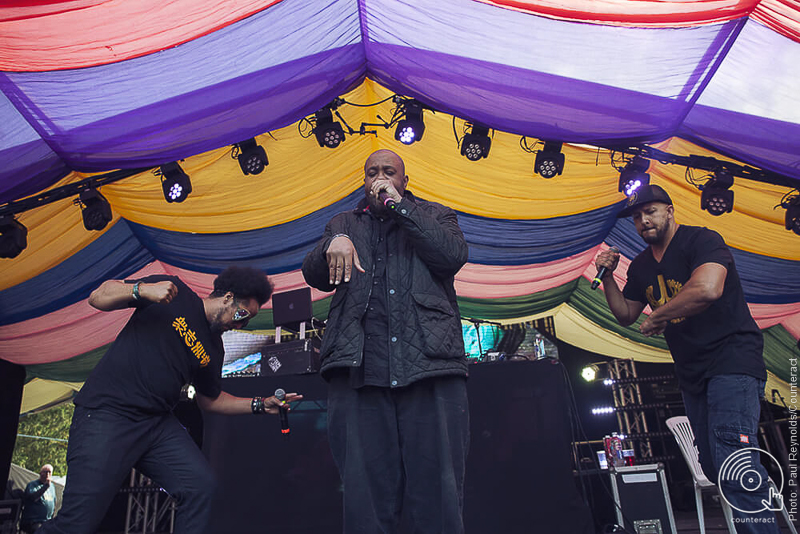 Just two words for Blackalicious. Show stealers. These guys absolutely annihilated Moseley Park. From the first beat to the last holla they had everyone at Mostly Jazz eating out of their hands with their spiritual and uplifting lyrics. Everyone was straight up on their feet shouting 'Blacka Lacka Lacka!'. They made a most welcome come back last year after a 10-year hiatus with Imani Vol 1 and the newer material was received just as gleefully as the old. With the whole park rockin' these guys were going to be a tough act to follow, who could possibly be up for that job?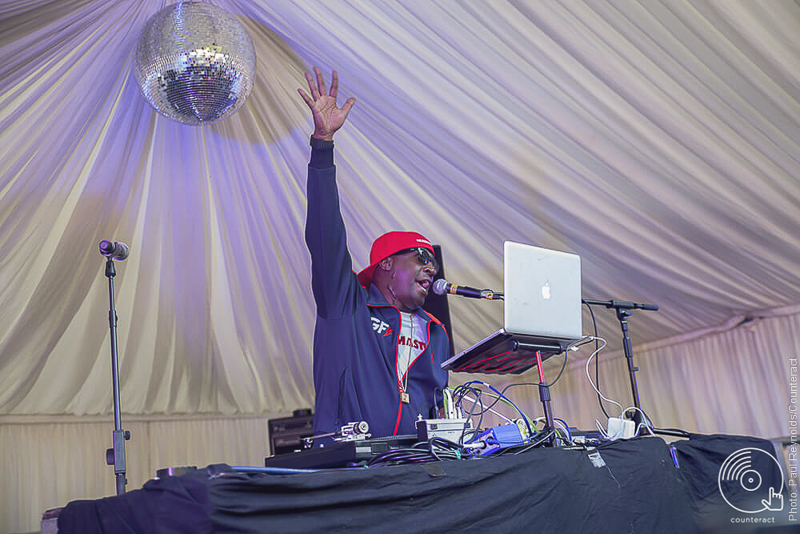 Of course, Grandmaster Flash was up for the job.  After a medley of Prince and David Bowie songs, Grandmaster aka Joseph Saddler had us. Initially some people weren't sure if it was indeed the legendary DJ of Grandmaster Flash and the Furious Five fame, because he still looks about 30 years old! One massive tune after another Moseley was jumpin', especially when he played 'Jump Around' of course! Tracks by local artists UB40 and Musical Youth got a rip-roaring response with everyone grinning and singing along. Not everyone was happy though, due to Grandmaster's legendary status, there were quite a few people hoping to see him demonstrate some of his technical DJ skills with perhaps more of an intelligent set than a crowd pleaser. Either way, the majority of the crowd were indeed, very pleased and suitably whipped up into a frenzy ready for today's closing act.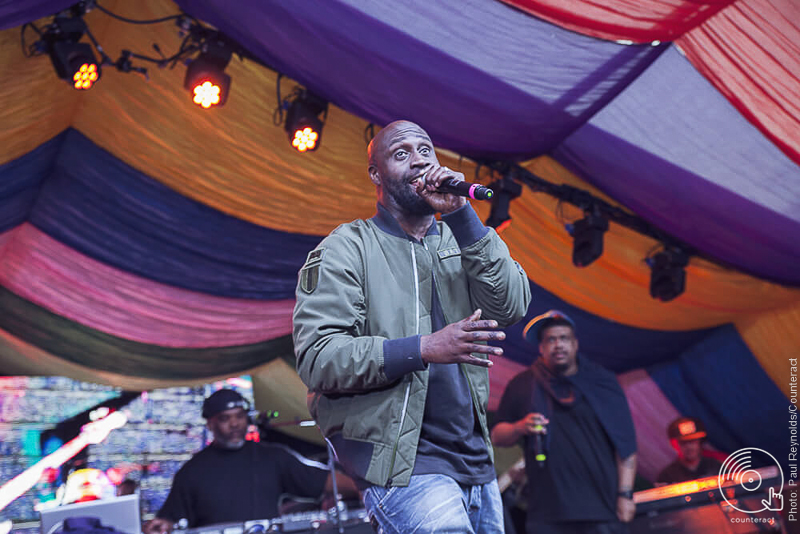 Household names and hip hop royalty, there were high expectations for De La Soul and they didn't disappoint, performing a long and varied set with songs spanning right across their 27-year career. Frontman David Joliceur, aka Trugoy the Dove was still full of energy and positivity, the audience were throwing their hands in the air like they just didn't care from start to finish. All material from their legendary debut 3 Feet High & Rising was met with a truly joyous response, especially 'Eye Know'.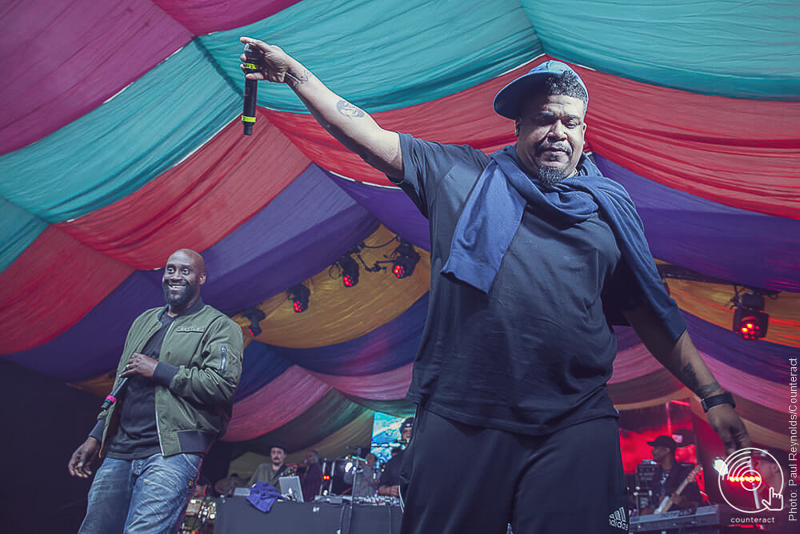 Despite being a fair bit older and wiser the group still retain their wry smiles and enthusiasm, there's no feeling that they might be churning it out or playing by numbers, and of course, 3 is the magic number. A fitting close to day 1 of Mostly Jazz, everyone leaves on high spirits jabbering away about the slew of fantastic performances.
Photographs by Paul Reynolds
Music/Arts/Leisure/Brum
www.mazzysnape.com