Review: Boudica Festival empowers and excites on return to Coventry
Boudica Festival, an event showcasing the best up and coming women in music, returned to Coventry on Saturday 6th October for a day full of empowering moments and brilliant music.
[amazon bestseller="let's eat grandma vinyl"]
The Herbert Art Gallery and Museum proved a perfect venue for the two stages located in the beautiful yet small vicinity in Coventry's cobbled town. With a simple run-down of organisation from getting your wristband upon arrival to joining the short queue to a quaintly-lit bar tent, the huge white spaces then behold an evening of finely-picked acts.
However, to begin, I was distilled by how sparse the event seemed in regards to its crowd. Though once the music got up and running, the stray audiences soon gathered to appreciate the musical brilliance that was first on, Spill Gold, with their psychedelic, repetitive yet creative riffs, they soon had Boudica entranced. Plus the steel drum addition? We loved it.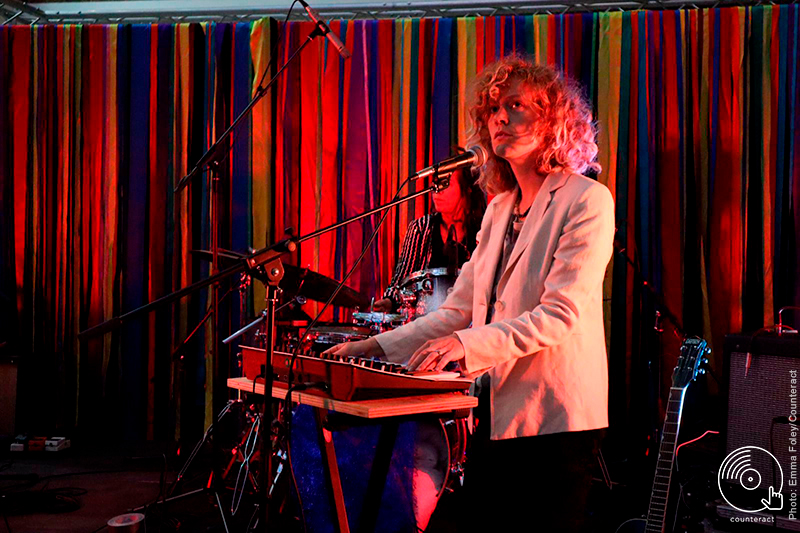 Spill Gold
Once the set had finished it was like following a herd to a watering hole. With the second stage just upstairs, we all highly anticipated the next round of music, which became Queen Zee & The Sasstones. This bunch were unapologetic and sure put on an energetic performance.
Our highlight? When the room became split into not a Wall of Death, but a "Wall of Luurrrvv," where we were instructed to pair up and slow-dance to their next song. For a hands-in-pockets/not-drunk-enough girl like me, this would have been something I would have fled if it wasn't for my company, Emma Foley (our photographer). Despite the awkwardness, I'm sure that moment will stick in others minds as a highlight from Boudica Festival.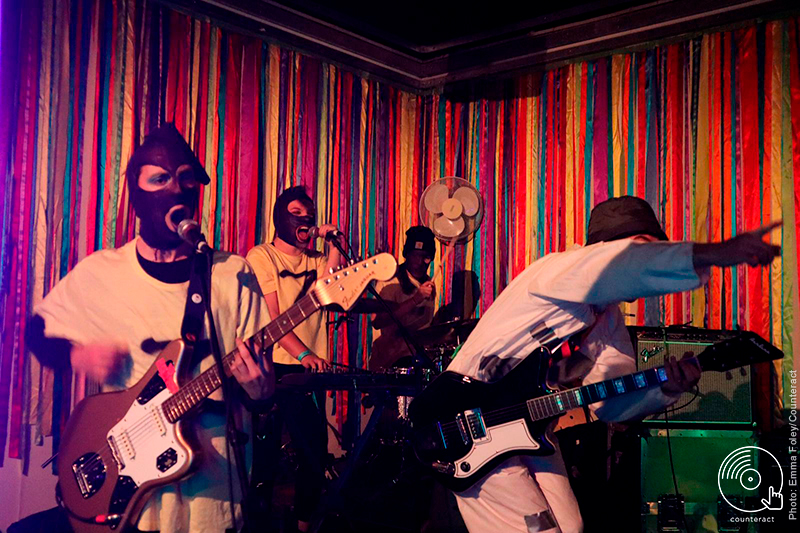 Queen Zee & The Sasstones
Then the pattern began of switching from stage to stage to catch the next enticing act – but not before a quick toilet break where the organisers of Boudica had placed out tampons and sanitary towels available for anyone to use. Touches like this are what made things supremely special for this festival.
Next in the line-up, Say Sue Me bought some calm to the storm. Their perfectionist performance and delicate yet charming stage presence contrasted well with the other acts. Mich Cota placed us back into immersive entertainment as her performance was like nothing I've seen before. Using a step ladder, a couple stacks of boxes, and a continuous red background on the wall, Cota infused us all with a beautifully choreographed performance art piece. Playing her music through the speakers, and singing sometimes either with a microphone or using only her authentic voice to the crowd, Cota really struck me as a divine and delicate act which tests the boundaries for peoples perceptions as she strips down only to her underwear.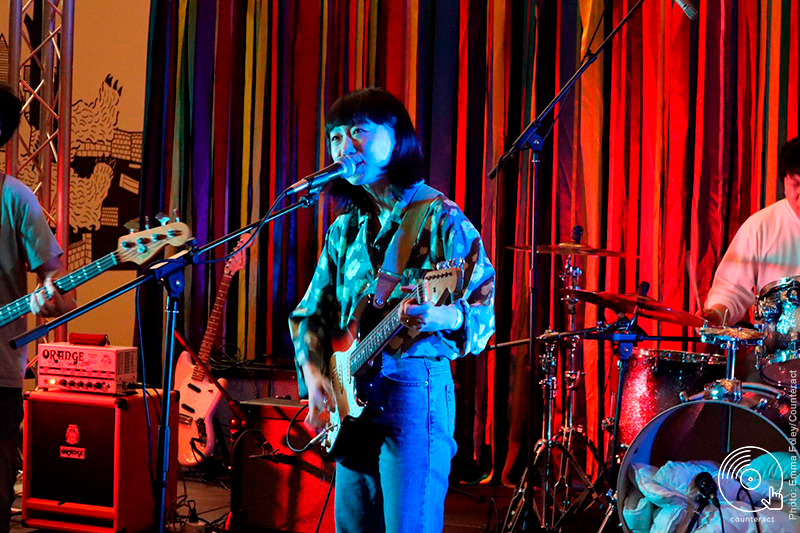 Sue Say Me
At this point in the festival, a sense of liberation and defiance came about as already such an interesting line-up had performed, which reiterates the prime question of why festivals and gigs alike continue to be male-dominated. To me, there really isn't any excuse or at least valid reasoning behind it. So, Boudica 2018, you've struck gold.
Let's Eat Grandma were the much anticipated act of the night as the audience grew in numbers. It was an angelic and diverse set where the two prodigies showcased a range of their musical skills, i.e. playing the sexy sax and the not-so-sexy recorder, or the distorted pink guitar, and of course a keyboard and microphone each. They encompassed a fun and friendly stage presence which was a real delight. Despite a 50-year-old man who continuously shouted at them to play 'Snakes and Ladders' because "they know how to play it, so why don't they?!" between each song – which is the time for a sense of joy and appreciation – not the time for a man to discard the fact that acts curate a set for a reason. Just because you're in the audience, that doesn't give you an invitation to shout instructions out to an artist you "respect".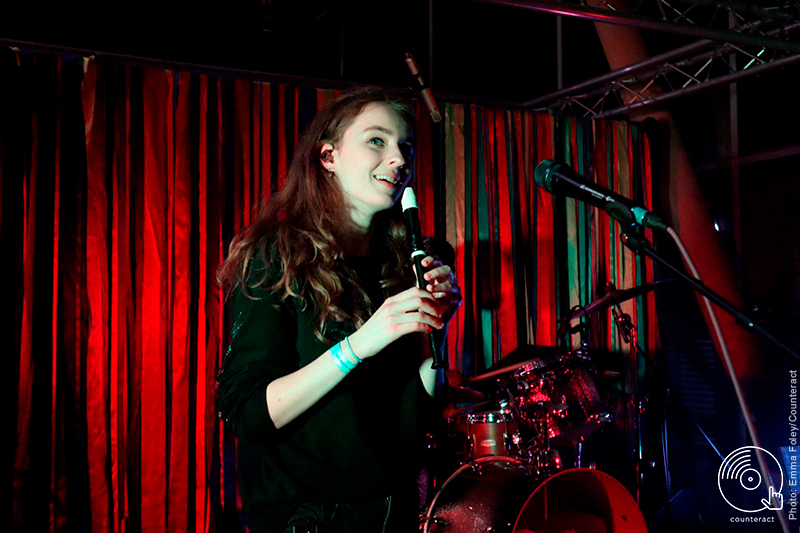 Let's Eat Grandma
Yet to counteract that, the crowd let a young girl worm her way through the crowd, right to the front so that she could see Jenny and Rosa playfully rock out. Which, as a young female musician myself, imagined how Boudica Festival would make a positive impact on the girl's attitude towards music, and that girls can play a guitar, keyboard, saxophone, drums, and take ownership of the spaces around them. Regardless, their set was quite amazing.
To end the night, Nova Twins brought an unruly attitude to finish off the festival line-up with their dominant and unapologetic set. Or you could continue the night downstairs dancing the nights last boogie with a fabulously ranged DJ set from Fay and Ayse from Savages.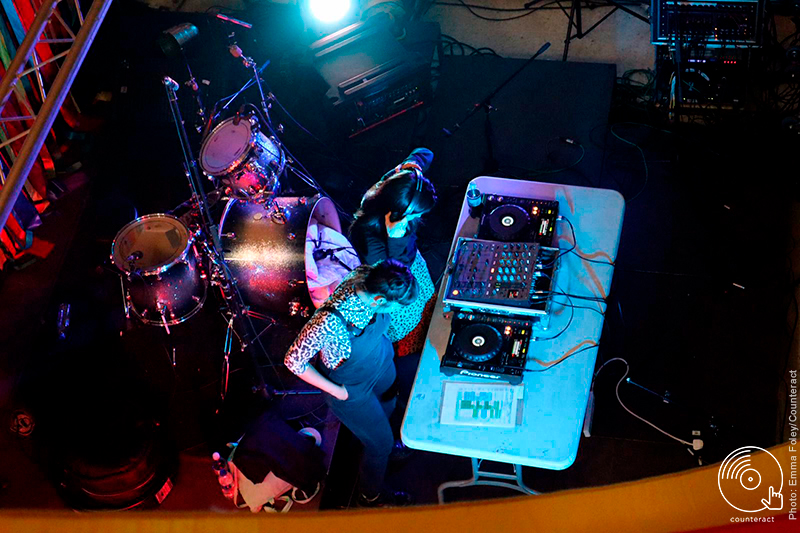 Fay/Ayse, Savages
Boudica Festival 2018, you were ace. I'll for sure be back next year and encourage anyone reading this to do so too (and to spread the word) because it is such a necessary cause to showcase female representation within the music industry.
Word by Bryony Williams, photographs by Emma Foley