We spent the day at FarGo Village – Coventry's mini Custard Factory
Established in 2014, FarGo Village is a hub for all things independent and unique. Located at the far end of Far Gosford Street, they describe themselves as "an artistically repurposed industrial space designed exclusively for creative, independent businesses and like-minded visitors". Here's an itinerary of what you could get up to if you hop on a train to Coventry…
11am: take on the challenge of Escape Live
At Coventry's premier Live Escape game, you and your friends are given 60 minutes to break out of a locked room before it's too late. The goal is for everyone to co-operate to solve puzzles to get out. Participants are able to book online for up to six people at escapelive.co.uk.
12:30pm: Chill out at the Big Comfy Bookshop
Living up to its name, the Big Comfy Bookshop is a haven for bookworms. Full to the brim with thousands of books from a multitude of genres, you won't struggle to find the read that's right for you. With a café and bar inside, you can curl up with a hot drink and get lost in a good book for a bit – plus, they hold an array of fascinating events in store such as workshops, signings, Q&As, movie nights and even live acoustic and poetry nights. Find out more about The Big Comfy and events coming up at thebigcomfybookshop.co.uk.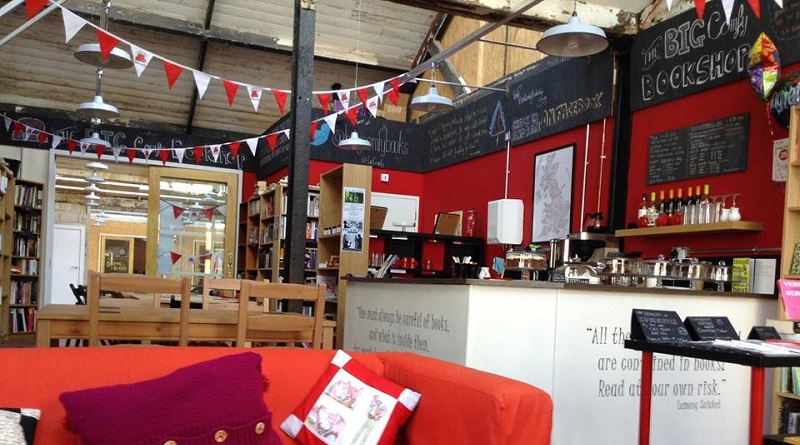 The Big Comfy Bookshop
1:30pm: Lunchtime!
There's something for all appetites at FarGo Village. It's definitely a struggle to choose, but there's no wrong choice here!
For veggie lovers, Totally Vegan Cafe is for you. You can get pies, sausages, wraps, salads, pizzas, quiches and much more from as little as £3.50, and it's all completely vegan. Other retailers with delicious vegan and vegetarian options include Backhaus & Co, having a bunch of vegan cakes and a weekly changing menu of sandwiches and salads, and Gourmet Food Kitchen (formerly Saus"N"roll) with an excellent vegetarian sausage roll that they call the Glamorgan.
Craving some spice? Check out Caribbean restaurant Leave it to Esmie. They serve authentic, vibrant West Indian cuisine with brilliant curries, burgers and more. A full vegan and vegetarian menu is also available here.

Leave It To Esmie
3:30pm: Hit the shops
FarGo Village is the ideal location to find stunning art pieces, antiques, stylish clothes and intriguing décor.
Auntie Olive's Attic is a massive treasure trove crammed with quality and affordable vintage, retro and mid 20th-century furniture and home-ware. Ronnie's Stuff is another one for the vintage lovers out there being an Aladdin's cave of collectables and jewellery.

Ronnie's Stuff
If you're looking to treat a loved one, or yourself, Olivia Thomas Handmade is your one-stop shop for the best handmade bath products and soya wax candles. All of their products are vegan, cruelty-free and kind to sensitive skin.
Positive Outlook was founded on an ethos of positivity. They stock men's and women's apparel, specialising in high-quality t-shirts, hoodies, and loungewear, all exuding an attitude of optimism.
If you're looking for threads for your furry friends, try Albie's Boutique. Your pooch will be the envy of all his pals with their handmade bandanas and ties, as well a range of super comfy beds. You'll find Albie's situated inside Container Number 8, which also houses Sarah Jayne Creations and not just jams. Sarah specialises in light up layered paper cut artwork as well as making collages, assemblage, and bespoke artwork. At not just jams you can find countless flavours of jams and chutneys all lovingly homemade.

not just jams
For those music fanatics, Fantayzia Designs is not to be missed – they create handcrafted jewellery and artwork using old unplayable vinyl records that were otherwise destined for the scrapheap! Further to this, they sell storage for your record collection and showcase pieces from fellow local artists and craftspeople. There's always something new so repeat visits are encouraged – they've also now started stocking vinyl for you to take home and play yourself.
6pm: Finish the day with a pint
At Twisted Barrel Ale Brewery and Tap House, you can enjoy a range of delicious beers all of which are brewed right here at FarGo. They have 14 taps for all tastes as well as bottled beers from other breweries that have the Twisted Barrel approval and everything they produce and sell is vegan too. As well as the delicious beer they host live music, quiz nights and more awesome events.

Twisted Barrel 
FarGo Village should be on the radar of any lover of independent businesses; there's always plenty going on here that you won't want to miss!
You can visit FarGo Village at: Far Gosford Street, Coventry CV1 5ED.
Media and Communications student with a passion for music and discovering new artists. 90% of the time you'll find me at a gig. I listen to a really wide range of artists such as The 1975, Two Door Cinema Club, Bombay Bicycle Club, Ed Sheeran, Disclosure, Lorde, Florence and The Machine, Ben Howard, as well as a tonne of pop music like Taylor Swift and Ellie Goulding.