Venue guide: Slade Rooms, Wolverhampton
Slade Rooms is a smaller, more intimate venue in Wolverhampton. With a capacity of only 550 standing, it plays hosts to both live music and comedy acts as well as serving as a bar. The venue is sometimes referred to as The Little Civic – not to be confused with the original Little Civic closer to the venue, which is now served by the Dog & Doublet pub.
Venue information
Slade Rooms has a bar that also serves snacks. It's has full disabled access both in the stage and bar area however the venue do ask to be noticed of if you need these prior to the events so that they can ensure someone is there to assist you as they have to lay out the outside ramp.
What's on
You can find all the events and gigs at Slade Rooms here.
Getting to Slade Rooms

By car
Slade Rooms is located on Broad Street just off the Wolverhampton A4150 ring road.
Parking
There are a number of car parks surrounding The Slade Rooms on Broad Street, Railway Street and Fryer Street.
By public transport
Slade Rooms is a short 5 minute walk down Broad Street from Wolverhampton bus and train station. For more information on public transport in the West Midlands, please visit networkwestmidlands.com.
Spot something wrong? Are we missing a venue? Let us know at richard@counteract.co.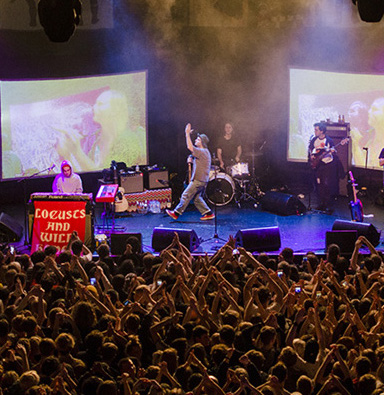 Key information on the best live music venues in and around Birmingham, Coventry, Wolverhampton and the surrounds.