Venue guide: Newhampton Arts Centre, Wolverhampton
Newhampton Arts Centre is a unique venue based in Wolverhampton that caters for all manner of arts events, workshops and creative projects. The venue's aim is to 'provide a place where everyone can enjoy, express and evolve through the arts.'
Venue information
Newhampton Arts Centre is a vibrant hub for performing arts including music, theatre, film, comedy, dance, Bollywood and break dance. The venue recently hosted an intimate Blur show which sold out in seconds. Regular events include Northern Soul nights, live music and burlesque. Newhampton Arts Centre is an independent charity managed by a voluntary board of trustees which relies on the support of the community around it. The venue houses several spaces suitable for all manner of events, conferences and classes. The main event space features a small licensed bar. There is disabled access to all areas within the building.
What's on
Find out what's coming up at Newhampton Arts Centre here.
Getting to Newhampton Arts Centre

By car
On approach to Wolverhampton, exit the ring road on to Waterloo Rd towards Molineux. Then take the first left on to Newhampton Road East and the venue is on Dunkley St, the second right.
Parking
There is free parking on site and local roads, but there is no road parking on Wolverhampton Wanderers match days. A pay and display car park is also situated at the Molineux on Waterloo Rd.
By public transport
Newhampton Arts Centre is around a 10-15 minute walk from Wolverhampton train station. The following buses also pass near the venue:
Newhampton Rd East: 6, 25, 535, 634
Waterloo Rd: 3, 4, 5, 62, 62A, 803, 878
For more information on public transport in the West Midlands, please visit networkwestmidlands.com.
Spot something wrong? Are we missing a venue? Let us know at richard@counteract.co.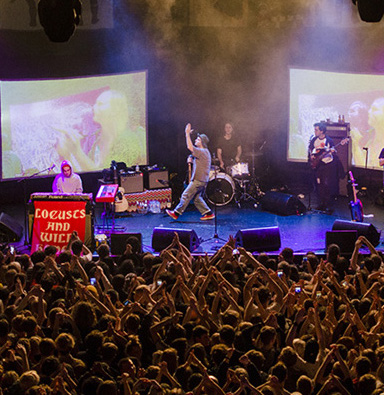 Key information on the best live music venues in and around Birmingham, Coventry, Wolverhampton and the surrounds.