Review: Iron & Wine keep things serene at Birmingham's Symphony Hall
Iron & Wine began his UK tour at The Symphony Hall on February 13th

Support came from Half Waif
Sam Beam revealed he had wanted to headline The Symphony Hall since playing there in 2016
It was an evening of stark polar opposites under the serenity and warm enveloping humanity of Sam Beam's Iron & Wine. Just as we were thinking how much we'd love to curl up inside the downy heaven of his magnificent beard, trilled sweetly to hushed reverence around the slick sonic cavern of the Symphony Hall, outside panic and confusion briefly reigned when an explosion was heard coming from the nearby Repertory Theatre. Fortunately it was simply a technical fault in the theatre's basement and, contrary to some hysterical reporting, the only inconvenience was to the thousand or so punters evacuated from a performance of Brief Encounter. At the Symphony Hall, the show went on.
[amazon_link asins='B071GBBMB6,B0001ENX54,B00006J402′ template='ProductCarousel' store='counteract03b-21′ marketplace='UK' link_id='9a7667f6-1243-11e8-8dd1-199ba8ed12b2′]
Opening was Brooklyn three piece Half Waif, who shuffled uneasily onto stage. They possessed a quiet and charming awkwardness, with singer songwriter Nandi Rose Plunkett admitting this is the nicest place they've ever played. It added a vulnerable piquancy to their beautifully subdued and inventive electro pop, that managed to include a faint whiff of Postal Service, as Plunkett's soaring voice tested the acoustic perfection inside the venue. Her voice was at its most potent during material from new album Lavender, a loving paean to her grandmother and New York Home.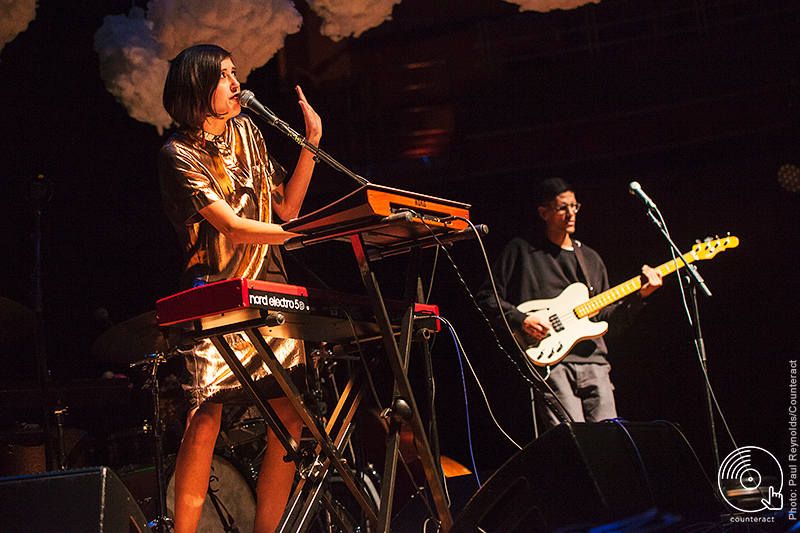 Half Waif
There is an almost religious calm about Sam Beam, AKA Iron & Wine. His music is riven with reference's to Jesus, God and the spiritual, much like Jim White, but it artfully touches the soul without ever feeling preachy. Beam himself is agnostic, but the trappings were there as he ambled on stage beneath the cutest low flying cloud formation you will ever see. Indeed, in response to one heckle about him being Jesus  (it's the beard)  he responded that he does like to bring the weather with him, like Jesus. The show was as much about Beam's laconic extremism, easy manner and affable charm as about the songs. It's this effortlessly Zen demeanour that feeds his songs and makes them so wistfully engaging.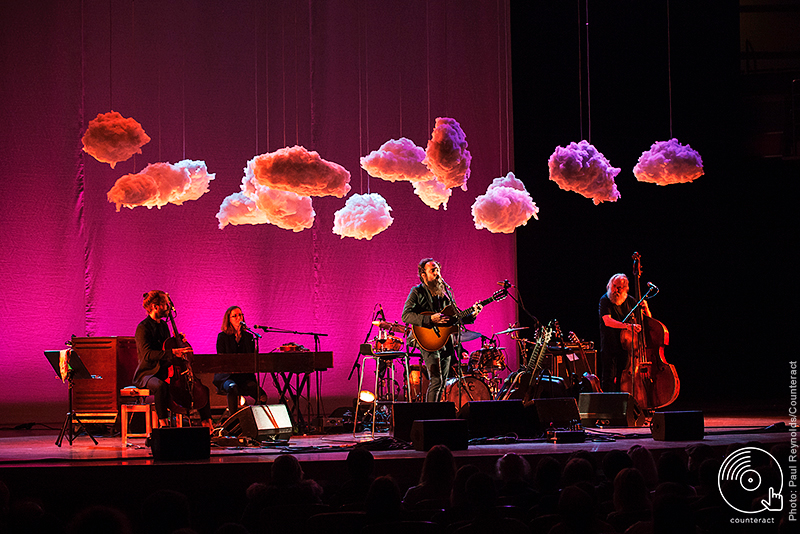 Iron & Wine
Once that beatific smile took centre stage the band began with 'The Trapeze Swinger', a typical Iron & Wine song with a gently lilting Americana melody. At it's centre is the self-aware lyrical yearning for something more, an existential wanderlust with a resonance that takes the heart, memory and soul, and applies a gentle squeeze. Pick of the tracks from the new album Beast Epic, a title mischievously chosen by Beam entirely at random, was the oh-so-sweet love song 'Last Night', a song that somehow managed to be both unsettling and reassuring with each melodious pluck gradually unravelling one's sense of what it is to be human and safe.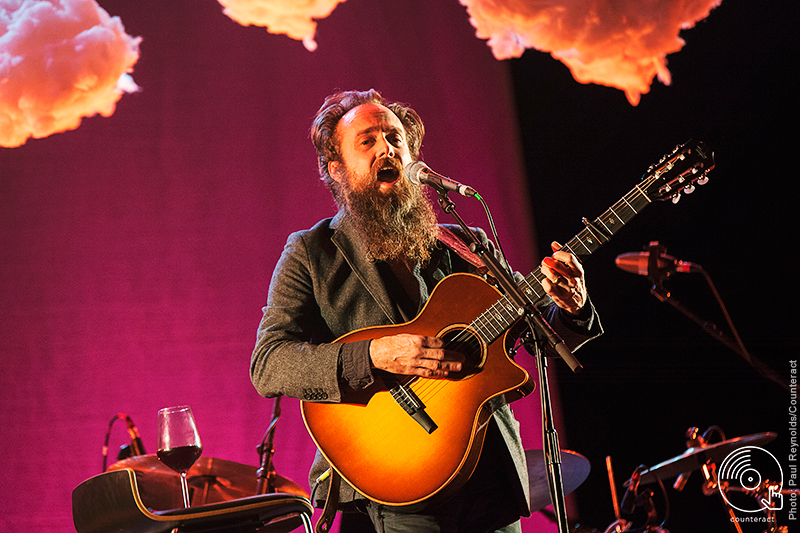 Iron & Wine
Beam recalled performing at The Symphony Hall as part of the Way To Blue tribute to Nick Drake back in 2016 and how he imagined himself headlining here one day. Anyone who witnessed his sublimely unique renditions of 'Time Has Told Me' and 'Hazey Jane II' back then knew Beam would be back and centre stage. There was some gentle teasing of the reverentially timid audience, as Beam said "If you don't keep quiet I'm off'. But, following a solo session mid-set, the audience livened up, hecklers got braver and there was even a short lived clap-along.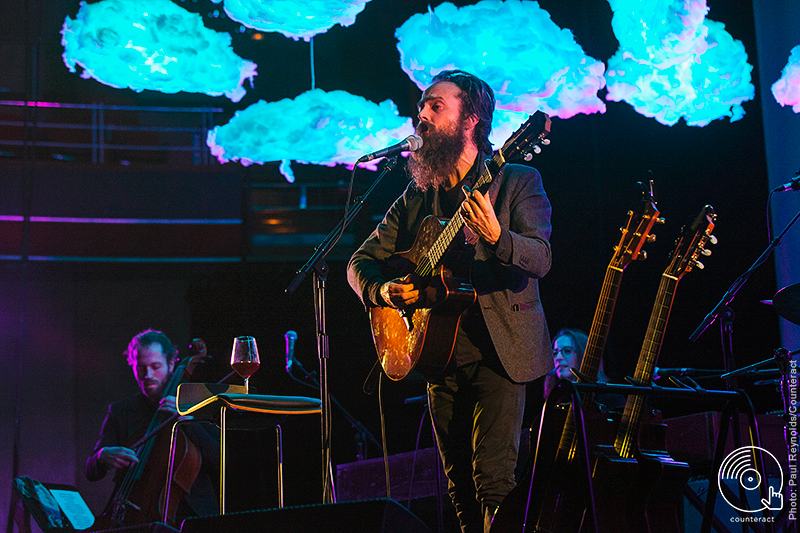 Iron & Wine
Other highlights included Beam encouraging the audience to imagine their own guitar solos during 'Rabbit Will Run', a sommelier roadie keeping the burgundy flowing, and drummer Beth Goodfellow and pianist Eliza Hardy-Jones wearing fake beards for the encore, with the biggest laugh of the night following Beam's comment that "There was no fucking point playing the wordy stuff in Continental Europe". Luckily for us that wasn't the case in Birmingham.
Photographs by Paul Reynolds
"Reviewer, previewer and writer of just about anything. Can usually be found with my eyeballs plugged into sleazy 70's exploitation cinema or riding an antique bike around Harborne. I have no issue with being bought pints or accepting bribes of any sort."