Review: A stomping performance from Kasabian at Arena Birmingham
Kasabian close For Crying Out Loud tour with the first in a double header at Arena Birmingham on Friday December 8th
Sound issues did not prevent Birmingham crowd from enjoying themselves

Explosive set from

Slaves

kicked the evening off
[amazon_link asins='B06XKLXFGZ,B06XPV2N4Y,B003L8AKHG,B0054PET3K,B00JPV5GFY,B001WCBPCW,B0002LI58Q' template='ProductCarousel' store='counteract03b-21′ marketplace='UK' link_id='e43f21cb-debc-11e7-954d-f72a7f7a49fa']
Slaves got the blood pumping in their support slot for Kasabian on Friday night. The duo came on to the massive stage to a decent reception from a festive Birmingham crowd. Singer Isaac Holman is a real showman and did more than enough to get the crowd going. Topless, he played his drums stood up, like Moe Tucker on steroids. When not drumming, he prowled around the stage with menace, often chattering away like he is in the pub with his mates. Their sound was spiky, aggressive and hugely fun, their music having a healthy dose of tongue in cheek humour.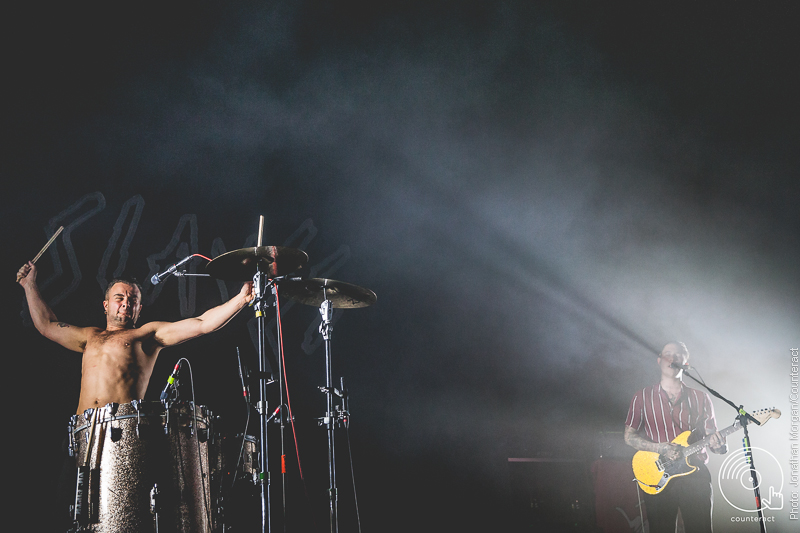 Slaves
They won't be everyone's cup of tea (the band regularly retweet people who've said Slaves are the worst band they've ever seen). Their vocals occasionally veer into indecipherable screams and howls, but so long as you don't take it too seriously, as it seems they do not, you'll certainly enjoy yourself.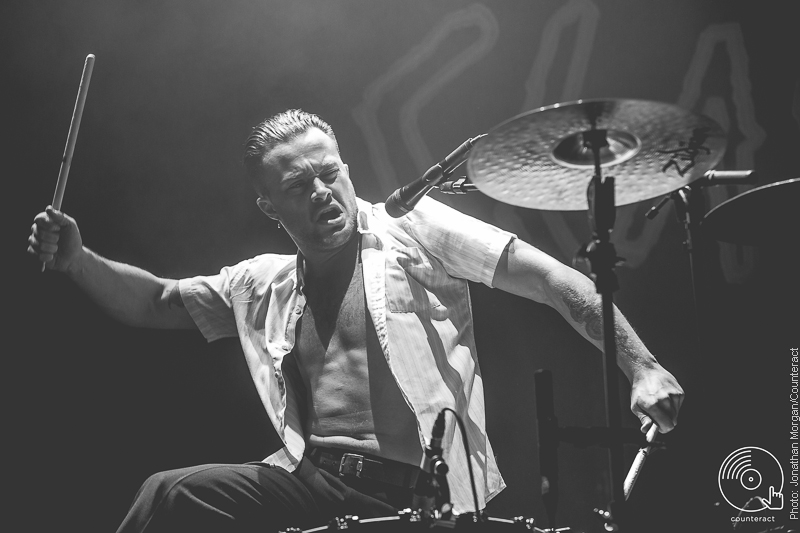 Slaves
Kasabian were introduced by a series of film studio music intros, including Walt Disney, Colombia and Twentieth Century Fox. These sound bites as we hear them so often on TV normally sound run of the mill, but over an arena sound system with suspension already crackling, they sound quite majestic. It worked perfectly to introduce a band who bounce onto the stage and endeavour to put on a theatric, visually-thrilling show.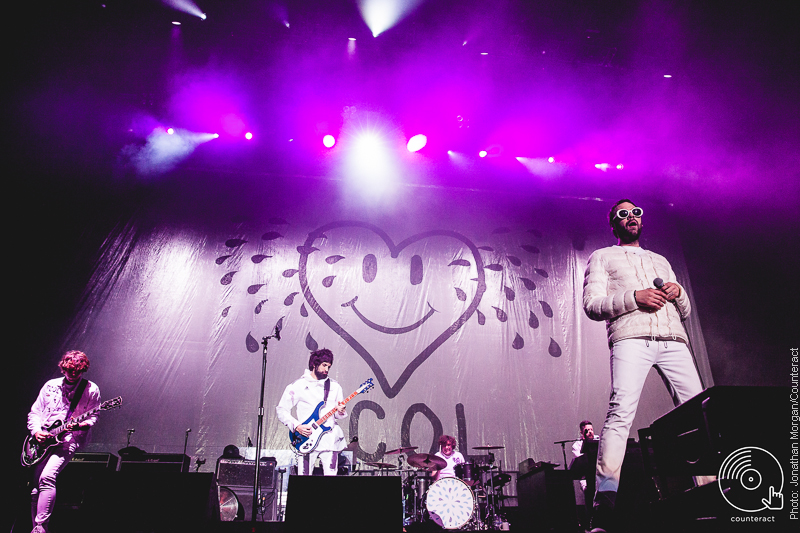 Kasabian
'Ill Ray (The King)' got the band off to a strutting opening. You couldn't help but bob your head along, despite the bizarre lyrics: "you're trying to start a war / now go fetch me a milkshake, don't forget the straw".
The set is obviously heavy with songs from For Crying Out Loud. Joining the aforementioned 'Ill Ray' are album tracks 'Bumblebee', 'Put Your Life On It' (which is performed with a choir), and 'Bless This Acid House'. All sound superb live, standing strong amongst Kasabian classics like 'Club Foot' and 'Shoot The Runner'.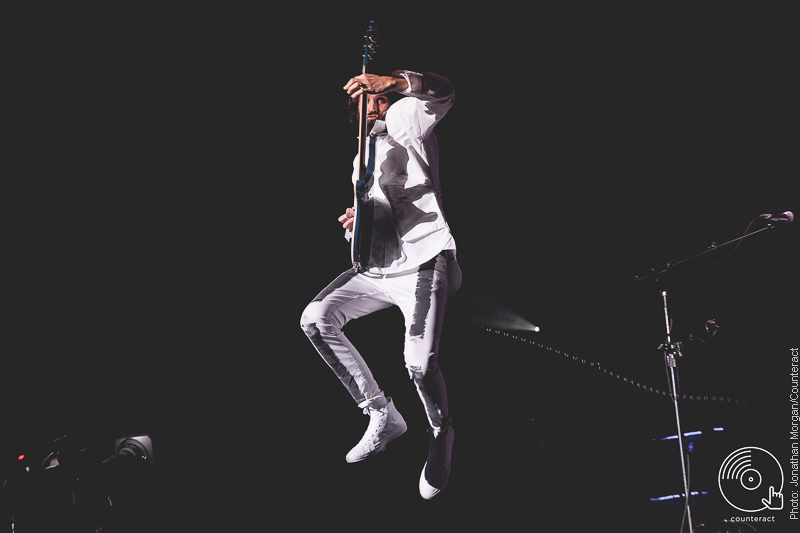 Kasabian
An unfortunate downside to this gig was issues with sound. With a scattering of tracks it was difficult to tell where the intro ended and lead singer Tom Meighan's vocals began, due to how quiet his microphone seemed in comparison to everything  else. One of the most recognisable, recorded musical moments for them, the distinctive synth on the chorus of Empire, was almost inaudible amongst everything else.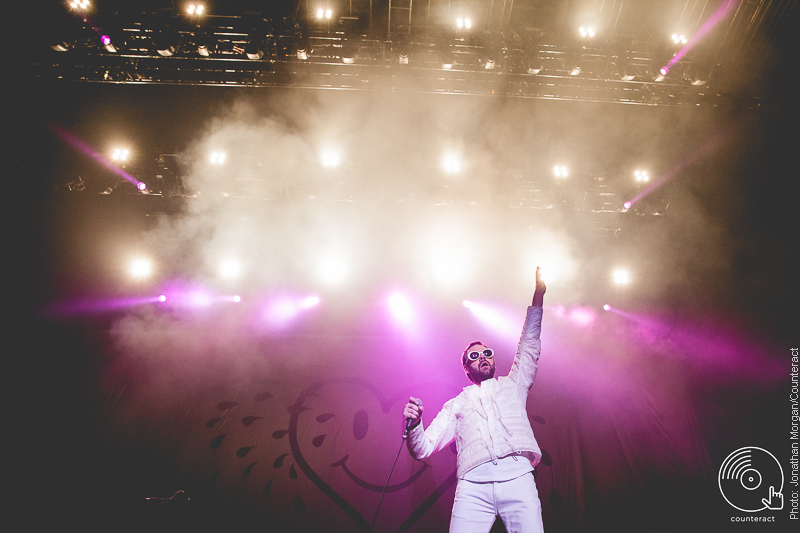 Kasabian
This often fuzzy, indistinctive sound did not seem to bother the crowd, who, as a whole, were having the time of their lives. The band too, despite sound issues, really seemed to enjoy themselves. Their performance was energetic, fun, and massively infectious.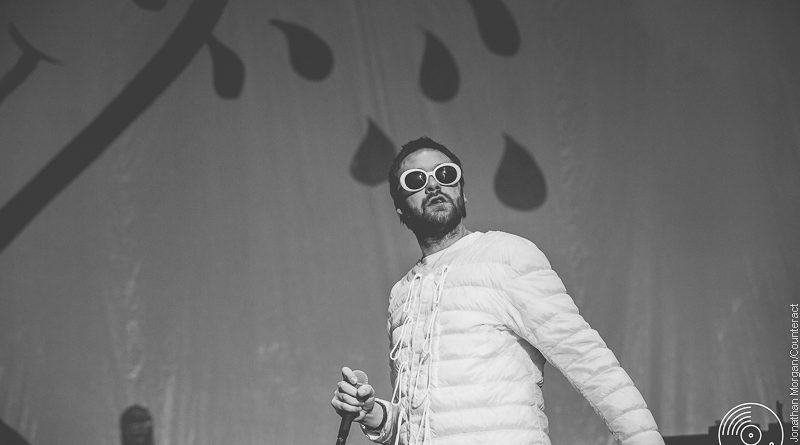 Kasabian
Kasabian returned to the stage to a much demanded encore, finishing with 'Comeback Kid', 'Vlad the Impaler' and the anthemic 'Fire', which saw the Birmingham crowd file out happy. An energetic, likeable performance from one of the biggest bands in the country, overshadowing the technical issues that impacted on the sound.
Photographs by Jonathan Morgan
Music, gigs, beer, football. Like to discover new music, and support local acts. Favourite bands include Beatles, Elbow, Frightened Rabbit, The Walkmen amongst many others. Journalist for local news providers, including Trinity Mirror and BBC.