Review: Imagine Dragons wow Brum crowd with a memorable performance
Mighty vegas natives Imagine Dragons played to a sold out Genting Arena on Saturday 24th February
Distinctive Grammy-nominated electronic rock artist K.Flay provided a memorably unique support set
Fans were blown away by Imagine Dragons impactful presence, performing with energetic flair and intense emotion
Vegas natives Imagine Dragons are quite the epic phenomenon. Over the past year, they have seen massive success with their third album Evolve, been nominated for two Grammy awards, and continued to sell out arenas worldwide. As part of the UK leg of their world tour, the band returned to Birmingham this time packing out Genting Arena, only a few years following their first headline show in the city at The Institute.
Products from Amazon.co.uk
‹
›
The experimental electronic rock artist K.Flay provided support. The Illinois singer-songwriter creates a distinctive fusion of heavy rock and brash electronics, paired with fiercely spat rap verses. Her vocals were raspy, as she sang over the grungy and industrial grinding bass that struck through the room like an earthquake. Waves of mysteriousness were emitted as she boldly defined her stage presence. An enticing aggression commanded the attention of the crowd. The seamless fusion of musical styles was particularly impressive, making the brief set engaging from start to finish. Songs teetered between being more electronic or heavy-rock based, with one song even having a buzzing head boppable synth-drop reminiscent of artists like Flume. She was a lively performer with stylistically unique material and is sure to make even bigger waves in the future.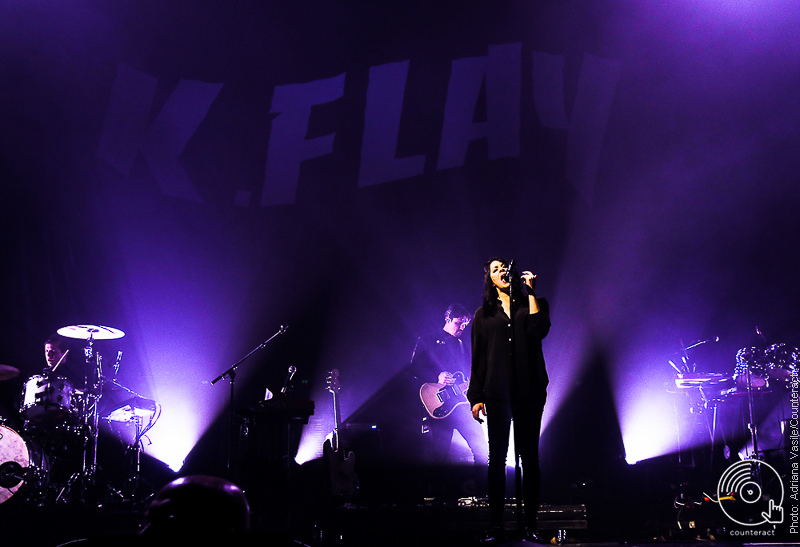 K.Flay
The mighty Imagine Dragons burst onto the stage following an enticing intro video, diving in with the slick and bouncy 'I Don't Know Why'. Lead singer Dan Reynolds made the most of the expansive stage, strutting along the catwalk to the infectious bass-line. They weren't cautious to hold the hits back as 'It's Time' was met with eruptive cheers and fans belting along to the verses. Dan's vocals roared with a passionate fire, bellowing throughout the expansive arena.
As well as their enigmatic presence and eruptive instrumentals, their visuals and the way they utilised the huge space was a gorgeous spectacle. Vibrant colourful lights and futuristic lasers paired well with the shining synth-lines of tracks such as 80's esq 'Mouth Of The River'.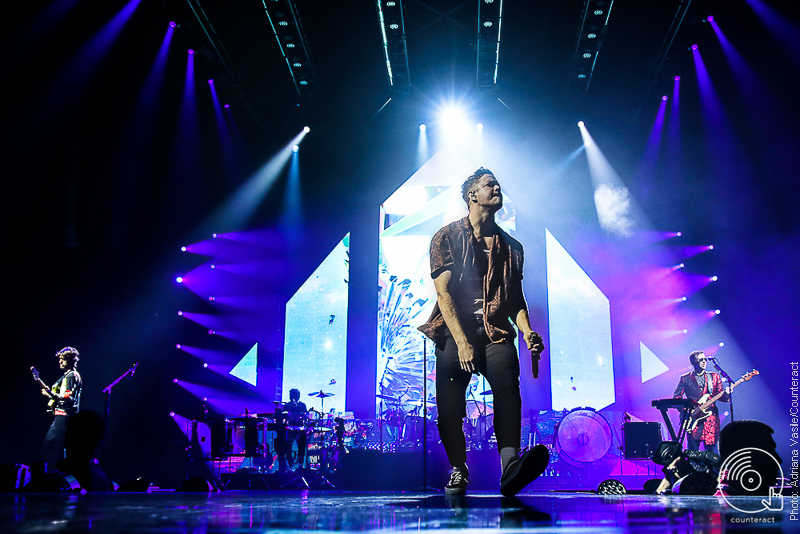 Imagine Dragons
They briefly paid tribute to fellow Vegas legends The Killers on a stripped back cover of 'All These Things That I've Done', showing gratitude for the inspiration the band provided and the path they paved for Imagine Dragons.
It's not just their fantastical music and bright presence that makes the band so enjoyable, but also the extent you can tell the band care about their fans. Dan launched into a tear-jerking speech about the trials of depression offering his hand of support for anyone that is suffering, and reminding us there will always be brighter times ahead. "To those of you that struggle with depression and anxiety, I am here with you." Particular focus was put on the LGBQT community as he stated they are the ones most vulnerable, encouraging fans to be accepting, as they are often those most at risk. "We must give complete and total acceptance to our LGBTQ youth they need us." This heart-warming piece encapsulated the level of care that Imagine Dragons inject into their work and it was extremely moving to witness. The arena was flooded with sparkling lights from fans as the band continued their set with the ballad 'Demons'. Dan crooned the emotive melody, his voice roaring with a captivating power.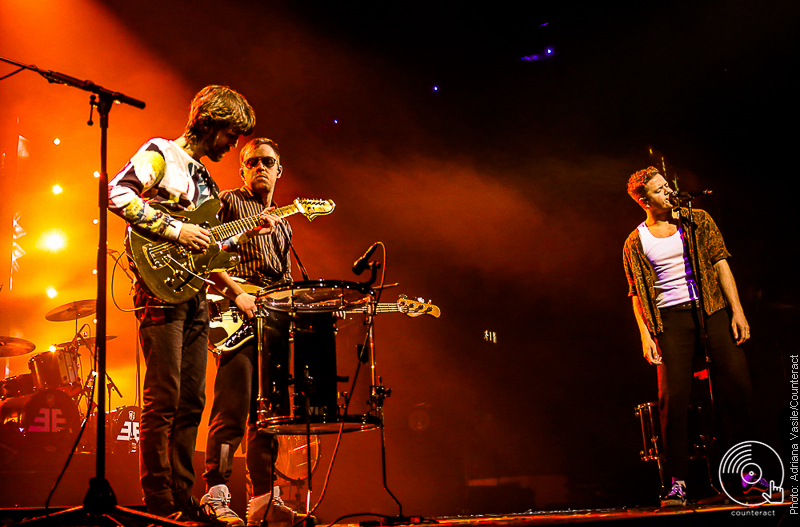 Imagine Dragons
An enigmatic celebration came in the form of 'On Top of the World', a tune brewing with optimism as the name of track would suggest. Its euphoric nature was emphasised in a live setting, with twanging guitars and gleeful clapping. Fans bounced in excitement as enormous balloons rained from the ceiling.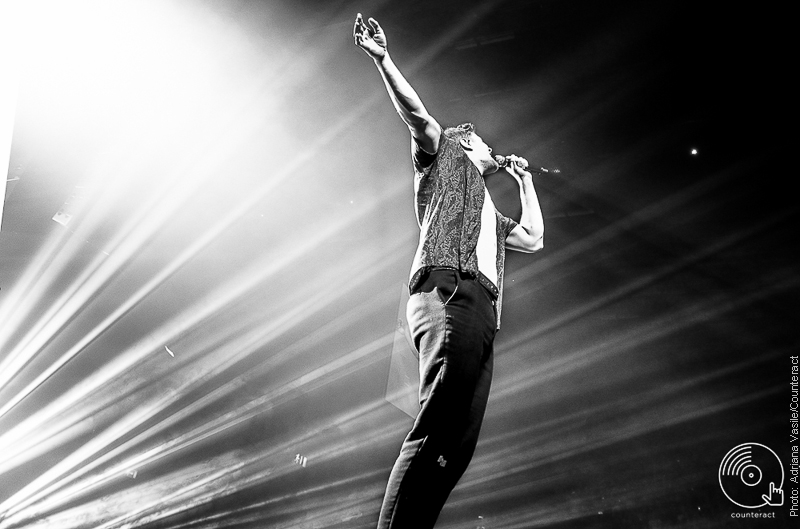 Imagine Dragons
A softer moment of the set came when the band moved to the b-stage in the centre of the arena, where they performed an acoustic medley of a few older numbers 'Bleeding Out' and 'Warriors'. Despite showcasing spectacular flare for much of the show filling the space with loud raging guitar riffs and clanging drums, this stripped back section cut up the show nicely allowing the crowd to catch their breath.
The dial ramped back up to finish the set with 'Thunder' as K.Flay returned to the stage adding her own verses into the mix. It was difficult not to dance to the squeaking melodies and smooth flowing beats.
Returning for one last hurrah in the encore, 'Radioactive' provided an enigmatic finale. The bubbling bass, crashing instrumentals and brilliant anthemic chorus all combined seamlessly to create a firework show of a finish to a powerful show.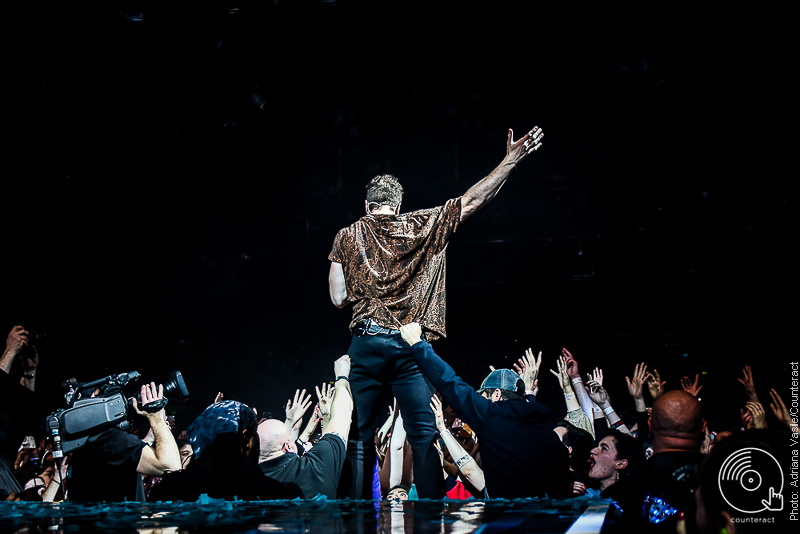 Imagine Dragons
All of the members played a part in creating a truly awe-inspiring live show. Guitarist Wayne Sermon commanded the room with screeching guitar solos, Ben Mckee kept the energy flowing as he injected pizzazz with his winding bass, and Daniel Platzman brought an intoxicating rage with the pounding drums. All of the members had opportunities to stand out independently, whilst throughout they performed with an admirable chemistry making the band like an unstoppable unit.
The band injected so much emotion into their show, successfully cementing them as an impactful live act. Their sound is ideal to fill arenas and form personal connections with fans, and they are sure to continue to do so for years to come.
Photographs by Adriana Vasile
Media and Communications student with a passion for music and discovering new artists. 90% of the time you'll find me at a gig. I listen to a really wide range of artists such as The 1975, Two Door Cinema Club, Bombay Bicycle Club, Ed Sheeran, Disclosure, Lorde, Florence and The Machine, Ben Howard, as well as a tonne of pop music like Taylor Swift and Ellie Goulding.
---
While you're here...
Thank you for visiting Counteract. This article may contain affiliate links which help contribute towards the website's running costs. If you were planning on buying tickets, accommodation or music, please purchase through any of the links or banners on our website as we receive a small amount of commission on all sales driven. Without this, we're unable to keep publishing content. Thank you in advance.