10 gigs in Birmingham this April for less than a tenner
With the long Easter Weekend ushering us into April, we can declare April is the month of party in Birmingham. It can't be a party without music however – and even those on a shoestring budget can enjoy brand new music whilst supporting local venues. Here are ten great gigs in Birmingham for less than a tenner.
---
Black Foxxes + special guests
Who: Spritely pop punk-ish band with darker elements
When: 3rd April
Where: Mama Roux's 
Tickets: £9
Describing themselves at "ragged noise", Black Foxxes encapsulate that well known youthful sound. Acoustic guitars combine with electric amongst lyrics of feeling young and leaving town, before chorus' climb into mania and emotive screams. Pop punk fans will feel at home with Black Foxxes, but their sound is far more evolved and cant be contained in that genre.
---
Kaleidoscope: The Hungry Ghosts + Handwaxx + As Mamas
Who: Country inspired music with a psychedelic twist
When: 5th April
Where: The Night Owl
Tickets: Free event
Kaleidoscope is monthly night showcasing incredible local music alongside an arts market. This month, dark and twisted slaughterhouse blues The Hungry Ghosts are joined by psychedelic indie pop Handwaxx and the rock & roll soaked As Mamas.
---
Otherkin + Modern Comforts + Paper Buoys + FEVA
Who: Dublin quartet with influences of Queens of the Stone Age and The Clash
When: 7th April
Where: Muthers Studio
Tickets: £8.25
With a their debut album under their belt, Otherkin are storming through the rock and roll scene with their raucous rock. Otherkin are rock and roll rejuvenated, bringing a fresh sound to energetic guitar solos much like The Libertines, but pounding drum beats like their inspiration Queens of the Stone Age.
---
Outlander + Social Construct + Thomas Barnes + Mutes + Dan Finnemore
Who: Space rock group Outlander top a local bill at 'help the homeless' charity gig
When: 8th April
Where: The Sunflower Lounge
Tickets: Donation upon entry (at least £5)
Killer Wave and space rock group Outlander are joining forces to put on a show with a cause. Money raised will be going to charities Shelter and Tabor House. Fans of the ethereal, yet gloomy Mogwai will take to Outlander's straight to the punch tracks, layered thick with reverb and drums to create a weathered rock sound. Other acts on the bill include Social Contract, Thomas Barnes, Mutes (solo) and Dan Finnemore.
---
This Feeling: Trampolene + Himalayas + Sophie and the Giants
Who: Alternative Welsh rock group who recently supported Liam Gallagher on tour
When: 14th April
Where: Actress and Bishop
Tickets: £8.80
If you're looking for decent new music, This Feeling are always a safe bet. This time they bring us Swansea rockers Trampolene who are embarking on their biggest tour to date. Trampolene bounce from poetic indie storytellings to a rush of poisonous grunge rock, creating an unpredictable and high octane repertoire.
---
Lions of Dissent + Matters + Tinned Astronaut
Who: Ten piece mastermind honing their psychedelic Britpop combination
When: 14th April
Where: The Sunflower Lounge
Tickets: £5.50
Lions of Dissent are back with an even bigger sting in their tail. An unimaginable sound of Britpop and indie meeting psych and 1960s garage inspirations – an enormous sound that will only grow with their new material due to be released this month.
---
The Academic + Sea Girls + Abbie McCarthy (DJ set)
Who: Energetic indie pop with anthemic choruses
When: April 22nd
Where: Mama Roux's
Tickets: £9.90
The Academic are one of those bands that were made to be heard live. 'Why Can't We Be Friends' is well known amongst the indie pop circuit for its almost ironic cheerful guitars against the theme of the friendzone, whilst 'Bear Claws' brings in crowd pleasing 'ay' and 'oh' chants. Fans of formulaic indie pop such as Two Door Cinema Club with love The Academic for their anthemic sing-a-long chorus.
---
Youth Club + The Tin Pigeons + Spinn
Who: A harmonious blend of indie guitar riffs, R&B vocals and electronic keys
When: April 24th
Where: Hare and Hounds
Tickets: £9.05
Southend based Youth Club spearheaded through 2015, performing at festivals like Radio 1's Big Weekend and Y Not. They have the perfect blend of pop and indie, sneaking into both genres to ignite as many people as possible. Their guitar licks are similar to the marmite The 1975, but are tied together with echoing vocal harmonies and snappy drum beats that are nothing but infectious.
---
Peaness + The Sunset Beach Hut + HUDS
Who: Three piece dreamy indie pop band riddled with 90s nostaglia
When: April 24th
Where: The Sunflower Lounge
Tickets: £7.70
The all-girl group introduce 1990s pop harmonies to happy go lucky guitar tunes, similar to the hay days of Weezer. Peaness are erupting fast across the country, spreading their organic message of "peas and love" across BBC Radio 1 and Radio 6 with wit and charm. Support comes from local bands The Sunset Beach Hut and HUDS.
---
Louise Distras + The Pearl Harts
Who: Heartbroken punk with poetic lyricism
When: April 28th
Where: The Castle and Falcon
Tickets: £8.80
Acoustic punk, splattered with a broken heart and anger at injustice. That's the tip of the iceberg of Louise Distras. The poetic and observational lyricism of Bob Dylan is matched with anarchy and punk influences, making Louise in a league of her own. She's the voice of a passionate, individualistic and confident generation.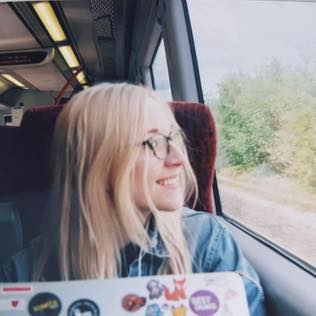 PR, events and social media by day, lover of all things geeky and retro. Can often be found scribbling notes at the back of the gig.