10 gigs in Birmingham this August for less than a tenner
We're knee deep in festival season, and although it may not be the time for touring for all the big shot bands, there are still dozens of local gigs to sink your teeth in to that won't leave you disappointed. Especially as they're all cheaper than a post night out takeaway or a taxi home from the pub…
---
Outlander + Luna Rosa + Yung Jimmy's Big Ideas
Who: Free psych event with live music and accompanying arts market
When: 2nd August
Where: The Night Owl
Tickets: Free
Kaleidoscope is quickly becoming a champion of the new music scene. Featuring "post rock madness" from Birmingham based Outlander, the anthemic Luna Rosa and nationwide shoegaze, psychedelic, space-rock underground collective Yung Jimmy's Big Ideas, this is probably the best thing money can't buy.
---
MATTERS + Dorcha + Mysteron + Monoform
Who: Dark, industrial sonics meet pounding guitar and synth
When: 3rd August
Where: Hare and Hounds
Tickets: £5
Having received high praise from critics (including us) MATTERS are celebrating their newest release with This is TMRW. Expect dark, industrial sounds, eerie keys and synths and futuristic melodies from this Birmingham outfit.
---
Lions of Dissent + Flamingo Flame + Exotic Pets & more
Who: Britpop/psych fusion with a ferocious roar
When: 5th August
Where: The Night Owl
Tickets: £8
The Hottest party in town is back in Digbeth for the second time this year, bringing a whole host of Birmingham's best bands, musicians and DJs. If you haven't heard of Hott Date yet, you ought to, as they're back with not only a bang, but with a BBQ. Along with live music from psych rockers Lions of Dissent, 80s inspired neon pop Flamingo Flame, plus Exotic Pets, VEDA, George Wilson, Matt Millard and DJs playing all through the night.
---
Exhailers + PJJ + Idle Noise + Maximum Zero
Who: Alt rock outfit dripping in grunge.
When: 10th August
Where: The Sunflower Lounge
Tickets: £6
Describing themselves as "funge" (which we can only assume is a funky grunge hybrid) – Exhailers pluck alt rock riffs and stir them into a psychedelic soup that will reverberate right through your bones. They're DIY, rough and the edges and authentic, and that's just the way they like it.
---
Foxcover + Sam Hollis + The Lids + White Noise Cinema
Who: A collective of brand new, Midlands-based alt bands left of the dial
When: 11th August
Where: The Sunflower Lounge
Tickets: £6
Shropshire based melodic indie pop group Foxcover bring tropical riffs in a subdued and purposeful manner, blended with the never-fail indie pop formula. Support comes from the psychedelic indie of Sam Hollis, indie rock trio The Lids and ambitious six piece from Kidderminster The White Noise Cinema.

---
LICE + The Lizards + The Hungry Ghosts + Whitelight
Who: Bristolian psych and country punk mashed to a pulp.
When: 12th August
Where: Hare and Hounds
Tickets: £7
RDE and Setting Son are bringing a whole barrage of satirical lyrics and erratic country punk all the way from Bristol in the form of LICE. Prepare for stories told through shrieks and screams, nauseatingly swirling riffs and chords and thrashes of drums. With support from incredible local acts The Hungry Ghosts, The Lizards and Whitelight all in aid of Not Normal Not OK.
---
RISCAS + Ivory Wave + Harry & The Howlers and more
Who: An out of this world line up of Birmingham's biggest and best
When: 17th – 19th August
Where: The Castle and Falcon
Tickets: £8 
Okay, so this one is cheating, a little. The Sonic Gun weekender is taking over The Castle and Falcon for three days full to the brim with live music -name drop worthy bands include RISCAS, Harry and the Howlers, Ivory Wave, The Cosmics, Sugarthief, Bad Girlfriend and more, plus secret DJ sets, street food and cocktails. All this for £8 a day (or £15 for a weekend ticket)? Sign us up.
---
The Nude Party + The Americas + The Hungry Ghosts
Who: Blood brothers with classic rock and roll running through their veins
When: 20th August
Where: The Sunflower Lounge
Tickets: £6
With a sound that seems to take the 60/70s flair of The Kinks, Bob Dylan and Rolling Stones and churn it up into modernity, The Nude Party combine these classic rock and roll sounds with modern day afflictions, creating something so lucrative, yet simple, it has to be seen to be believed. Supporting are country-fuzz, rock and roll trio The Americas and the aforementioned The Hungry Ghosts.
---
Young Chasers + Cosmic Strip + IOTA
Who:  Fresh new indie band on the Birmingham Scene
When: 24th August
Where: The Sunflower Lounge
Tickets: £6
After flying under the wing of This Feeling, brand spanking new band Young Chasers are back with a headline show at the all encompassing Sunny. Expect indie hooks ala Arctic Monkeys and Catfish and the Bottlemen, mixed with that quick wit Midlands charm.
---
Rhino and the Ranters + Dark Circus + Harry Jordan + As Mamas
Who: Roots and gospel get a kick of energy through punky, country vibes
When: 25th August
Where: Hare and Hounds
Tickets: £8
Infamous for their supercharged, high octane, gospel inspired punk sets (as punk as a double bass can get anyway.) Rhino and the Ranters' cult status in this city is second to none, and their raucous sets of country, gothic, cow-punk and everything in between are worthy of such notoriety. Is there a batter way to spend the Bank Holiday weekend than around a country riot?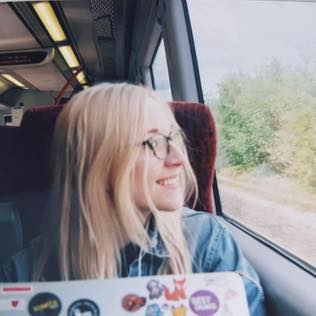 PR, events and social media by day, lover of all things geeky and retro. Can often be found scribbling notes at the back of the gig.