It's with great pleasure to finally reveal our brand new website, at the new url of counteract.co.
When we decided to take a break back in July, it was because we felt the old website was limiting what we wanted to do. We didn't really have the resources we wanted to be able to create the content, nor did we have a website which we felt was up to the required standard to host the content. Towards making an actual decision about the break, I also felt like I was doing 90% of the work required to keep the website going, and I work full-time too. So my work/life balance was suffering and taking hiatus had to happen to stop Counteract from going stale and losing the reputation we've worked so hard to build up since April 2010.
After a month or two of contemplating things, we decided it was time to come back. So we sat down, brainstormed ideas and came up with, what we felt was, a simple yet highly effective website plan. In said website plan the first thing discussed was: what do people want to read?. This may seem straight forward but it took several weeks of data pulling to see who was reading what, statistical research on the last five years of the website to see what features were most popular, finding out what didn't really work, seeing what people have searched for… and we came across some findings, some of which which we've now implemented in to the website.
It's been a long process designing the website. Fast forward a couple of months – including mostly sacrificed evenings and long, working weekends – and the new Counteract website is now here. We think you'll agree it's much better than the previous website. It's important to stress that some old content may not be optimised for the new website. This is either because the image widths on the old website were smaller, old news is, well…old, bands have removed tracks we've previously streamed and so on. Our new website is just the beginning and over the coming weeks and months we'll be looking at old content and seeing what needs further work.
You'll also have probably noticed by now that we have a new logo. We wanted a clean, flat design which could be used across all platforms and we're really happy with the work by Kristian to get this done for us.
The new website houses some features both new and old which I'd like to run through. Firstly, you may have noticed that this blog is a new feature. We felt the previous website was a little too restrictive to host a blog, so we've finally been able to do so here. This will give us a chance to be a little more relaxed with our features – we're real people with a lighthearted side too, so we wanted an area on the site where we could discuss anything that may be a little off-topic or off-kilter.
Band of the Day is coming back. This was such a huge hit with the previous website (we got up to #234) and we really enjoyed giving you a new band to listen to every day. One of our main aims is to give bands their first, or one of their first pieces of online content, so with Band of the Day I think this goal is achievable once more. Look out for some great local and national bands coming up in the near future.
Another feature we're going to be regularly working on is the weekly Gig Guide. This was trialed earlier in 2015 and we received a good response from people looking for some recommended gigs, so it was one of the first things on the list. Every Sunday we'll be bringing you seven of our recommended gigs for the forthcoming week (Monday-Sunday). At the moment this is just for Birmingham, but we are looking to introduce it further across the West Midlands in the future.
One of our new features is the Venue Guide. The Venue Guide aims to cover the things you need to know most about certain venues; where it is, what's on, how to get there, directions, parking, public transport information and so on.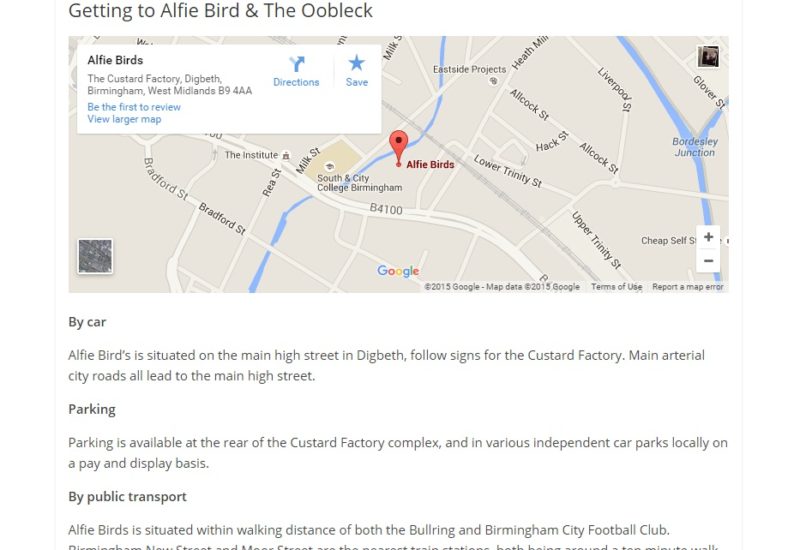 The Venue Guide is currently split in to three sections; Birmingham, Coventry and Wolverhampton. You'll notice that Birmingham is fairly comprehensive and the majority of venues which regularly host live music will be covered in there – that's because we are based in Birmingham and historically cover more events here than anywhere else. Coventry and Wolverhampton sections are a little less populated, however. A few factors contribute to this; they are smaller cities, they have less venues, less events happen there, less of our team are from those cities and so on. We've tried to cover as much as we can, but if you spot any incorrect information or feel a venue which hosts live music is missing, then please email us on [email protected]. It's important to stress that this is just a first release. We will be expanding and adding venues from other areas of the West Midlands after the new year including Walsall and Stourbridge.
We've also expanded our live reviews section. It's now wider and brighter which means we can add more photos at higher resolutions and really give bands some great reviews and galleries. Aesthetically, it looks much better than before!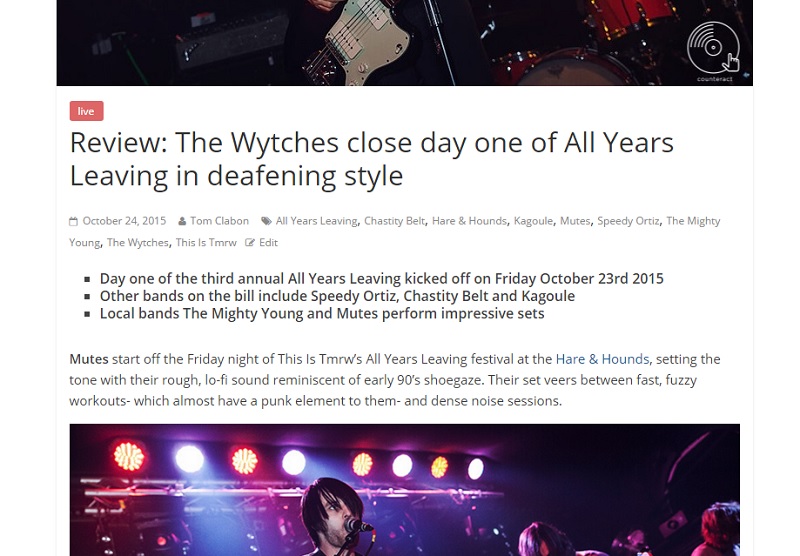 Another thing we've introduced is a mailing list. Not everyone can be on social media all of the time, so what better way to let people know what they've missed by sending a roundup direct to the inbox? Don't worry – we won't be sending emails every day like some companies do. We'll only be emailing when we have enough content to pack a newsletter, most likely fortnightly at the moment, but this may change. You can sign up to the mailing list here, if you wish to do so!
As we're just a small website with no budget, all of this has been done off our own backs and many, many hours have been put in to getting the website up to scratch, adding new content and trying to make things 'work'. There may be some small things which we're still tinkering with but we wanted to make sure we could re-launch Counteract as soon as possible. We've had some really kind words since we've been working tirelessly behind the scenes to bring it back, so we thought we'd better try and hurry up!
As ever you can still find us on Facebook, Twitter and Instagram, but you can now also find us on Google+ and Flickr too, on the latter we'll put galleries up of every show we review. Cool, huh?
If you have any feedback regarding the website, please email me on [email protected].
Happy browsing!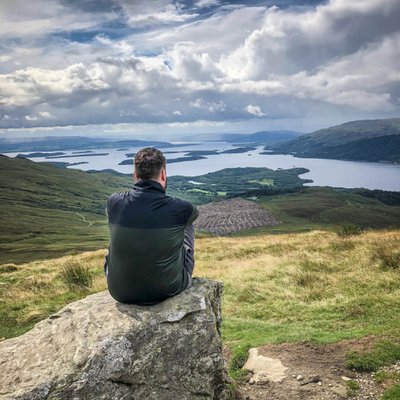 Editor and founder of Counteract, freelance music, lifestyle and travel writer + social media manager. Big fan of discovering new music + online trends.
---
While you're here...
Thank you for visiting Counteract. This article may contain affiliate links which help contribute towards the website's running costs. If you were planning on buying tickets, accommodation or music, please purchase through any of the links or banners on our website as we receive a small amount of commission on all sales driven. Without this, we're unable to keep publishing content. Thank you in advance.