The Birmingham Superprix — A Look Back at the Legal Street Race in Brum
Birmingham is a city that knows how to have a good time. It has a rich and diverse music scene that has produced big names like Ozzy Osbourne, Duran Duran, the Electric Light Orchestra, Wizzard, The Streets, and Judas Priest.
It's got some brilliant live music venues too, such as The Crossing and The Night Owl in Digbeth and the Hare & Hounds in Kings Heath.
There's more than just music too, Birmingham has just about every form of entertainment you could imagine. The city has several gaming venues where you can enjoy everything from ultra-modern virtual reality experiences to traditional card games. One of the most popular options among Brummy players is blackjack, a game that is around 500 years old and requires players to make a hand that's as close to 21 as possible. Other popular games include roulette and, of course, poker.
Gaming venues like Star City even offer the latest movies, escape rooms, laser tag, mini golf, and bowling.
Birmingham is also a great place for sport. In 2022, the UK's second city will host the Commonwealth Games, a multi-sport athletics event that's second only in size to the Olympics. Of course, the city is also home to several football teams including Birmingham City, and Premier League side Aston Villa.
However, one sporting event that many people from Brum have forgotten about is the Birmingham Superprix, a set of street races that involved single-seater and saloon cars.
A Street Race in Birmingham?
When you think of modern street races in motorsport, you conjure up images of Monte Carlo, Singapore, Baku, and maybe even Macau. Birmingham isn't a city that many would associate with racing, but between 1986 and 1990, Bristol Street, the A4540, the Belgrave Interchange, and several other surrounding roads saw cars battling for position at over 100 mph.
These streets were lined with the traditional Armco crash barriers and tyre walls, making it difficult to actually recognise Birmingham when watching on TV. The only clues were the giant residential tower blocks that sat adjacent to some parts of the track, which would have offered great views to those living in them.
The pit area was located inside the Bristol Street Motors car dealership, a somewhat novel place to do servicing in an international motor race.
Who Took Part in the Birmingham Superprix?
Given that the Birmingham Superprix isn't something that's well known today, you'd be excused for thinking it was an amateur event. That's not the case though, many famous names in motor racing took part over the years, including the French driver Jean Alesi,  former Ferrari F1 driver Eddie Irvine, and Le Mans 24 Hour winner Allan McNish.
What Was the Racing Like?
Street racing is different to that seen on a purpose-built circuit. The barriers are closer to the track, the surface is bumpier, and there's less room for mistakes. This was certainly the case in Birmingham too.
This made the Birmingham Super Prix quite exciting and unpredictable as drivers would be at the limit for the entire race, leading to several crashes, retirements, and overtaking.
The track layout itself was somewhat uninspiring, with a series of long straights interrupted by mostly right-angle corners. However, Halfords Corner created an interesting spectacle as it saw the cars navigate 180 degrees around a roundabout. The circuit was very wide here, providing opportunities for drivers to take different lines while trying to overtake.
How Did Birmingham Get a Street Race?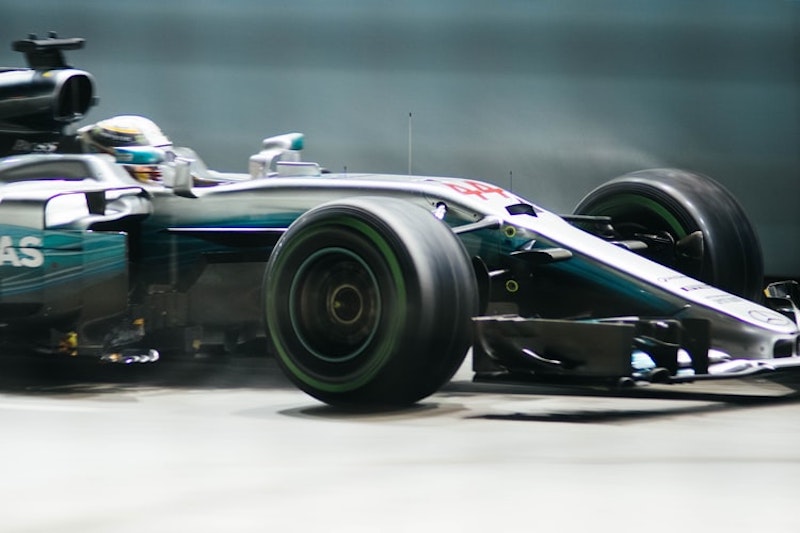 Racing on public roads in the UK is illegal unless a special event has been granted permission by various authorities. Getting this approval is difficult and is the reason Formula 1 has never been able to achieve its desire to host a London Grand Prix and why Formula E's British races have been inside parks and an exhibition centre.
Birmingham City Council had been discussing proposals since 1966 and legendary British racing driver Sir Stirling Moss was even granted permission for an event in 1972. However, it wouldn't be until 1976 that any race cars would hit the streets, and even then it was only for a public demonstration.
A law known as the Birmingham Road Race Act was approved in 1985 by the British parliament allowing the Superprix to go ahead and the first running took place a year later.
Could it Happen Again?
Many in Birmingham would like the Superprix to return. It's a unique and exciting prospect for the city and the UK as a whole. It would be easier to do (at least from a legal perspective) since new laws allow local councils to suspect traffic laws to host street races.
There have even been high-level discussions for a round of Formula E to take place in Birmingham, though it's not yet clear whether that will ever happen as London's Excel Centre looks set to be the new home for the British e-Prix.
It's possible though, and if it were to happen, it would be a great addition to Birmingham's already diverse entertainment scene.
26 year old Brummie journalist with The Twang, The Streets, The Beatles & Elton John sitting amongst my favourite music