Review: Stepping through the Magic Door on New Year's Eve '17
Magic Door residents brought the bangers to Lab11 for the 2017 NYE celebrations
Support from Birmingham's local selectors and special guests
Magic beans, eccentric costumes and a whole heap of glitter
Over the last few years Magic Door has made quite a name for itself; this 'concept' of magic and glitter, secret doorways and face paint, groovy beats and in-house selectors (the collective even coining a new genre labelled "spooky house") creating an atmosphere of unreserved freedom, joy and debauchery that has long been heralded by punters and music critics alike – but how did things stack up on one of the most "make-or-break" night's of the year: New Year's Eve.
Taking place in the esteemed Lab11 Warehouse, crowds were treated to three rooms of music alongside the usual event trimmings of silly costumes, magic beans, crafty girls, and of course a "real" Magic Door which revealed the path to a full glitter makeover. Due to overwhelming demand the overall space was also expanded, accommodating the last-min-added ticket sales, although this didn't seem to completely solve the periodically congested walkthroughs.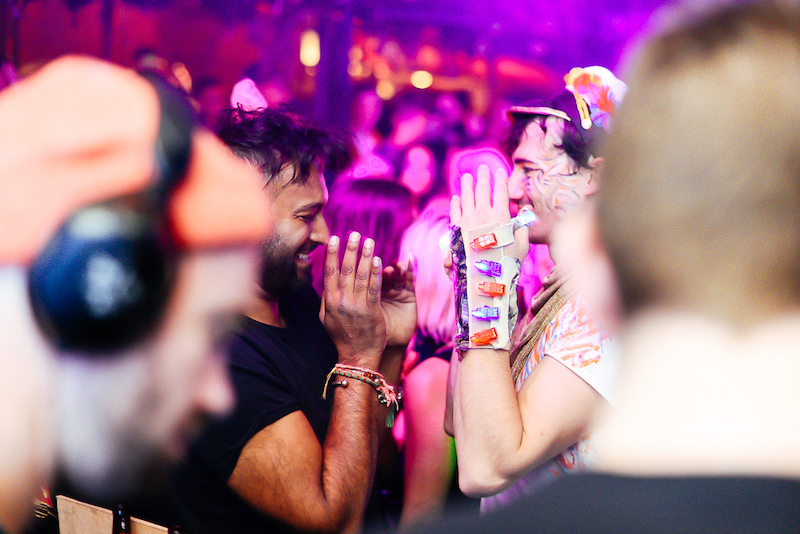 Minor complaints were also voiced concerning the queue duration into the club but on an evening so inherently busy with vast numbers arriving on or around the same time, these setbacks are often unavoidable; safety is the key goal in these circumstances, which the venue, promoters, and security saw too with stringent and careful protocol. Everyone in. No violence, surging or injury. 
Despite the aforementioned issues the night was far from ruined. The deft touches and visual displays strewed throughout the venue, celebratory atmosphere, and diverse selection of music and DJ virtuosity became the defining features of the night.   
Lively sets from stalwart residents like PBR Streetgang, Maxxi Soundsystem, Jukes of Hazard, Deano Ferrino, and appearances from other veteran selectors and local talents, ensured every room remained engaging and evenly split for the event's duration.
The outdoor terrace – adorned with a camo-mesh and overhead 3D cubes punctuated by powerful coloured spotlights – dispensed everything from funky house to soulful disco, through into a suitable contrast of melodic and ominous techno as the early hours approached.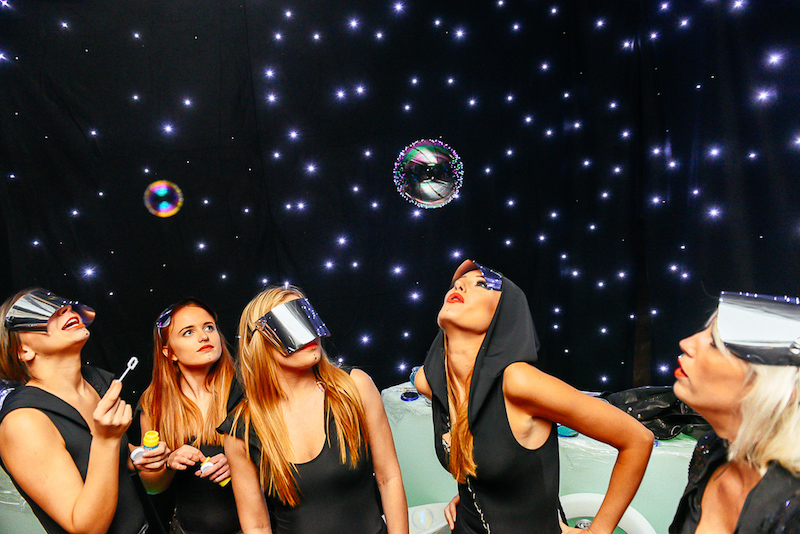 In the main room, the era-staples and sing-along anthems were out in full force featuring northern soul bangers, Chicago piano heavy house, an oeuvre of club classics and some exciting dance remixes of old favourites from across the genre spectrum. Disco balls hung above scattered amongst the web of jagged neon tubes and floating bare-chested mannequins, the words "Magic Door" emblazoned on-screen behind the DJ booth illuminating further the obscure decor littering the expanse.
Perhaps the most intriguing mood of the night was cultivated in the small, sparsely decorated back room; a stripped back mini-warehouse with a somewhat rustic appeal, the light show equally simple yet effective as intensely focused lasers of gold cut numerous patterns and shapes across the ceiling canvas. The glitchy breaks, wobbly tech, and bass-laden electro sounds providing the perfect aural compliment to the small-scale industrial aesthetic.
Aside from some critiques on crowd management a jovial atmosphere starkly prevailed. On a night where so much can go so wrong for so many unfortunate partygoers (a night in watching Jools Holland's Hootenanny is enough to give anyone the willies) Magic Door upheld its hard-earned reputation, capitalising on the familiar frills and thrills while serving perhaps the best spread of music diversity – before, during and after the strike of 12 – to date.
Photographs by Patrick Fleming
Creative Writer / Content Editor / Copywriter
at
Francis Freelance
An avid appreciator and scholar of music & the arts, working towards an MA Degree in Musicology. Alongside review and interview pieces, Kristian has an eye for extensive feature work too; playing into themes around locality, identity, scenes, and subcultures, and their changing nature in the face of technology and globalisation.
Latest posts by Kristian Birch-Hurst (see all)