Review: Grimes ups her game at packed Birmingham show
Grimes plays to huge O2 Academy crowd on Friday June 24th after venue upgrade
Support comes from Grimes' keyboard player HANA
Dancers punctuate the brand new line up of musicians on stage
There's nothing like a swift venue upgrade to confuse the hell out of 3000 people, but from the reaction of the door staff at the o2 Institute on Friday night, pretty much everybody had turned up at the wrong venue. A pint in the Kerryman and an Uber ride later, Grimes opening act HANA was well underway with her set.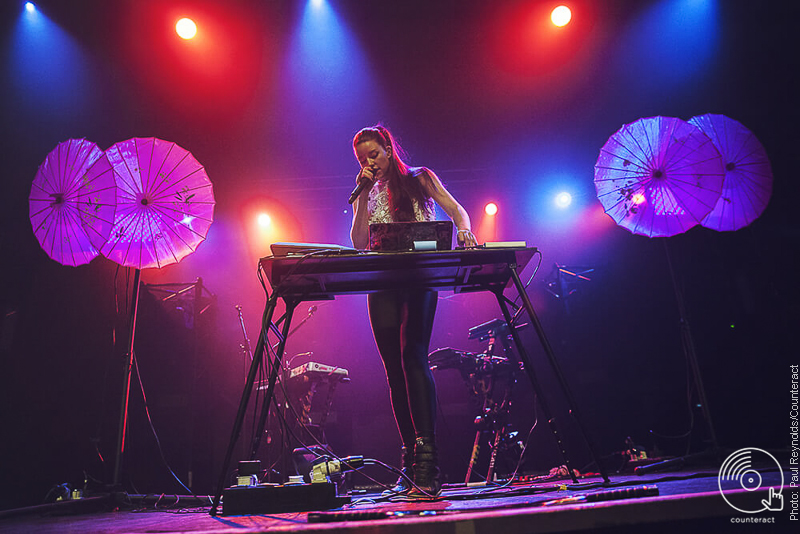 HANA is a one-woman act (much a-kin to the early Grimes live shows) and stands behind the familiar array of synths and samplers, adorning the otherwise empty stage with geisha's parasols. The crowd seem to be giving her a good chance to be heard, and they're receptive to the soft pads and soaring falsettos HANA is serving up.
As the houselights dim, tributaries of people start forming near the bar in a desperate effort to get to the front. The noise is deafening, and confirms this evening's key demographic with a bounding certainty. There are lots of young women here tonight, who are clearly hyped to see Grimes, aka Claire Boucher enjoy her recent surge in popularity. She's an idol to a new generation of women who are inspired by her success and of course her music, and rightly so, too.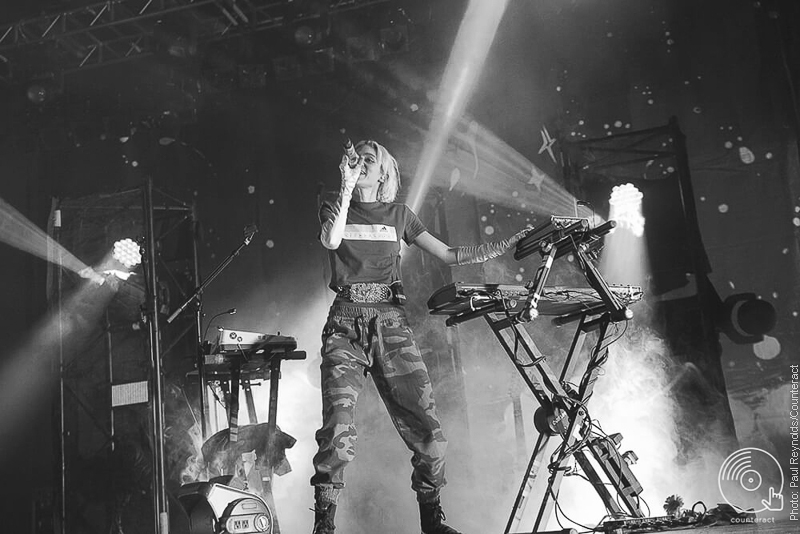 To anybody who didn't know any better, Grimes' live show consists of one woman giving it both barrels behind an armada of equipment, or at least it has been for the last couple of albums and tours. This show is bigger. There's a full band, but before they arrive on stage a dancer appears to warm up the crowd to new track 'Laughing and Not Being Normal'. When Grimes finally explodes onto the stage, there is an energy which she has rarely displayed before, and the very young audience react accordingly. This feels more like the concert of a teen pop sensation than you might expect, but is that so much of a bad thing?
Art Angels is Grimes' most recent release, and she seems keen to showcase as much of it as she can in the 80-minute set. At first glance, it seems the focus has been put more on the singing than the actual craft of the sounds and the songs, and unfortunately that mentality continues throughout. Surprisingly, there are choreographed dance routines, and Boucher seems to have adopted more of a popstar-like persona. It's an interesting transformation, but the whole experience just seems a little bit less, well, interesting.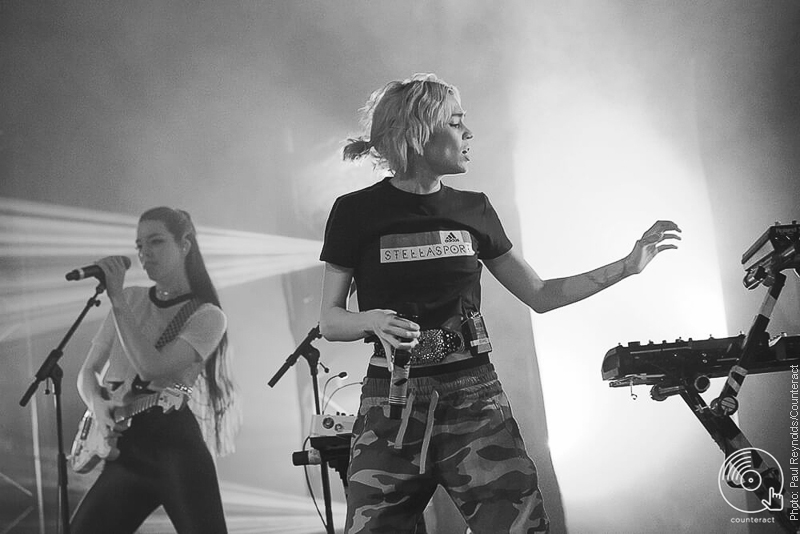 The set list deviates nicely between areas of electronica, from trance into trip hop at times, but needless to say the two biggest reactions, and easily the most enthralling of the night are delivered care of 2012's third album Visions. When the hypnotic openings to both 'Genesis' and 'Oblivion' kick in, the crowd are in awe as Grimes showcases her spellbinding ability to weave melodies together in new and unique ways, whilst still forcing your feet to stomp.
The show is closed out by another newer offering, 'Kill v. Maim' from the aforementioned Art Angels. As an encore, it wraps a tidy bow round the whole evening and it's plain to see Grimes has thrown everything she has at this new incarnation of her career. Everyone in the room seems enthralled by the show and whilst there is clearly a very obvious target audience, they don't seem unimpressed by what has been a serious change of gear for this omni-talented starlet.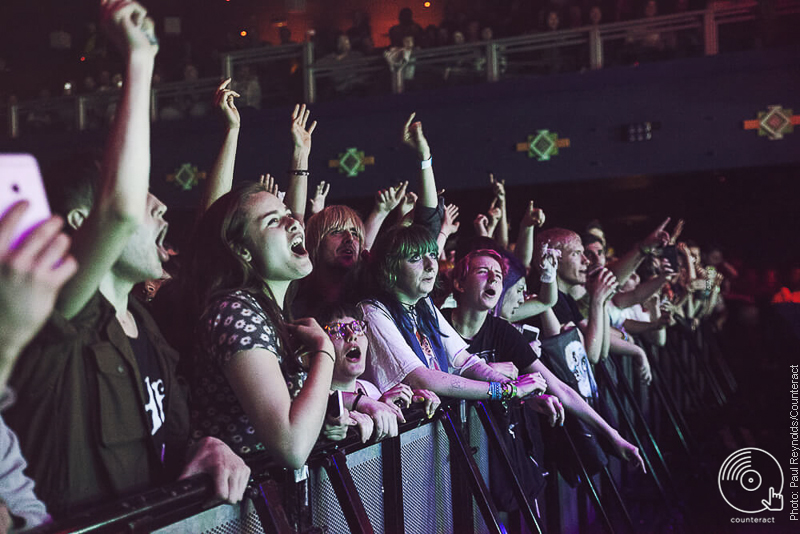 As they pack up their bus, the next stop is Glastonbury for a much anticipated televised set, which by all accounts is sure to go down a storm.
Photographs by Paul Reynolds

Hirsute half of local garage rock sensations 'The Mighty Young' and all round musical inebriant. LCD Soundsystem, The Smiths, The Velvet Underground, Jacques Brel, Nick Cave, Bob Dylan, Pink Floyd and anything that has funky horns.

Latest posts by Robb Cartin (see all)